'World has six months to avert climate crisis' – these types of headlines seem all too frequent. They're heart-starters, that's for sure.
This one's based on a report released by the International Energy Agency (IEA) last week. IAE Executive Director Faith Birol gave a stark warning: "stimulus packages created this year will determine the shape of the global economy for the next three years… and within that time emissions must start to fall sharply and permanently, or climate targets will be out of reach".
Knowing that the Australian government is planning a gas-led COVID-19 recovery (a fossil fuel with greater warming potential than coal), this kind of reading makes me dizzy with fear and anxiety.
The message could not be clearer – if we want a better future, now is our time to act.
An unlikely activist
Many who know me are surprised I've become a climate activist – in many ways, I'm the last person you'd expect. My historic carbon footprint is massive, I don't spend a lot of time in nature and I've rarely gardened because the thought of bugs, worms and spiders freaks me out. A few years ago, if you'd asked me to explain climate change, I'm not sure I would have been able to.
But, in October 2018, while lulling my 5-week-old baby to sleep, I read an article that articulated the gravity of the climate crisis – that we desperately need action or we will tip our planet into irreversible climate breakdown. I was gobsmacked and suddenly afraid for the baby in my arms.
I don't know why it took me so long to understand the urgency of the situation. I think I naively assumed that if it was this serious, our government would be addressing the problem. But, if that were true, we would have made greater progress in reducing our greenhouse gas emissions during the 30 years that climate science has been settled. Understanding this inaction has opened my eyes to the powerful vested interests that are undermining our democracy – including fossil fuel corporations who prioritise profits over community and environment and donate huge sums to our major political parties. I'm saddened to realise that some of the leaders we elect to act in our best interests, do not.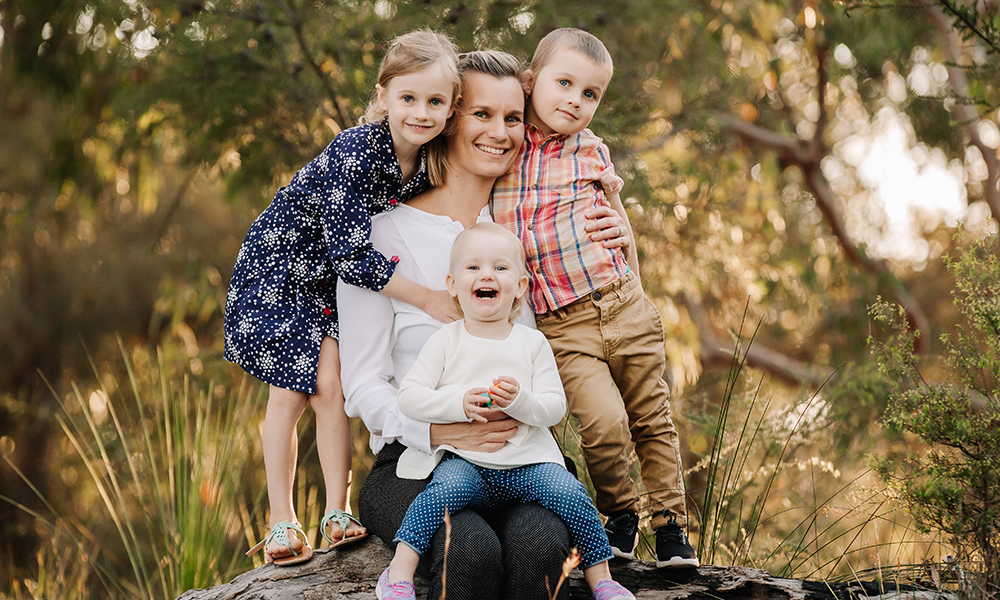 Photo: Erin and her children / Kristy Jauncy Photography
Since that evening in 2018, I've learnt that just like the impact of COVID-19 hasn't been limited to the people who have caught the virus, the impact of climate change is not limited to climatic events. As horrific as fires, floods, storms and droughts are, they're just the beginning.
Climate breakdown affects all areas of society, from global financial markets, to property prices and the ability to secure insurance. Many cities already require physical protection or relocation due to rising sea-levels (Jakarta, Indonesia and Miami, USA are notable examples). Pacific Islands and our own Torres Strait Islands are already being drowned, and as climate change worsens, entire regions – from Pacific Island nations to Australian coastlines & major US cities – will disappear under water. Pandemics and wars will increase, there will be tens of millions more refugees and food and water shortages. The Australian Department of Defence is now viewing climate change as both a major security risk, and as a threat to our existence.
But it doesn't have to be like this. If we implement the many solutions already available – including renewable energy, electric vehicles, regenerative agriculture and natural carbon drawdown – we'll have cleaner air, healthier ecosystems and more connected communities. It's a beautiful vision of the future, especially compared with what awaits us if we don't change course.
What's the deal with emissions?
To have a chance of avoiding hitting tipping points leading to catastrophic climate breakdown, we must reduce global emissions of greenhouse gases by a minimum of 45% this decade.
Since the beginning of the Industrial Revolution the world has warmed 1.1 degrees, and we're already suffering serious bushfires, droughts, floods, and storms as a result. If we don't cut our emissions drastically, we're in for a minimum of 4-6 degrees of warming by 2100, making most of the Earth uninhabitable.
Please take that in – uninhabitable.
I now understand that climate change is the single greatest threat humanity has ever faced. With three young children, I cannot accept this as their fate.
The COVID-19 pause proves change is possible
The good news is that the COVID-19 lockdown has shown us that with political will, swift change is possible. That's important because governments and systemic change are the key. Changing our own habits is necessary, but not enough to implement the solutions we need at the speed and scale required.
We need huge investment in clean energy industries and energy efficiency, in clean transport, in sustainable farming. Technologies to rapidly decarbonise our economies already exist. They're often cheaper and will create more jobs than fossil fuel industries.
The good fight
I can no longer reconcile being caught up in the day-to-day – caring about the food my children eat, the schools they attend, the home I make for them – without thinking hard about the world that will exist for them as adults.
I'm haunted by a vision of the future where my children look me in the eye and ask: "Why didn't you do anything, Mum?". So, if friends describe me as being 'really into the environment', that's because I'm 'really into my children and their future'. Who isn't?
So, I fight for a better future. I've joined Australian Parents for Climate Action, where I've found a wonderful community of like-minded people. I write letters to politicians, companies and newspapers. I post on social media. I share my journey to reduce our family's carbon footprint. I attend climate-positive events and rallies. I volunteer for political parties with strong climate policies. I've changed careers and now help organisations reduce and offset their carbon footprint.
And I deliberately choose every single day to care about climate change, even though it would be easier not to. Because ignoring it won't make it go away and honestly, I'm guilty of having ignored the issue for too long already.
Right now, our government is allocating tens of billions of dollars to reinvigorate our economy, determining the future of our emissions – and our climate – for decades to come. Now is our chance.
Please join me. A massive show of people power is how we turn this around. Let's make sure our elected leaders know we want investment in future industries and not fossil fuels. That we want to tackle climate change as well as kick-start our economy. That our children deserve to live a full life without fear of war, famine and disease.
Communicate the message to your state and federal politicians, by whatever means you prefer – email, face-to-face meeting, hand-written letter, phone call or connect with them on social media. Ask everyone you know to do the same.
I promise you – you'll never regret doing everything in your power to stop climate change. But there may come a day that you wish you'd done more.
You can use this simple template to ask your politicians to support a climate-positive COVID-19 recovery: http://www.ap4ca.org/the_covid_recovery
Written by Erin Remblance, Sydney mum-of-three and new climate activist
---