Reducing waste at festivals just got so much easier!
Anyone who has attended a large event such as a music festival or fete will be no stranger to the sight of overflowing rubbish bins at the end of the day.
Usually such events would rely on plastic bin liners and large, heavy bins for waste disposal. Fortunately, Dane Marie S Berggreen and Heiða G Nolsøe are determined to change all that.
"We were asking [event organisers] what they thought the main problems were with waste bins for events…They said it was really difficult to put enough trash cans at events as it's expensive, they get stolen or destroyed, and they're heavy and time-consuming to set up. Most of the time, event organisers wouldn't put anything up, and would just clean up after the event."
- Heiða G Nolsøe
Their design, the Drop Bucket, is a foldable bin made from recycled materials. It's easy to transport, water resistant, and can be assembled in a matter of seconds.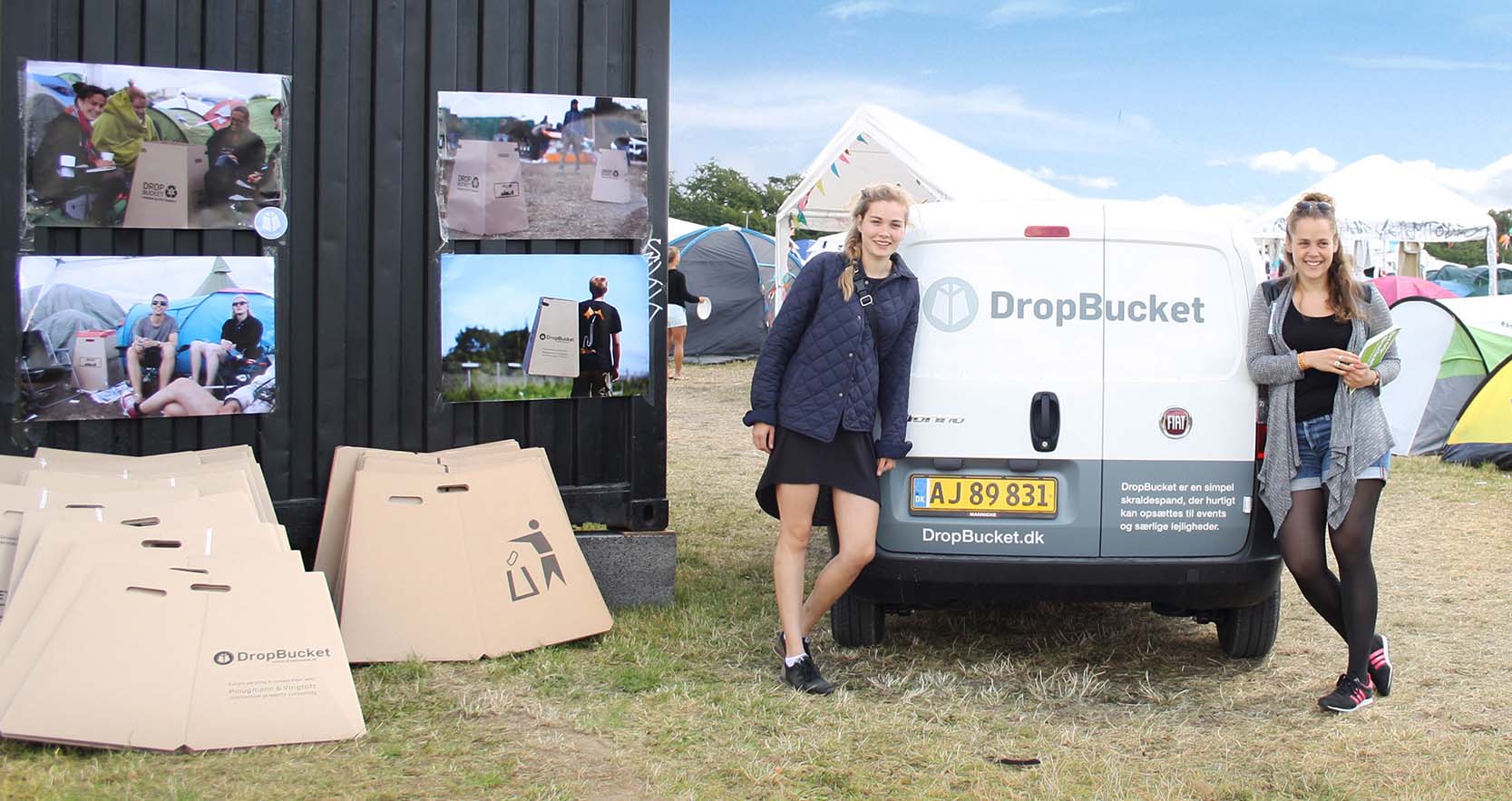 The sturdy design means that it can be reused a number of times, depending on the type of waste being disposed. At the end of the product's life-cycle, the bin can be recycled.
These students created the Drop Bucket as part of an Engineering project at the Technical University of Denmark in 2011. While other students in the class focused on the appearance of the design, the two women behind the Drop Bucket wanted to address the issue of waste management at large events.

The affordable, durable, portable and sustainable bin was awarded second place at the annual Innovation Award in Aarhus. After a long journey of designing, prototyping and refining the design, it has now gone into production.
The DropBucket appeared at the 2013 Copenhagen's Roskilde Festival and was an enormous success. It has now been used at over 200 festivals and events in Denmark, as well as in around museums, offices and fairs in Denmark. The design even won a Red Dot Design Award, earning it international prestige.
Congratulations to these awesome designers on their ingenuity and sustainable thinking! We hope that they can inspire other young women all around the world to design sustainably for a better world.

Photo credit: Erika Svensson and DropBucket
READ THIS NEXT: Plastic Free Forever: How to break up with plastic once and for all
1 Million Women is more than our name, it's our goal! We're building a movement of strong, inspirational women acting on climate change by leading low-carbon lives. To make sure that our message has an impact, we need more women adding their voice. We need to be louder. Joining us online means your voice and actions can be counted. We need you.
---