France is winning the anti-waste food fight
France is the world's first country to make it illegal for supermarkets to throw away edible, unsold food, requiring them to donate it to charities instead. This initiative was spearheaded by anti-poverty campaigners, those against food waste, and even by the shoppers themselves, showing the world that our actions and campaigns really can make a difference.
The new law was passed unanimously in the French senate earlier this year, allowing charities to give out millions more free meals to food banks who, until now, received 100,000 tonnes of donated goods, 35,000 of which came from supermarkets. A 15% increase in donated food alone will provide 10 million more meals to those struggling to afford supermarket prices.
Now, supermarkets 400 sq. metres or more are required to sign donation contracts with charities, otherwise they face a penalty of almost $6000. The law also recognised and now has barred the heinous act of supermarkets purposefully spoiling their products before they are thrown away to deter people from foraging through the bins for food approaching their use-by date.
Read more: 10 perfectly good food scraps you're probably throwing away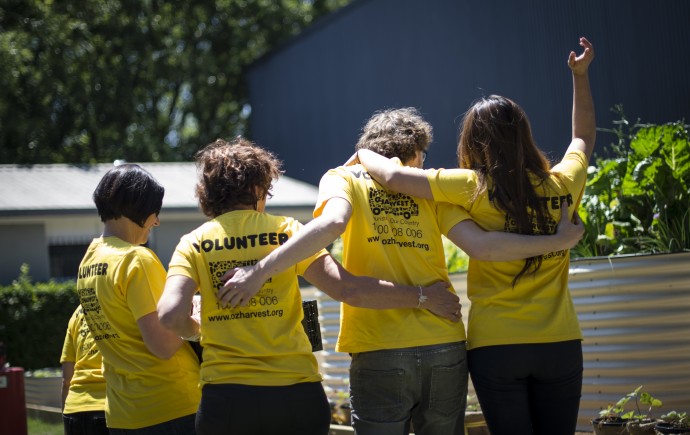 Image: Oz Harvest volunteers are an integral part of distributing food to people in need. via Oz Harvest
Considering that Australia produces enough food to feed approximately 60 million people, two million people still rely on food relief every year, according to DAFF, National Food Plan. It's time that Australia followed suit and banned supermarket food waste, ending the unnecessary crisis that these Australians face each year.
Food waste is not only problematic to society, but is toxic to the environment when it ends up in landfill. As food decomposes, it releases methane – a greenhouse gas 20 times more potent that carbon dioxide. In Australia alone, as much as four million tonnes of food decomposes in landfill each year.
But Australian food rescue organisation, Oz Harvest, are doing everything they can to rescue surplus food that would otherwise end up in landfills, redistributing food to more than 500 charities and diverting 6,000 tonnes of food from landfills. They save food from restaurants, cafes, hotels, retailers, manufacturers and food outlets throughout Australia, putting more than 600 volunteers to work.
Imagine how much more effective their wonderful work would be and the amount of hungry Australians who rely on food relief services if Australia passed a law like France has. Way to go France!
Visit Oz Harvest's website to learn more about the wonderful work that they do and how you can help.
Read this next: Avoiding food waste in the food industry
1 Million Women is more than our name, it's our goal! We're building a movement of strong, inspirational women acting on climate change by leading low-carbon lives. To make sure that our message has an impact, we need more women adding their voice. We need to be louder. Joining us online means your voice and actions can be counted. We need you.
---