Using seasonal produce is usually cheaper, has less food miles, and means that you'll often be supporting local farmers. It's win-win. Asparagus is in season now and Zucchini comes into season as it gets warmer. This is the perfect recipe for a meeting of the seasons!
Ingredients:
1 cup brown rice
1 small brown onion finely chopped
1-2 tablespoon tamari
2 medium sized Zucchini chopped
6-10 Asparagus spears chopped
4-5 cups of Vegetable Broth
1/4 cup Plain plant-based Milk (I used Almond Milk)
Fresh herbs to garnish (optional)
Instructions:
In a large pan mix tamari with the chopped onion and simmer on medium heat until the onion is transparent
Add in the Brown rice with approx 1/2 cup of vegetable broth until is it absorbed
Reduce heat and continue mixing in ½ cup at a time until it absorbs the broth
Continue adding vegetable broth in small doses, while frequently stirring
When rice seems to be almost cooked add in the remaining vegetable stock with the chopped zucchini and asparagus. Allow to simmer until most of the stock is absorbed and the veggies seem to be cooked
Add in the Plant-based milk at the end for extra creaminess.
Garnish with fresh herbs or spices of your liking.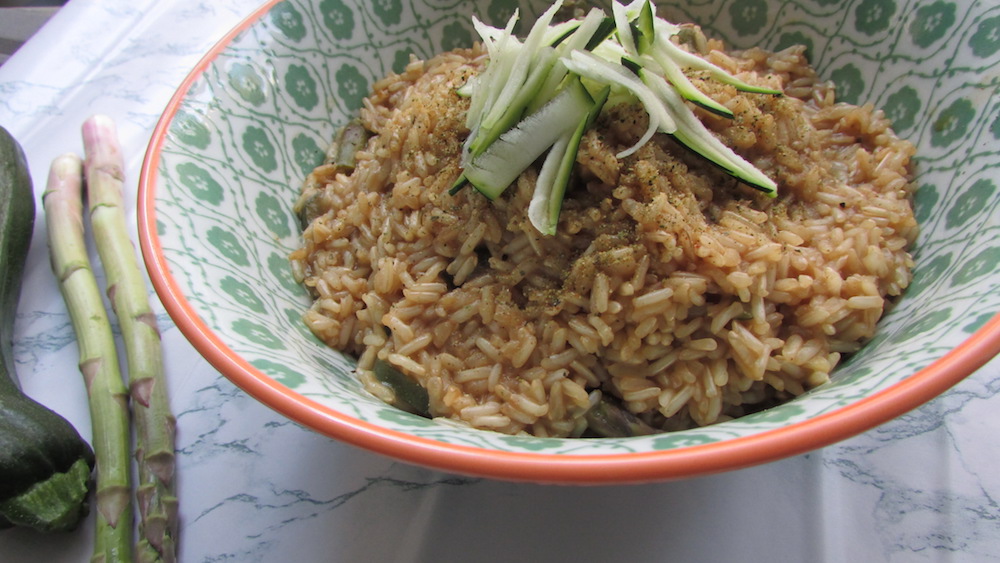 We're building a movement of women fighting climate change through the way we live.
Join us and be counted.
---