Golden beetroots are earthy and sweet!
I love scouring my local farmers markets on a Friday morning for unique and in-season produce to experiment with.
Last week, I found beautiful golden-fleshed beetroots and had to give them a try.
I decided to use them in a dish to bring to the 1 Million Women plastic-free brunch. You can see all the photos from the brunch here, and over the coming weeks I will be posting some of our favourite dishes from the day including this one.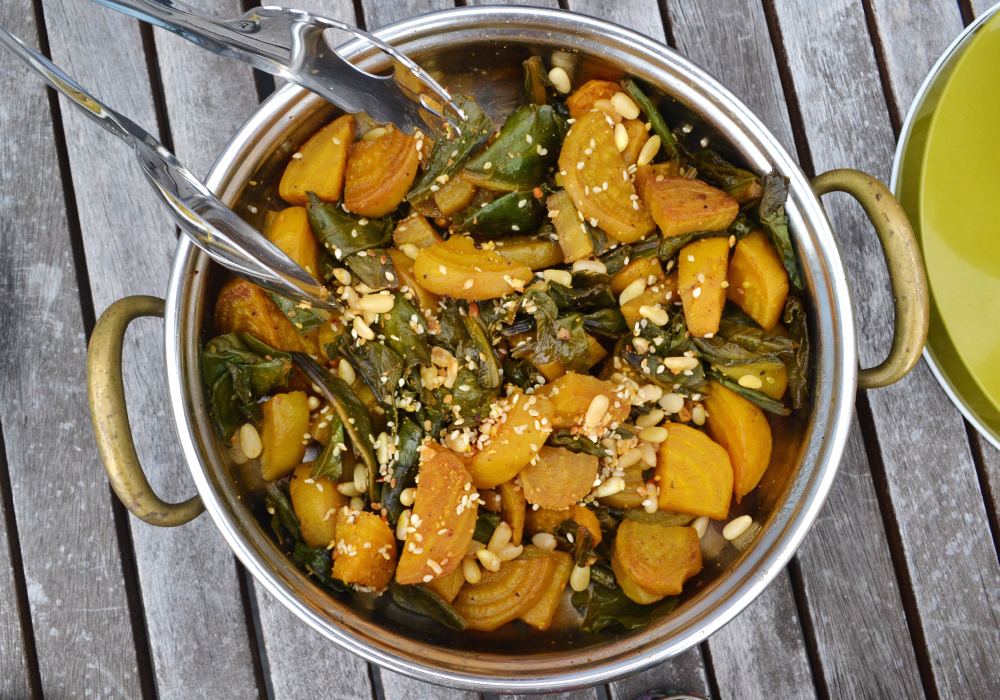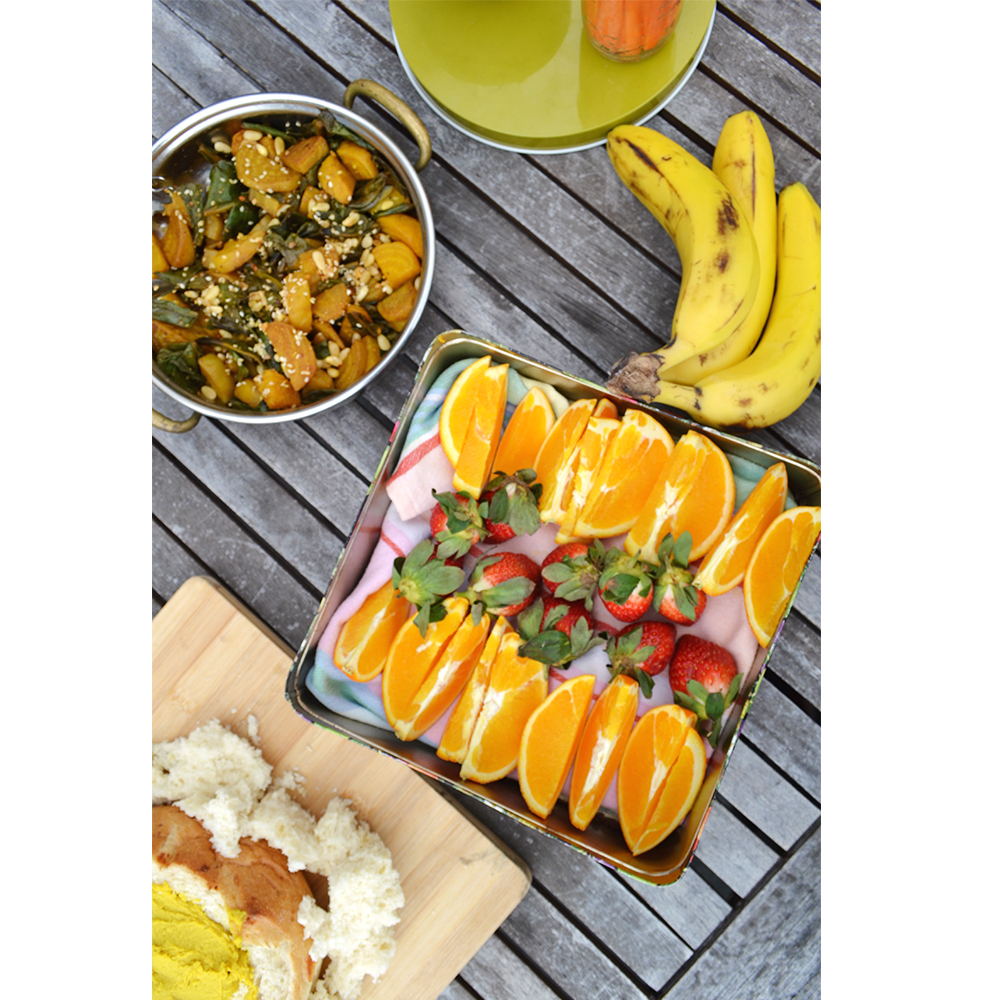 What I love about this recipe is that it uses the beet greens.

People often throw beet greens away thinking they are inedible. Well in fact, beet greens are actually more nutritious than the beets containing twice the potassium and are exceptionally high in beta carotene and folic acid.*
You definitely don't want to waste these highly nutritious gems. Plus, they're a bit sweeter than something like sautéed kale and add a great flavour.
To top it all off, is a simple tahini sauce. Tahini is one of my favourite surprisingly protein-packed foods.
Enjoy this recipe as a side dish or light vegan meal with a grain on the side.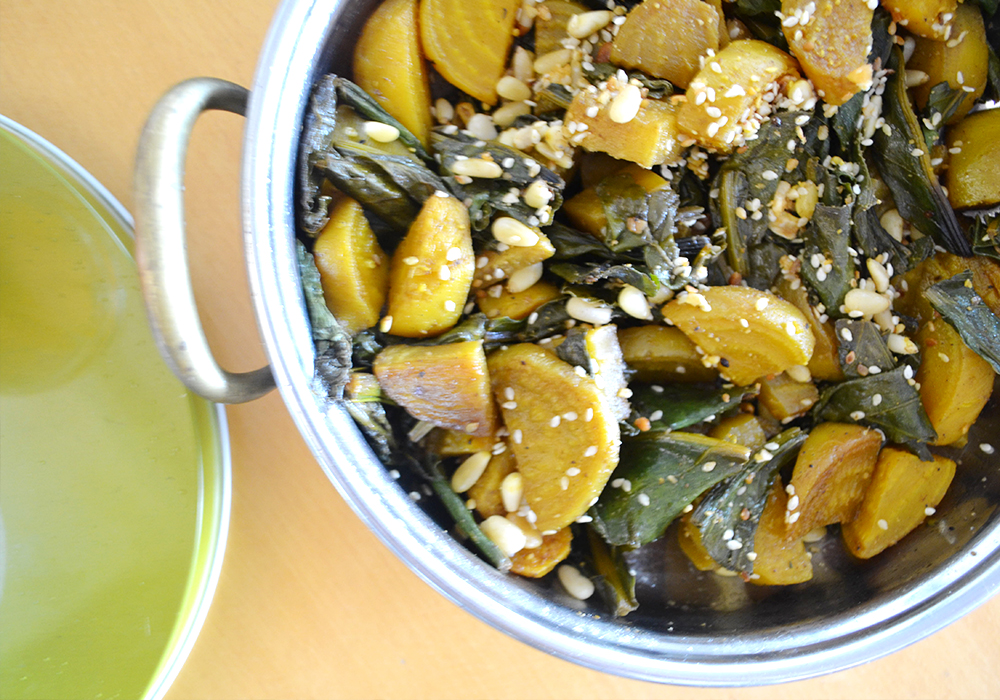 Ingredients
3 medium fresh raw golden beets
beet greens (no stems) from raw beets** (can substitute with baby spinach).
2 garlic cloves, thinly sliced
1 tsp cumin
handful of pine nuts
olive oil
salt and pepper to taste
**Note: It is very important the the beet greens be fresh, crisp and un-bruised. Organic beets with beet greens attached are the best option, if possible.
Tahini sauce

2 tbsp tahini
Juice of half a lemon
1 tbsp olive oil
1 tbsp apple cider vinegar
1 tsp brown rice malt syrup (or other sweetner)
1 tbsp hot water
Directions
Thoroughly clean the beets and cut off attached greens.
Place beets in a pot of salted boiling water. Boil until fork tender and skin can be rubbed off easily. (Time depends on size.) Drain allow to cool and peel completely. Cut into even sized pieces.
Once beets have been boiled, heat a little bit of olive oil in a pan.
Add garlic and cook for 2 minutes until fragrant and golden.
Add the peeled and cut beet pieces, cumin, and saute for about 5-8 minutes with a lid on.
Next add the thoroughly cleaned beet greens into the pan. Cook until the greens have wilted.Season with salt and pepper to taste.
Serve with a handful of pine nuts on top and drizzled with tahini sauce.
Serves 4
* http://www.specialtyproduce.com/produce/Gold_Beets_260.php
We're building a movement of women fighting climate change through the way we live.
Join us and be counted. It's completely free.
Are you already a 1 Million Women member? Have you been introducing more plant-based recipes like this one into your diet?
Add this activity to your low-carbon living dashboard below, and start tracking your progress on reducing pollution by cutting down on (or cutting out) meat meals.
What you can do
Design a healthy vegetarian diet to downsize your carbon footprint.
There are lots of amazing food choices for vegetarians and brilliant recipes and restaurant options. Make becoming a vegetarian a journey of discovery into new taste and diet awareness, while also saving CO2 pollution, and even money.
16
Tonnes of CO2
savings pledged
---