This is a guest blog from our friends at Farm to Face
The art of making pastry is a long forgotten skill amongst most cooks. It generally fits into the 'bread and pasta' category and is often thought to be really difficult and technical…'baking is a science' I hear you all scream. Or at least that was always my fear, 'its impossible to create gorgeous pastry at home I simply don't have the right set up or patience that bakers do'. Well I will say this; there is nothing to be scarred of! At the end of the day the worst thing that can happen is you'll end up with a buttery-crumbly mess that can be used in a fruit crumble topping. Silver lining***

I feel in life, we all seek guidance and connection. This for me is the wish that I could have my nanna around to teach me her ways in the kitchen and speak of village gossip over a good cuppa and a scone. For this reason in particular our recipe for Rhubarb and Apple Pie brings me great joy, it's the first time I have been able to pass on a friends recipe and it's the first time I feel like I am sharing (hopefully) a skill that all cooks, even the novices among us, can master. No frills, just good old farm fresh simplicity straight from a friend's garden.
Read next: 7 vegetarian recipes for meat free week

In my recent adventures to Yea Valley the lovely Phil and Lyn Lobley were so gracious to let me into their world of baking and winemaking (I can't wait to share there stories with you in coming weeks). They sent me home with hope for my future as a baker, a solid recipe for a fail-proof short-crust pastry and some home-grown rhubarb. Rhubarb us just coming into its own here, it's the start of the cool climate fruit & veg that make winter a bit more bearable. Really couldn't have been more excited if I tried. Cheers to new friends and pie! So here goes it.
Lyn's Shortcrust Pastry
1 cup plain flour
1 cup self-raising flour
½ cup butter
½ cup cold water
pinch of salt
Phil's Instructions:
Sieve flour and salt onto a clean bench top or marble block.
With you fingertips, rub the butter into the flour
Make a well, add water and mix
Roll out and bake in pie tray at 240°C
Read next: Recipe: the ultimate planet friendly pizza

Don't you just love it, couldn't be more brief but really (if you think about it) that is actually it. I can tell you honestly, it works. There are a few pointers, however, that I would make to those who've never made pastry before:
Once you have mixed the water into the butter/flour mixture, only work the dough enough to form a firm ball. Don't over work it, it's not necessary as long at the butter/flour is combined fully then your sweet.
Wrap the pastry in cling film and put it in the fridge for about 20min before rolling it out, this seems to set the pastry and makes for an even bake in my experience. Classic pastry trick!
Follow the oven temperature that your recipe requires, or if you are going rouge follow Phil's direction of 240°C
1 Million Women is empowering women and girls around the world to lower their impact on the planet. If you love what we do, please support our work by donating a couple of dollars. For the price of a cuppa, you can help us inspire millions more! (click to donate)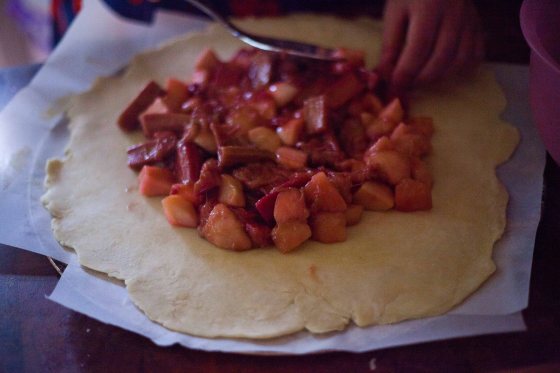 Rhubarb and Apple Pie
You'll need:
5 small Granny Smith, peeled and cut into 2cm cubes
5-7 sticks of rhubarb*, ends cut away and sliced into 3cm pieces
¼ cup honey
2 tsp ground cinnamon
1 x quantity of Lyn's Shortcrust pastry
6 or so Mint leaves, sliced to serve
Double cream, to serve
First step…
In a heavy based sauce pan place your rhubarb and apple, place the lid on and allow to soften slowly with the heat. About 5min max, you will see a lot of water coming from the rhubarb. Drain the apple/rhubard mixture and place in a bowl with the honey and cinnamon. Some may say this is over kill…but it stops the pie going soggy from the water content of the rhubarb.
Pre-heat your oven to 200°C, their should be a setting on your oven for heat coming from both the top and bottom of your oven. That is the perfect setting for pie baking. If you have it, use it.
Roll out the pastry to a large circle, as big as you can get it. Looking for 3-5mm thickness.
Place your fruit mixture in the centre of the pastry, and spread as thinly as you can. Leave about an 8cm diameter of pastry to work with, start to fold the pastry back over the fruit working your way around the pie with each fold. Egg wash the pie if that's your thing; I wasn't in the mood to crack eggs that day so I left this step out. Sometimes you just have to listen to you inner baker.
Place pie in the oven, and bake for 35min or until the fruit is tender and the pastry golden. Serve with shards of sliced mint and a serious dollop of double cream.

*Rhubard leaves are poisonous containing high levels of oxalic acid, the stalks also contain this acid but in much smaller doses. So if you are using freshly picked Rhubarb make sure to discard roots, white ends of the stalks and the leaves. Store bought rhubarb will have been de-bugged for you already by your darling grocer.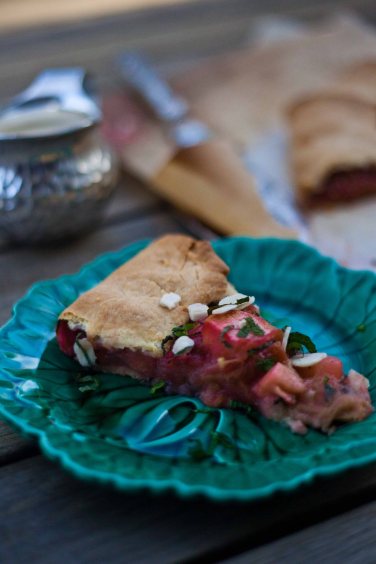 Melodie and Georgia created Farm to Face because they know that the food we eat has a huge impact on our health and wellbeing, and on the planet! We're inspiring people to live waste free and eat for the future by choosing local, seasonal and ethical foods.
Read next: Hot sauce recipe: hot and spicy chili sauce
1 Million Women is more than our name, it's our goal! We're building a movement of strong, inspirational women acting on climate change by leading low-carbon lives. To make sure that our message has an impact, we need more women adding their voice. We need to be louder. Joining us online means your voice and actions can be counted. We need you.

---