Could we be flushing away a gold mine for renewable energy?
Grand Junction – a city in Colorado, America - have taken 'natural gas' literally by turning eight million gallons of raw sewerage into power for fleet vehicles, such as garbage trucks, street sweepers, and transit buses.
The company behind this innovation, Persigo Wastewater Treatment Plant, developed this $2.8m project over ten years. And since diesel guzzling fleet vehicles are enormous polluters, this innovative project introduces an abundance of environmental benefits: greenhouse gases could be reduced by as much as 60% to 80% compared to the previous system of diesel power and flaring off the raw gas.
The natural gas is not only derived from human poop, but from any organic waste, such as manure and food scraps. Soon, 25 to 30 loads of food waste could be making its way to the plant, sourced from grocery stores and other large food manufacturers all around Colorado.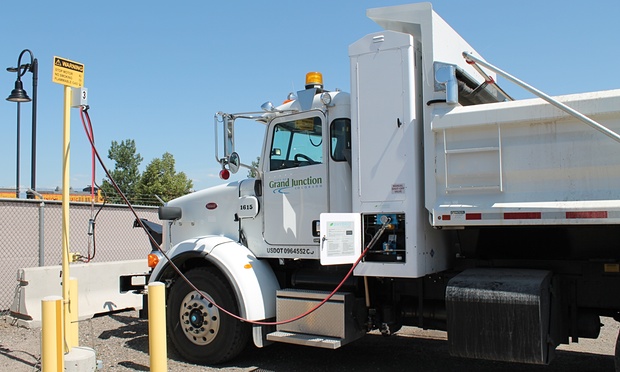 Image: Dump trucks refuel in Grand Junction with renewable natural gas

Joanna Underwood of Energy Vision told Harvest Public Media that if all the organic waste in the US could be collected and processed with this method, enough natural gas could be produced to replace half of the diesel fuel used in America's transportation sector. Energy vision have identified 8,000 farms, 1,750 landfill sites, and 17,000 wastewater facilities that are candidates for the production of renewable natural gas (RNG)
Turning this wastewater into RNG is achieved anaerobic digestion – a process that breaks down the organic matter and turns it into biogas, which is then collected and upgraded into RNG, or biomethane. And while this process isn't new in the US, it hasn't been used for transportation fuel until now.
The benefits are not only environmental, but economic as the company could be saving hundreds of thousands of dollars each year. The project will pay for itself in approximately seven years.
All images provided by the City of Grand Junction

Read this next: Scottish whisky residues could soon power our cars

1 Million Women is more than our name, it's our goal! We're building a movement of strong, inspirational women acting on climate change by leading low-carbon lives. To make sure that our message has an impact, we need more women adding their voice. We need to be louder. Joining us online means your voice and actions can be counted. We need you.
---