Risotto without rice, sounds like a joke right?
Well its a totally serious recipe I assure you, and even my partner who was a little hesitant about this meal at first, loved it so much he asked me to cook it for his parents next.
I'm a sucker for trying new things, and when I saw people posting photos on Instagram of this risotto which is actually made by turning cauliflower into a rice like consistency - I knew I had to give it a try.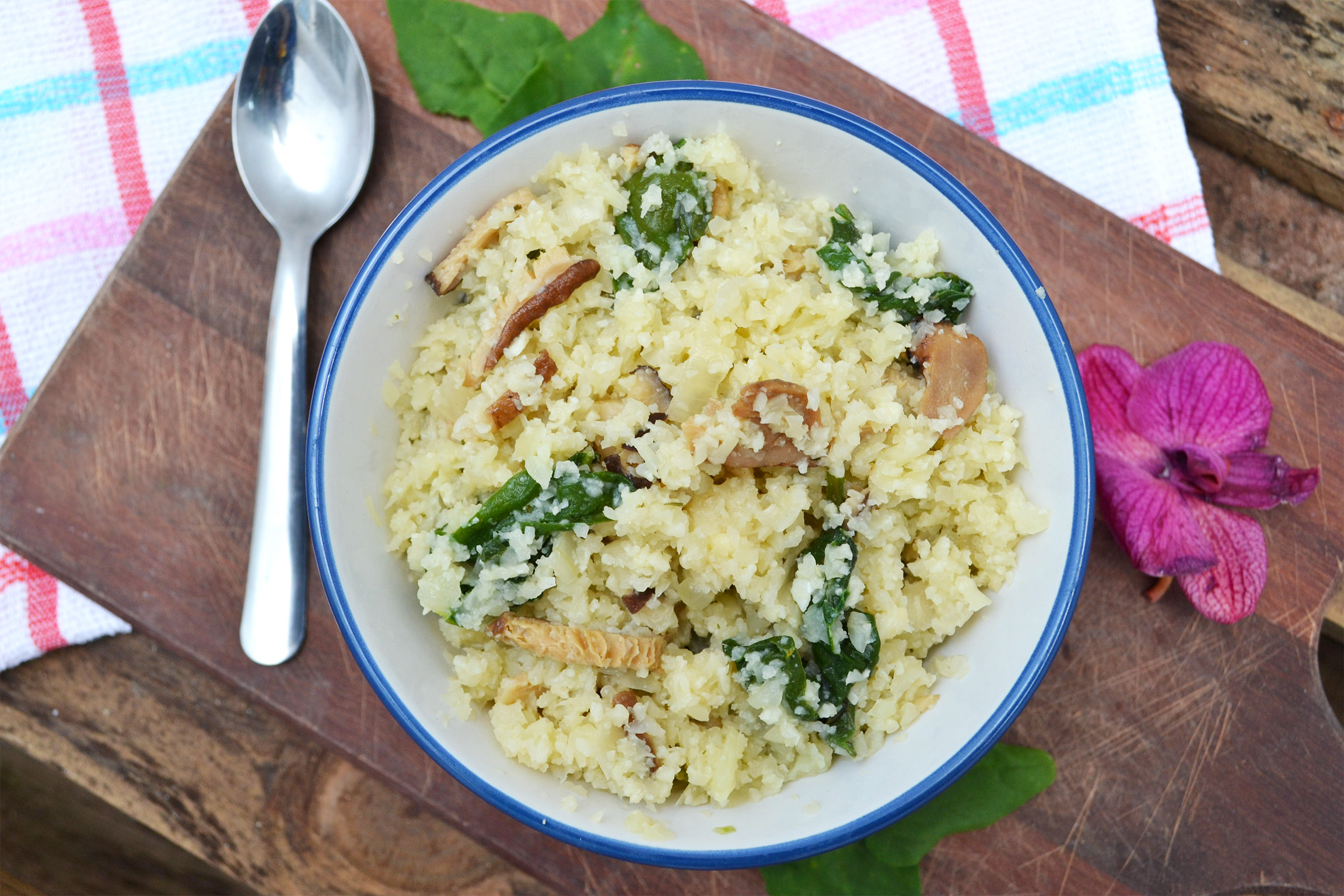 I love to create recipes using ingredients I already have at home, and this week I had spinach and dried shitake mushrooms. So I put them all together in this warming seasonal dish, and believe me it doesn't disappoint.
Obviously its not exactly like eating a risotto, the texture is a little different, but using the cauliflower as rice gave such a great and different flavour to the dish. I will absolutely repeat this.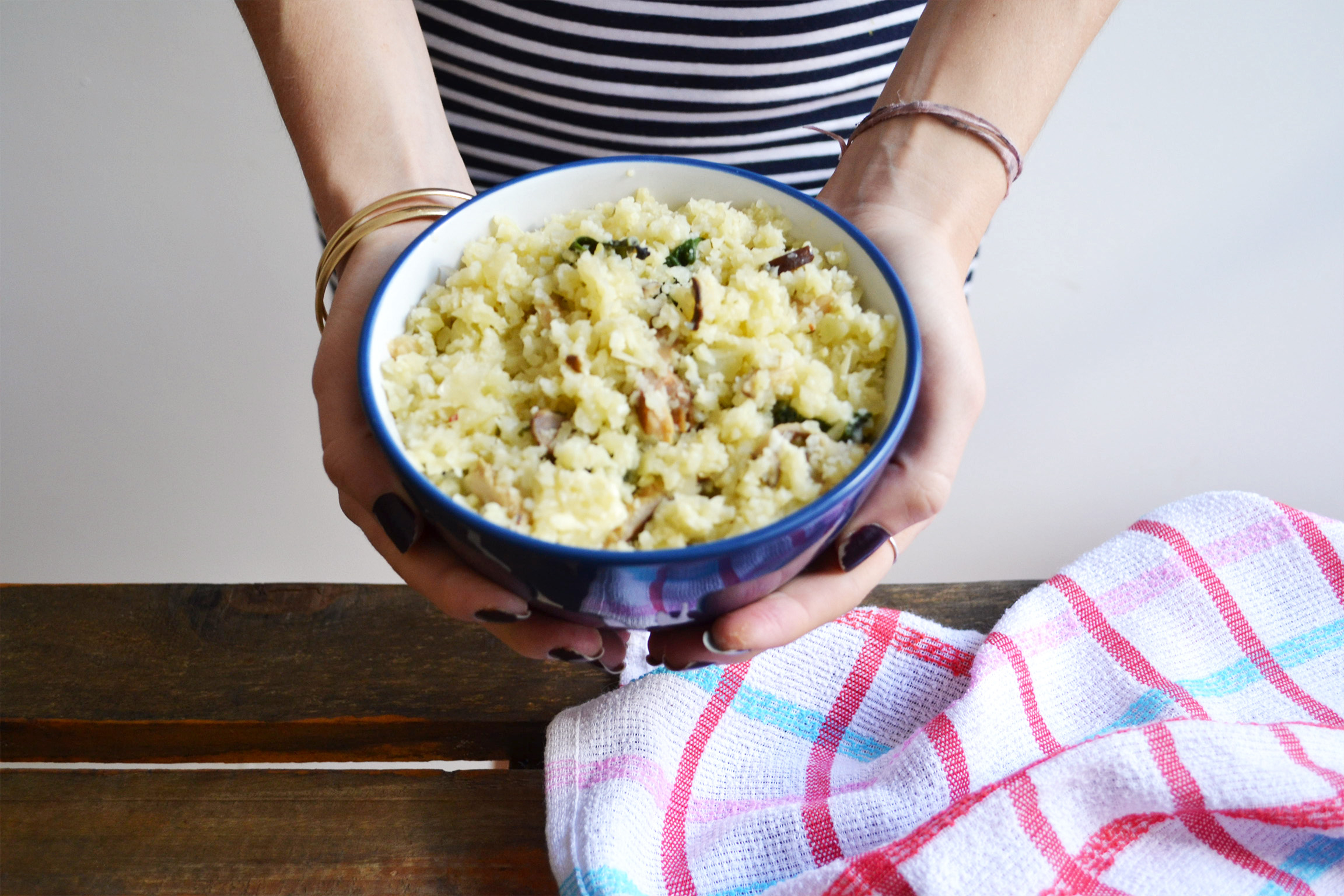 Ingredients
1 medium head cauliflower, cut into florets
3/4 cup shitake mushrooms
2 large handfuls of spinach
2 teaspoons minced garlic
1 small brown onion, diced
2 cups vegetable stock (plus 1/2 cup to soak the Shitake in - optional )
Olive oil
1/4 cup parmesan (replace with 2 Tbsp nutritional yeast if Vegan)
A sprinkling of crushed macadamia nuts (I crushed mine with the back of a knife so they were chunky still)
Directions
Put dried Shitake mushrooms in a bowl. Bring to the boil 1 cup of water with 1/2 cup vegetable stock and pour over the Shitake to cover. Let them soak for about 10 minutes, until soft. Using a little vegetable stock in this part I think gives the mushrooms a better flavour (as they can sometimes taste quite earthy) but it is optional, plain water works fine too.
Add the cauliflower florets to a food processor and process, scraping down as needed, until it resembles "rice," approximately 2-3 minutes.
Heat a large skillet over medium-high heat. Add the thinly diced onion to the skillet and cook, stirring often, until translucent, about 3-4 minutes. Add in minced garlic and cook for another 2 minutes, or until golden.
Add the cauliflower "rice" to the skillet and stir, cooking for about a minute or so, until combined.
Add the vegetable stock, heat and cover, letting it cook until most of the liquid has been disappeared. You'll want the cauliflower to be "al dente" with a little texture so it isn't just mush.
Add the spinach, Shitake and parmesan. Heat through until the spinach starts to wilt down.
Now you are ready to serve! spoon into plates or bowls and sprinkle some crushed macadamias over the top. This really finishes off the dish.
Serves 3-4 people
What you can do
Design a healthy vegetarian diet to downsize environmental footprint
Choosing to be a vegetarian can mean large savings of CO2 pollution. It does, however, raise important dietary health considerations and we recommend women always seek appropriate nutritional advice if considering this activity.
16
Tonnes of CO2
savings pledged
---