Ecobricks are bricks made out of tightly compressed plastic waste pushed into empty plastic bottles to create dense bricks that can be used for a range of purposes in the home or for community projects such as furniture, walls, buildings or games. This simple, low-tech solution to plastic recycling allows everyone to take personal responsibility for their own plastic waste and create a long-lasting and durable material.
According to Global Ecobrick Alliance globally over 27,000 KG of plastic has been diverted from landfill and turned into over 78,000 bricks! While Ecobricks are simple enough for anyone to make at home, there are a few key points to ensure they stand the test of time.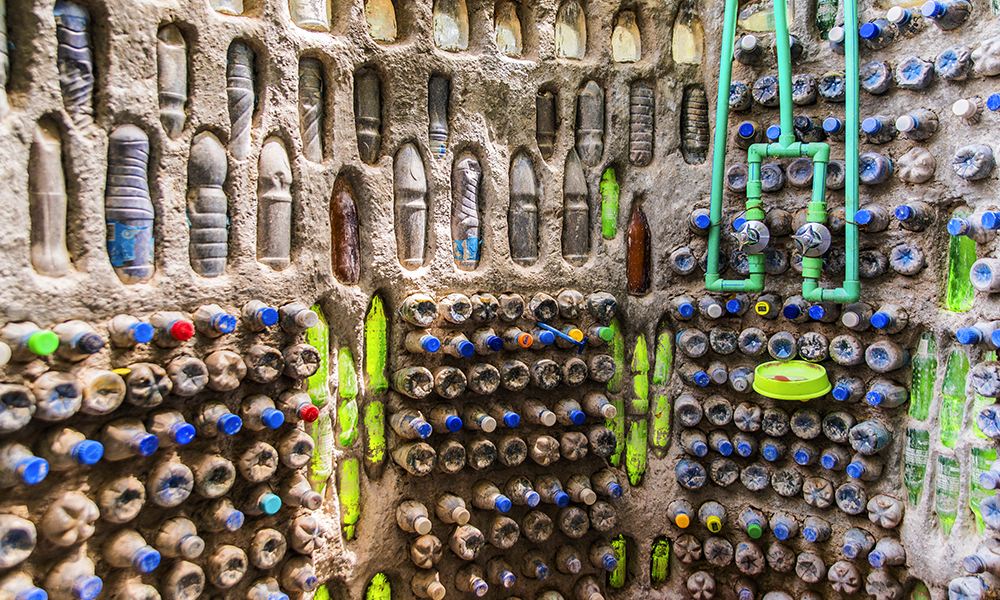 How to make your own Ecobricks:
The first step is to start segregating and saving your plastic. You can use styrofoam, plastic bags, packaging, straws and cling wrap. It's important to thoroughly clean and dry plastic to avoid microbial growth or methane forming in the bottle.
Choose the bottle you are going to use as your brick. We recommend starting with a 600mL bottle for your first time. But most importantly, choose a bottle you already have (or collect from neighbours, your office or housemates), we don't want you to have to buy extra plastic bottles for this purpose!
Find a packing stick, also known as a magic wand. This should be round, smaller than the bottles opening, and a smooth, round tip. Nothing too sharp or it might damage the bottle.
Start with a coloured piece of plastic and push that into the bottle first. Be sure to pack it in well with your stick, continuously rotating and packing until it's tightly compressed in the bottle's base. Keep adding and compressing until your bottle is full.
To check your bottle is the correct density for longevity, weigh it. A 600ml bottle should be at least 200g and a 1.5L bottle should be 500g, or 0.33 g per millilitre.
Leave a 1-2cm gap at the top to allow for pressure, you can now screw on the cap to seal your brick.
The Ecobricks community encourages everyone to record the details of the bricks in the GoBrik App as well as on the bottle itself using paint or nail polish.
Don't stop now you've created your first brick! Let's take a look at some of the projects you can build with your Ecobricks, or places you can donate them.
What you can do with your Ecobricks
Once you've made an Ecobrick, you may choose to keep making more to use for projects around the home, or alternatively donate them to collection sites who use them for community projects. There are drop off points around Australia so you can find one near you, or start your own here.
Some of the most popular building projects include:
Be sure to follow the Ecobricks organization Facebook page to keep up to date with the latest news.

Written by Kat Barber

Kat is an Australian travel writer currently living in Germany with her husband and dog. She's passionate about sustainable travel, languages, eating pretzels and drinking great coffee. Find her on Twitter at @katbarberwriter
Images: Shutterstock
---