Here's another delicious recipe from renowned chef Bill Telepan!
Bill is the Executive Chef of Wellness in the Schools (WITS), a national non-profit that partners with public schools to inspire healthy eating and physical activity as a way of life. The founder and executive director Nancy Easton, is really a "woman to watch" and with Bill, is working to help schools across the country become healthier places for students to learn and grow.
Read our interview with Nancy here.
[Recipe] Zucchini frittata with arugula
YOU WILL NEED:
2 tablespoons olive oil
½ onion
2 cloves garlic
1 medium zucchini, halved and thinly sliced
2 teaspoons thyme
8 eggs (free range and organic if possible)
1 ounce arugula (rocket)

WHAT TO DO:

Preheat oven to 200 degrees Celsius. Put 1 tablespoon oil in a 10-inch sauté pan over medium heat. Add onion and garlic and a pinch of salt and soften for about 5-7 minutes.

Add zucchini and thyme, mix together and cook an additional 3 minutes. Take off the heat, place in bowl and allow to cool to room temperature. Whisk the eggs together and add in the zucchini mix.

Heat remaining oil in a 10-inch sauté pan on medium heat, place in the egg mix and cook on the stove until edges start to solidify and place in oven until the frittata is cooked through, about 10-12 minutes.

Slip onto cutting board, cut into serving wedges (4-8) place on top of arugula and serve!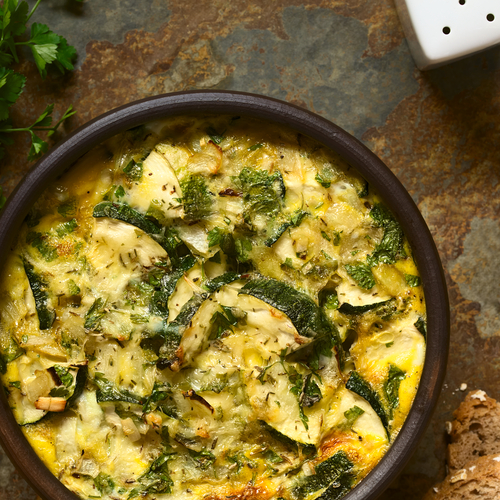 Remember to shop local, seasonal and organic where possible, or even grow your own herbs and vegetables at home! This is a super easy way to ensure that you have quality, healthy produce, and also reduce your carbon footprint.
Looking for more great recipes? Try these!
Charred Broccoli and Spring Onions with Roasted Garlic Coconut Cream

Pasta with Dairy & nut free pesto & marinated white beans

Images: Shutterstock
1 Million Women is more than our name, it's our goal! We're building a movement of strong, inspirational women acting on climate change by leading low-carbon lives. To make sure that our message has an impact, we need more women adding their voice. We need to be louder. Joining us online means your voice and actions can be counted. We need you.
---