Vegetable Chow Mein is a popular Asian classic dish that is fairly simple to make and doesn't require too much time.
Usually at Chinese restaurants, they throw in a ton of oil and way too much soy sauce into their noodles giving it that brown glossy look. This version is still delicious but with much less salt and oil.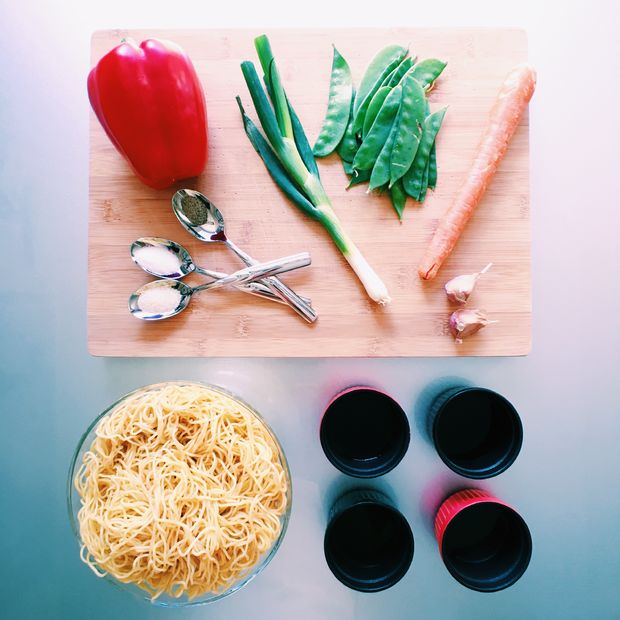 Ingredients
Serves 3-4 | Prep time 15 mins | Cook time 10 mins
379 grams of chow mein noodles (I usually buy the fresh type in the refrigerated section at Asian grocers for a springy noodle texture)
1 red pepper (sliced into matchsticks)
1 small carrot (sliced into matchsticks)
1 green onion (chopped)
100 grams of snow peas (with stems chopped off & sliced into matchsticks)
2 garlic cloves (finely chopped)
1.5 TBSP light soy sauce
1 TBSP dark soy sauce
1 TBSP sesame oil
1 TBSP dry sherry or rice wine vinegar
1 tsp salt
1/2 tsp pepper
1 tsp cane sugar
vegetable oil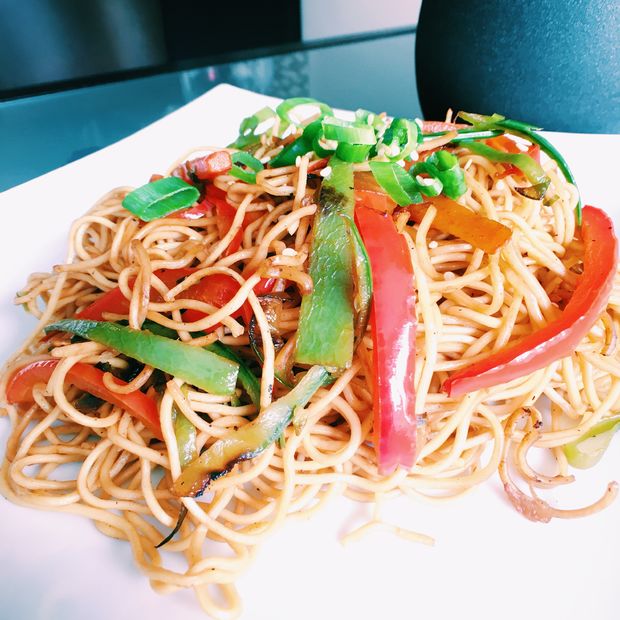 Method
Prepare your ingredients as listed above.
Fill your wok half way with water and set it on high heat. Let it come to a boil and add your noodles. Allow them to cook for 1 minute only. Do not allow them to sit in the hot water for more than that. Strain in a colander. Drizzle 1/2 tablespoon of the sesame oil into the noodles and mix well. Set aside.
With your dry wok, set it on medium high heat. Add a couple tablespoons of vegetable oil into the hot wok. Quickly add in your chopped garlic and allow this to fry for 10-15 seconds.
Then add in your sliced carrots and red peppers. Allow this to cook for 1 minute. Then add in the sliced snow peas and green onions. Cook for another 2-3 minutes until vegetables are soft.
Loosen your noodles with your hands and add them into the wok. Add the sauces: light soy sauce, dark soy sauce, sesame oil and dry sherry (or rice wine vinegar). Mix until noodles are evenly coated.
Add your seasoning: salt, pepper and cane sugar. Combine well.
Once your noodles are evenly combined, they are ready to serve.
Enjoy!
[recipe originally from Instructables)
Read this next: Recipe: Asian Inspired Vegetarian Leftover Lettuce Cups
We're in a climate emergency and it's going to take all of us to get out of it. That's why 1 Million Women is building a global community of women committed to fighting climate change with our daily actions. To join the (free) movement just click the button below!

---