One Ingredient Chef Andrew Oslo: "Today we're making a classic plant-based sushi roll… in a bowl instead of a roll (stay with me)."
The idea is to layer all the flavours and ingredients of a simple sushi roll (rice, nori, soy sauce, wasabi, carrot, avocado, and more) into one big, delicious rice bowl. I can't even begin to tell you how well this works. It tastes just like sushi, but it's a rice bowl. It's a sushi roll in a bowl.
Ingredients:
3 cups cooked brown rice
3 tablespoons soy sauce
1/2 teaspoon wasabi powder
1 teaspoon toasted sesame oil
1/2 teaspoon black pepper
1 sheet of toasted nori
12 oz tempeh
3 large shiitake mushrooms
2-3 green onions
1 large carrot
1 avocado
Sesame seeds, for garnish
Step One
Cook the rice according to package instructions and measure out about 3 cups into a large mixing bowl. Then, let's add some sushi flavor right into this rice. Whisk together 2-3 tablespoons of soy sauce, 1-2 teaspoons of sesame oil, and a *small* amount of powdered wasabi until combined, then drizzle this sauce into the rice along with a few grinds of black pepper.
Step Two
Nori is, of course, the toasted seaweed papers that are used to wrap sushi. In this bowl, we're adding small bits of nori into the rice. To do this, first cut the sheet into 1-inch strips with kitchen scissors, stack them all on top of each other, and then cut in the other direction until you have thin strips of nori confetti. Add this into the rice while it's still hot so that the nori wilts (which is what we want).
Step Three
We'll need to sauté the tempeh and mushrooms. Dice the tempeh and slice the mushrooms, then add them to a saucepan with a drizzle of water and soy sauce (you can also add a hint of maple syrup and cayenne if you like, but I didn't include this in the ingredient list). Allow these to sauté until the mushrooms are tender, then drain the cooking liquid and add them into the rice.
Step Four
Finally, slice 2-3 green onions, grate a carrot, and dice an avocado. Stir everything together, plate into individual bowls, and garnish with some toasted sesame seeds to complete your sushi roll in a bowl.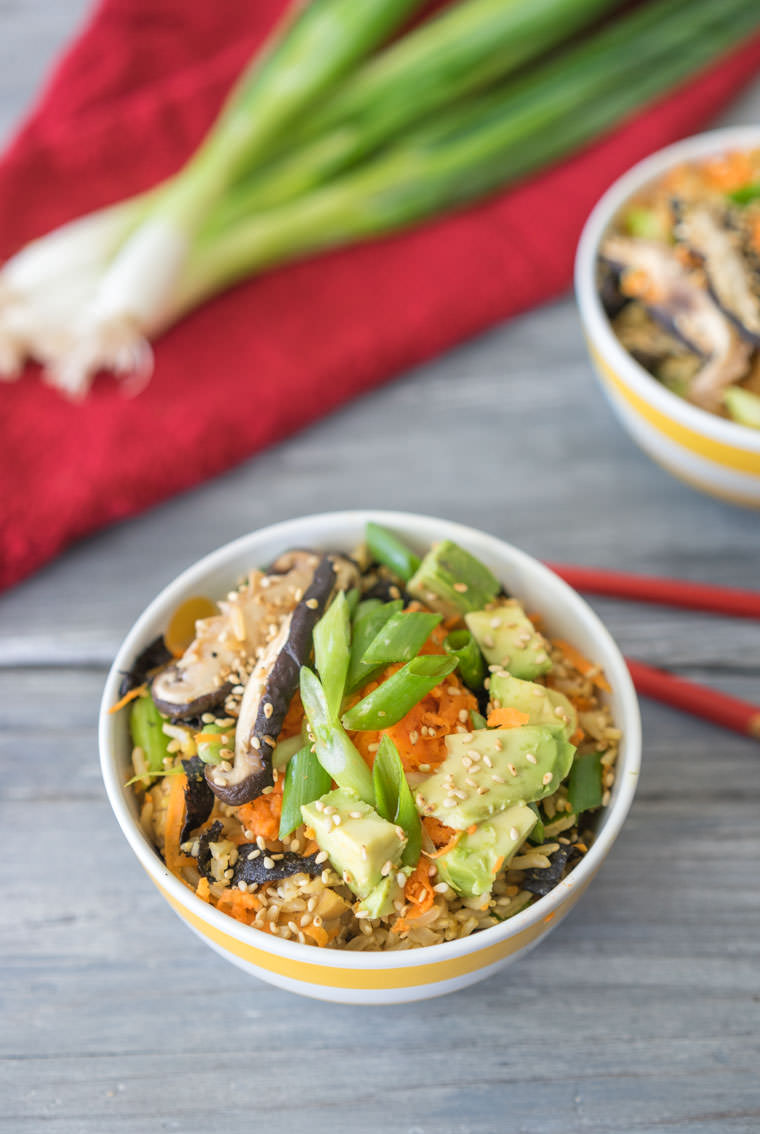 Be sure to check out Andrew's website for more amazing plant-based recipes!
Find our why he calls himself the One Ingredient Chef here.
READ THIS NEXT: Tips for growing, harvesting and preserving mangoes
1 Million Women is more than our name, it's our goal! We're building a movement of strong, inspirational women acting on climate change by leading low-carbon lives. To make sure that our message has an impact, we need more women adding their voice. We need to be louder. Joining us online means your voice and actions can be counted. We need you.
---