At first, I was planning on making this recipe as a quinoa taco filling, which would be added to corn tortillas. But that seemed way too difficult. I mean, you would have to actually spoon the ingredients into the tortilla, fold in half, and then eat. Ugh. What a bother.

My solution to this dilemma? Put the tortillas right INSIDE the bowl.
So that's what we're doing here: making a fresh quinoa salad tossed with spicy taco seasoning and then we'll add some diced corn tortilla strips right into the bowl along with all the other ingredients. This is actually one of my favorite things to eat. It's a perfectly balanced meal with fresh veggies, whole grains, and healthy fats. It's a great combo of delicious flavors and like so many "one ingredient" recipes, you could pretty much eat this at every meal and only get healthier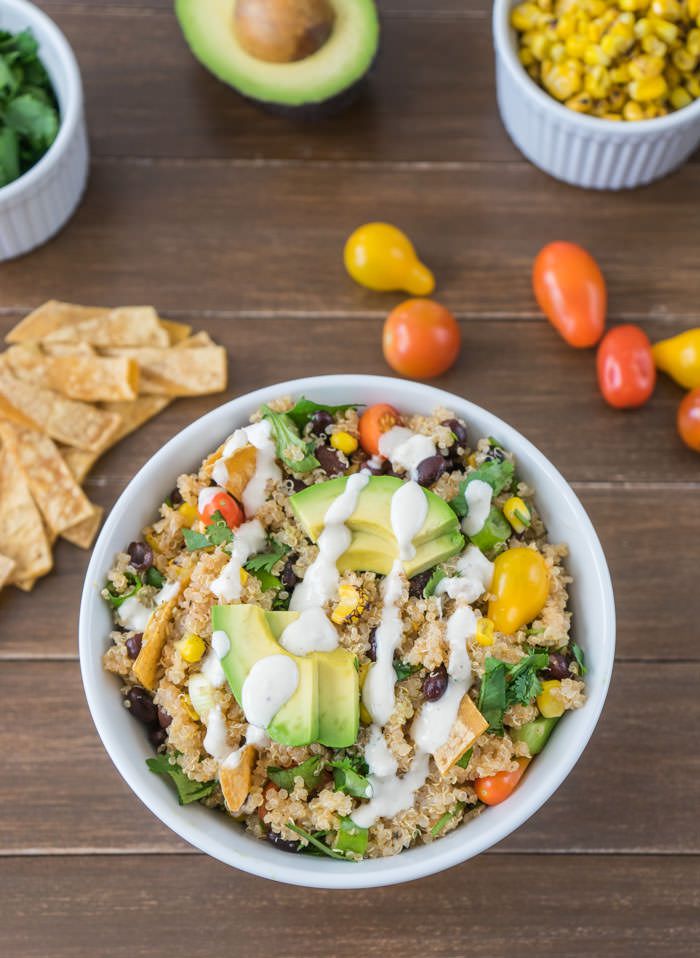 Makes 4 servings
Ingredients:
1 1/2 cup uncooked white quinoa
1 avocado
1 cup cherry tomatoes
2 cups black beans
2 cups corn
1/3 cup cilantro (coriander)
3 green onions
4 small corn tortillas
1/4 cup lime juice
1 teaspoon chilli powder
1/2 teaspoon cayenne pepper
1/2 teaspoon cumin
1/2 teaspoon coriander
1/2 teaspoon paprika
1/2 teaspoon salt
Step One
Cook the quinoa. In a large pot, combine 1 part quinoa with 2 parts water. Bring to a boil, turn down the heat, and then allow to sumer until all the water is absorbed (about 20 minutes). Note: it's important to first rinse quinoa under warm water to remove the bitter coating. This is best done in a fine mesh kitchen strainer.
Step Two
Meanwhile, prepare the tortilla strips. You *can* just throw chopped corn tortillas into the bowl, but I find them much better after being toasted. To do this, cut 3-4 corn tortillas into small pieces, and toss in a 375º oven for 8-10 minutes until they just turn slightly crispy.
Step Three
While those things are cooking along nicely, prepare all the fresh ingredients. Dice the avocado. Halve the cherry tomatoes. Slice the green onions. Chop the cilantro (coriander). Prepare the corn (frozen works well). Drain the can of beans.
Step Four
Prepare the lime taco seasoning. Basically, this simple taco sauce will coat the quinoa and boost the flavors of this bowl off the charts. To make, combine the juice of about 2 limes (if you run out of limes, feel free to top off with water) along with the listed spices in small bowl and whisk until incorporated.
Step Five
Toss everything together. When the quinoa is perfectly fluffy, remove from the heat, transfer to a large mixing bowl, and gently drizzle in this lime taco seasoning. Then add all other ingredients (including those tortilla pieces) and toss until evenly mixed.
Optional: Cashew Lime Sour Cream
If you've read my recipes for any length of time, you should have expected to see cashews here. I use them all the time, especially for a vegan sour cream. To make this, blend the juice of 1 lime, a few teaspoons of water, 1/4 cup soaked (and drained) cashews, and a pinch of salt until completely smooth. Drizzle over the top of each serving bowl to take this recipe to the next level.
Be sure to check out Andrew's website for more amazing plant-based recipes!
Find our why he calls himself the One Ingredient Chef here.

Want something sweet to go with your coffee? READ THIS NEXT: Egg and dairy-free Mocha-infused muffins
1 Million Women is more than our name, it's our goal! We're building a movement of strong, inspirational women acting on climate change by leading low-carbon lives. To make sure that our message has an impact, we need more women adding their voice. We need to be louder. Joining us online means your voice and actions can be counted. We need you!
---