This is a recipe from our friends over at Vegan Street
These vegan meatballs, traditionally served with a flavourful gravy and on noodles, are a little crunchy on the exterior, soft on the interior, and hearty. (With different seasonings, these will convert well to an Italian-style meatball, too, which I will be experimenting with in the near future.) It's not always easy to replicate these dishes when we are emphasizing wholesome ingredients but cracking the code is pretty darn enjoyable. Soy-, gluten- and oil-free, these vegan Swedish meatballs are very different from the original but still packed with flavor. This will dirty a few pans but is really easy to make and very worth the effort. I hope you enjoy!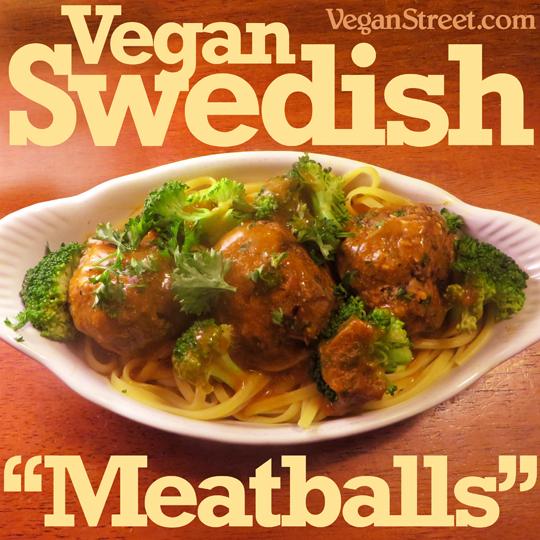 Vegan Swedish "Meatballs"
Serves four, makes about 14 "meatballs"
2 cups cooked basmati rice
1 cup cooked brown lentils
1/2 cup plus 2 tablespoons old-fashioned rolled oats, coarsely ground in the blender or food processor
1 yellow onion, diced
1/3 cup low sodium vegetable stock or 1 T. olive oil
2 1/2 tablespoons low sodium tamari, divided
1 cup curly parsley, minced
1/4 cup all-purpose flour
2 tablespoons nutritional yeast
1 teaspoons allspice
1/4 teaspoon ground nutmeg
1/2 teaspoon paprika
Salt and pepper, to taste
Cook the lentils and the rice, and let them cool. Place them in a large mixing bowl with the ground oats.
Preheat oven to 350 degrees. Prepare a baking sheet with parchment paper or a light brushing of olive oil.

In a large sauté pan, heat the vegetable stock over medium heat and add the onion. (This is the oil-free version: if you'd prefer, use 1 T. olive oil in the place of the vegetable stock.) Cook, stirring often, for about eight minutes or until softened. Add 1/2 T. tamari and stir for an additional minute. Add the onions in the mixing bowl with the lentil mixture, and add all the other ingredients listed, including the remaining 2 T. tamari. Mix vigorously with a spoon until the mixture is thick and uniform, sticking together when you pinch it between your fingers, about three minutes.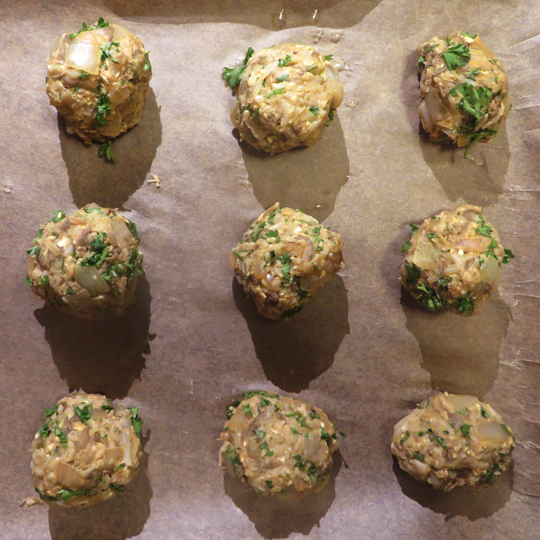 With a bowl of water and a hand towel nearby, shape the mixture into golf ball-sized balls, dipping your hands in the water when they get sticky and wiping them dry. Pack the "meatballs" well, gently squeezing to help them not fall apart. Shape them and place on your prepared baking sheet, and bake for 15 minutes. After 15 minutes, carefully flip each ball and bake for 15 more minutes. Meanwhile, make the pasta and gravy.

For the Gravy
3 cups low sodium vegetable stock
2 tablespoons low sodium tamari
2 tablespoons nutritional yeast
1/2 tablespoon granulated garlic
1 teaspoon powdered onion
Salt and pepper, to taste
3 tablespoons cornstarch dissolved in a cup with 5 T. water
1/2 cup plain non-dairy milk (I used almond milk)
In a medium saucepan, add the vegetable stock, tamari, nutritional yeast, and spices over medium-high heat and bring to a boil. Reduce to a simmer, add the dissolved cornstarch, and whisk until thickened, about 5 - 6 minutes. Add the almond milk, and heat until thickened again, being careful to not let it boil. (Simmering is okay.)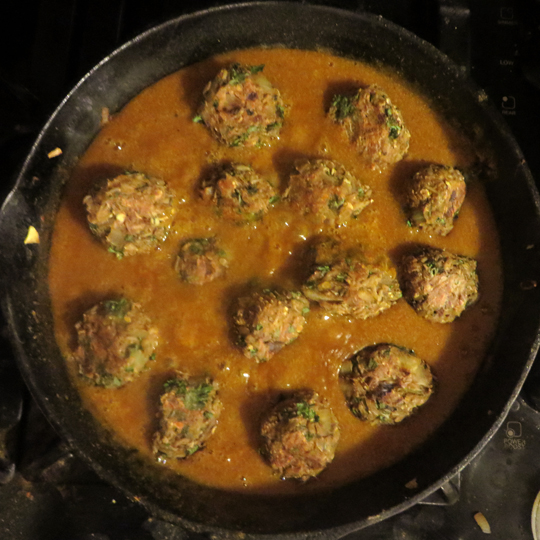 When the "meatballs" are ready, gently place in the gravy and let simmer while you cook some pasta (we cooked around 450g). You might also like to steam 2-3 cups of broccoli, cut into florets.
Cook the pasta according to package instructions, drain and rinse. While the pasta is cooking, steam the broccoli.

To plate, place a layer of pasta, then some gravy, then some meatballs, and, finally, garnish with steamed broccoli and parsley (if you like). Enjoy!

Thanks to Vegan Street for sharing this recipe with us! Be sure to check out their website for more tips on living a plant-based life.
Banner image: Shutterstock

---