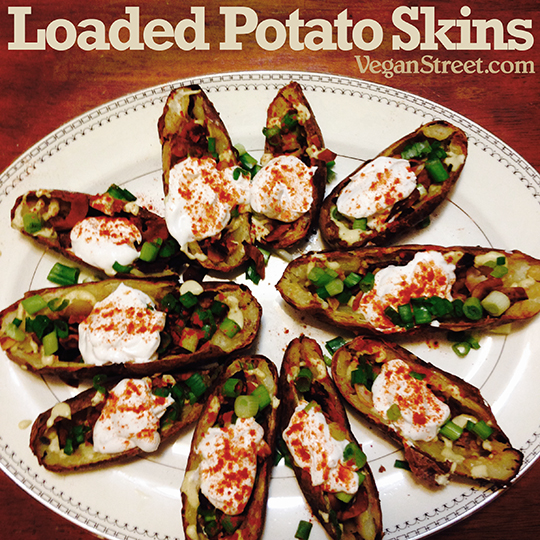 This is a recipe from our friends over at Vegan Street
YOU WILL NEED:
5 large potatoes, washed and pricked with a fork several times
2 tablespoons olive oil
2 cloves garlic, pressed
¼ teaspoon paprika
1 recipe cashew cheese or vegan cheese of your choosing
1 recipes coconut bacon or meatless bacon of your choosing
1 bunch scallions, sliced
Vegan sour cream, optional
Paprika for top, optional

Preheat the oven to 400 degrees (F). Place your potatoes on a middle rack and bake for 50 minutes to an hour, until all are easily pierced with a fork.
Meanwhile, make your bacon and prepare your cheese if you're making it from scratch.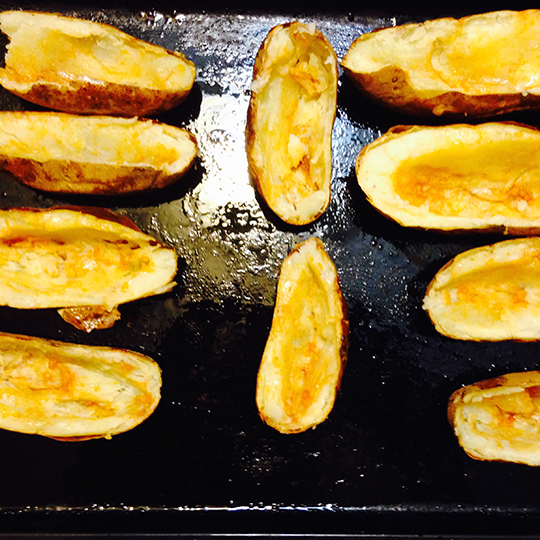 Remove potatoes from the oven and allow to cool. Lower the temperature to 375 degrees (F). When they are cool enough to handle, cut your potatoes down the middle and scoop out the potatoes*, leaving enough around the skins so as to not break through.

In a small bowl, mix together the olive oil with the garlic and paprika. Using a silicon brush, brush your potatoes all the way around and place on a parchment, Silpat or lightly oiled baking sheet. Bake for 13 minutes.

When done, arrange on your serving platter and load with your fillings. Serve warm and enjoy!

* Save your potatoes for later. These are great for making mashed potatoes with!
What's your favourite topping for potato skins? Let us know in the comments below!
Thanks to Vegan Street for sharing this recipe with us! Be sure to check out their website for more tips on living a plant-based life.
Banner image: Shutterstock

1 Million Women is more than our name, it's our goal! We're building a movement of strong, inspirational women acting on climate change by leading low-carbon lives. To make sure that our message has an impact, we need more women adding their voice. We need to be louder. Joining us online means your voice and actions can be counted. We need you.
---