Ellen Jaffe Jones, also known as 'The Veg Coach,' shares one of her favourite vegan recipes with us.
Another clever way to get them to eat their vegetables. They won't even detect the beets, carrots, and zucchini in this chocolate cake.
"I like this one because it really has the "Can't believe it's vegan" response.​"
- Ellen Jaffe Jones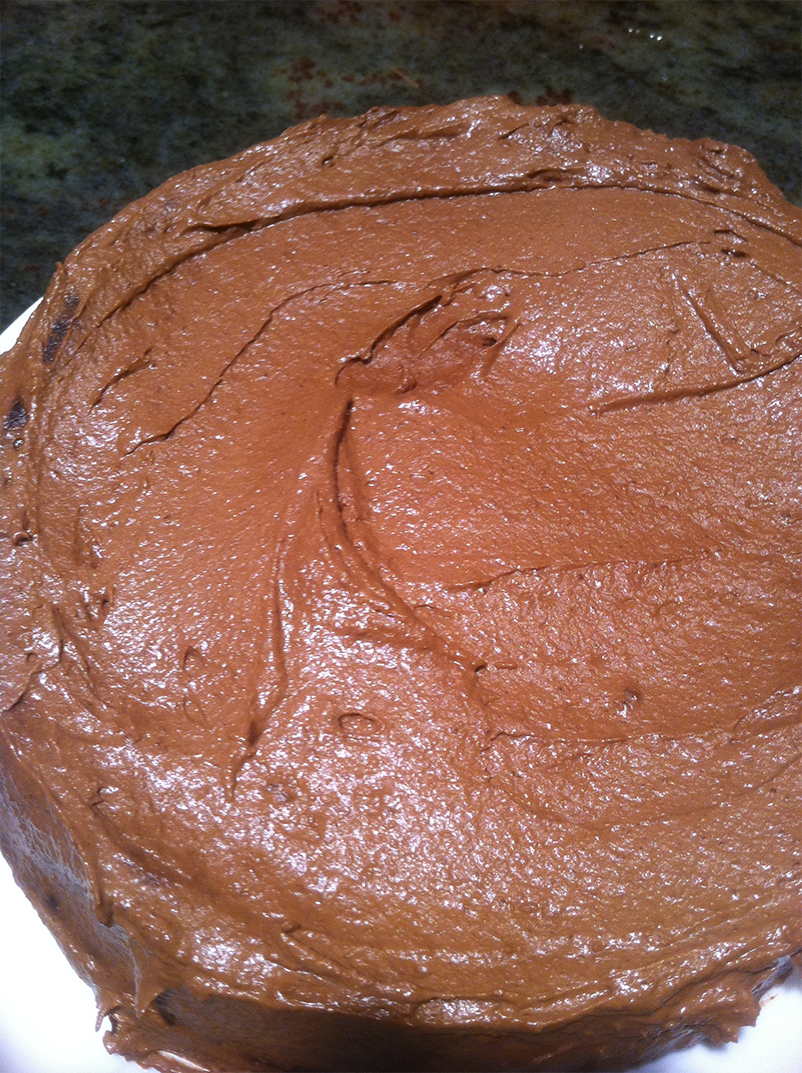 Ingredients
Cake:
1 2/3 cups whole wheat pastry flour, (or 1 cup unbleached white flour and 2/3 cup all-purpose whole wheat flour)
3 tablespoons unsweetened cocoa powder
1 tablespoon baking soda
1 teaspoon baking powder
1 can (8 ounces) pineapple chunks in juices, drained
1 cup unsweetened applesauce
1 banana
1 cup shredded beets
1 cup chopped walnuts
¾ cup shredded carrots
½ cups coarsely chopped dates
1/2 cup currants (optional)
1/2 cup shredded zucchini
1 cup vanilla soymilk
1 teaspoon vanilla extract
Chocolate Icing:
1 cup unsalted raw macadamia nuts or cashews
1/2 cup raw brazil nuts or hazelnuts
1 cup vanilla soymilk
2/3 cup whole pitted dates
2 tablespoons unsweetened cocoa powder
1 teaspoon vanilla extract
Directions
Preheat the oven to 350 degrees F (180 C).
To make the cake, put the flour, cocoa powder, baking soda, and baking powder in a medium bowl and stir with a dry whisk until well combined. Put the whole dates, the pineapple, applesauce, and banana in a blender and process until smooth.
Combine the beets, walnuts, carrots, chopped dates, optional currants, and zucchini in a large bowl. Stir in the flour mixture, soymilk, and vanilla extract. Add the blended date mixture and mix well.
Pour the batter into a 9 x 13-inch nonstick baking pan or tow 9-inch round nonstick cake pans. Bake for an hour, or until a knife inserted into the center comes out clean. Cool in the pan on a rack for 10 minutes. Remove from the pan an d transfer to a serving platter.
To make the icing, put all the icing ingredients in a blender an process until smooth and creamy. Spread over the warm or cooled cake.
TIP: Because this cake batter is exceptionally moist, the one-hour baking time, which is longer than necessary for most types of cakes, is needed here.
Serves: 12

Ellen is the author of 'Eat Vegan on $4 a Day'
1 Million Women is more than our name, it's our goal! We're building a movement of strong, inspirational women acting on climate change by leading low-carbon lives. To make sure that our message has an impact, we need more women adding their voice. We need be louder. Joining us online means your voice and actions can be counted. We need you.
---