Ramen is probably one of my favourite foods of all times, in Japan, ramen is made differently in each continent even each suburb has their own variation and chefs love to play with the traditional noodle soup.
Here at 1 Million Women we've made our own variation, a completely plant-based ramen. The reason for our variation is that cutting out just one 150g red meat meals we eat a week can save approximately 195kg of CO2 in a year Click to tweet!, so regardless of our eating habits we like to keep conscious of that, and make sure that we're eating mostly plants where possible.


Enjoy!
Read Next: Recipe: Tofu Scramble
Ingredients:
- sesame seed oil
- 3 tablespoons of grated ginger
- 6 cloves of garlic grated
- 4 cups of veggie stock
- 4 cups of water
- 1.5 cups dried shiitake mushrooms*
- Ramen noodles, you can now get heaps of different types. But honestly, instant will do if your time or cash poor. Otherwise, most stores have loads of different types of dried and fresh ramen noodles in the Asian section
- Half a cup of scallion chopped
- 1 bunch Garlic chives (my new favourite find)
- 1 bunch of English spinach, stalks cut and rinsed
- 1 cup of shredded carrot
- Chilli or your liking, to taste
- Panko crumbs (optional, but delicious for crunch)
* I like to soak my shiitake mushrooms overnight, and then I use the water I soak them in, as part of my 4 cups of water. They ooze loads of flavour this way.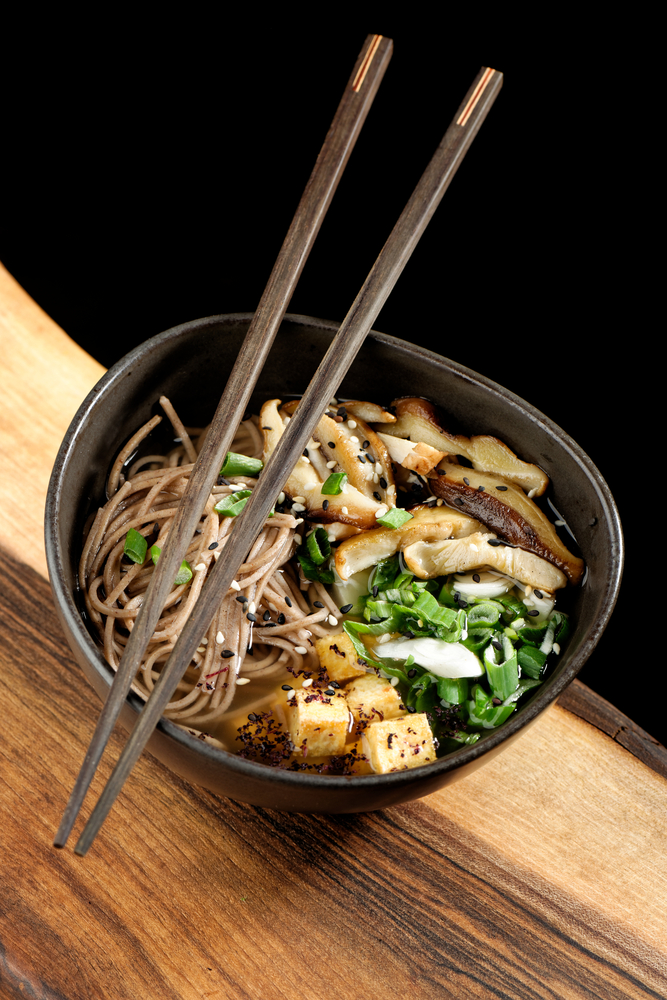 1 Million Women is empowering women and girls around the world to lower their impact on the planet. If you love what we do, please support our work by donating a couple of dollars. For the price of a cuppa, you can help us inspire millions more! (click to donate)
Method:
1. Heat 1.5 tablespoons of sesame oil in a large pot on medium heat, add garlic and ginger cooking until fragrant. Add veggie stock and water and bring to a simmer.
2. Once simmering, add mushrooms, spinach and chilli and simmer for 10 minutes, stirring occasionally.
3. While simmering, get a pan out and add about 3 tablespoons of sesame oil, on a high heat. Once hot, pour panko crumbs in, stirring them occasionally until golden brown. Then transfer them to a plate with paper towel for later.
4. Add the noodles to your soup, and simmer for a further 5 minutes or until cooked. Turn off the heat, add scallions and carrots and stir through.
5. Serve in a large bowl, and top with panko crumbs!
The great this about this recipe is that you can really add anything you like. Sometimes I throw in some sweet corn, bean sprouts, tofu or eggs. Its versatile and can be made in big batched for your food prep days! just make sure if your freezing and reheating you slightly undercook the noodles so that they don't fall apart when being reheated.
Read Next: Food Prep Guide: Cut Time, Save Dollars & Waste Less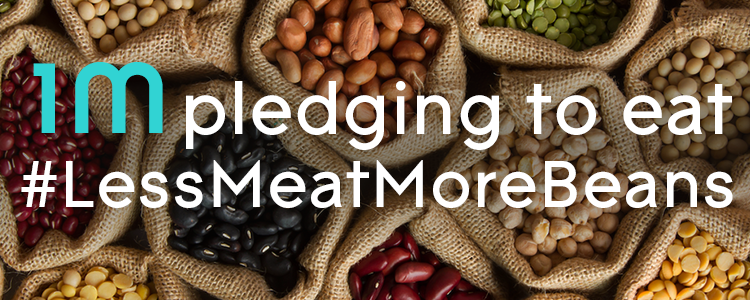 We're pledging to eat #LessMeatMoreBeans to slow emissions from meat production. Are you with us?!
---