1 Million Women's planet friendly hot cross buns that will impress friends and family this Easter...
There's nothing better than warm hot cross buns straight out of the oven at Easter time. Baking your own hot cross buns is not as difficult as you may think, and you don't even need any animal products to do it!
This recipe is vegan friendly, and while it may seem like a long process, it only takes around 30-40 minutes of hands on time. For the majority of the time the dough is resting!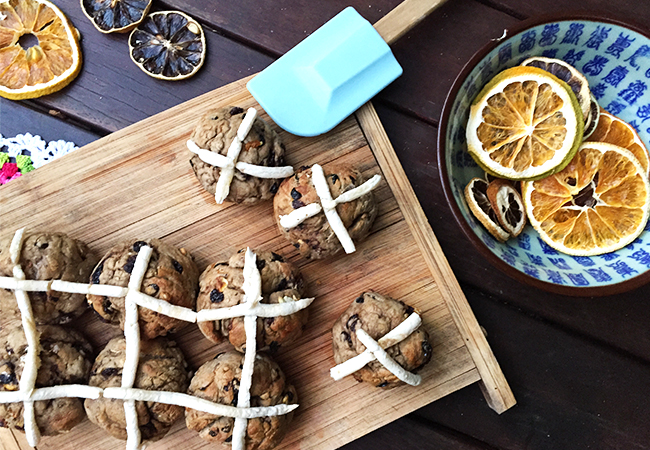 These planet strong Easter treats are definitely best eaten piping hot, as they tend to lean more to the cake-ish side of bread. If you will cook them to keep for a few days, I would recommend reheating them before eating, just to get that softness back into them.
Instead of a traditional sugar glaze, I have used a simple maple syrup glaze for the buns, to give them a unique touch.
I have also used a very small amount of Rapadura sugar in this recipe instead of regular processed sugar. Rapadura sugar is less processed than other sugars, and is higher than other sugars in several essential minerals, including potassium, magnesium, calcium and phosphorus. It should also still be consumed in moderation, however it is slightly more nutritious that regular sugar.
Hope you enjoy this Easter delight from us at 1 Million Women!
Ingredients
Buns
1 satchel organic dry yeast
2 tbsp rapadura sugar
1 cup almond milk (or other non dairy milk)
3 cups plain all purpose flour (unbleached and organic if possible)
3 tsp All Spice
1/2 cup currents (or sultanas)
1/2 cup Italian mixed peel
2 tbsp canola oil
1/4 cup freshly squeezed orange juice
Pinch salt
Crosses
3 tbsp plain (all purpose) flour
3-4 tbsp water
Glaze
1/3 cup water
2-3 tbsp maple syrup, depending on how sweet you want it (I used 2)
Directions
Gently heat the milk until it is lukewarm. Remove from the heat and whisk in the yeast and sugar. After a couple of minutes the yeast will start to froth. (Make sure not to overheat the milk or it will kill the yeast, it should be warm but cool enough to touch)
In a large bowl, mix together the flour, salt, spices. Stir in the currents and citrus peel. Make a well in the centre of the dry ingredients and stir in the oil, yeast milk mixture, and orange juice. Mix together the ingredients using your hands. The dough should be soft and sticky. (If it feels to dry, you may need to add a little more liquid)
Turn out the dough onto a lightly floured surface and knead for 5 minutes or so, until the dough is smooth. Place the dough in an oiled bowl, cover with a damp tea towel and leave in a warm place for an hour or so until it has doubled in size.
When the dough has risen, knead for a further 10 minutes then divide into 12 to 14 equal size balls. I do this by halving the dough, then halving each half again and so on, until I have the desired amount of balls. Roll the dough into smooth balls and evenly space out on a large baking tray lined with non stick baking paper. Cover with the damp tea towel again and leave in a warm place for 45 minutes or so, until they have risen more.
Heat the oven to 210C.
To make the crosses, mix 3 tbsp plain flour with 3-4 tbsp of water until a thick paste has formed. Spoon into an icing bag with a thin nozzle (or a plastic freezer bag and snip the corner, which is what I did). Slowly pipe along each row of buns, then repeat in the other direction.
Place in the oven and bake for 20 minutes until golden brown.
To make the glaze, gently boil the maple syrup and water in a small pan for about 5 minutes until it starts to thicken slightly. Brush over the buns while they're still hot. Allow to set before serving.
These buns are most delicious served warm or toasted. They will last 2-3 days in an airtight container, but I recommend warming them back up again before eating.
Enjoy!
---