We've teamed up with Australian company Modibodi to discuss sustainable alternatives for period protection.
Remember your first period? That inevitable moment in a young girl's life which brings an array of emotions and questions. Not just for girls, but for parents wondering how to navigate this time with their daughters too. Some girls are happy when the day comes, but many of us will remember being scared, confused, and needing comfort in the form of chocolate and a hot water bottle.
In many parts of the world there are countless choices of pads and tampons for period protection but are they really the best option?
Menstruation underwear are a newcomer on the scene when it comes to navigating the world of periods. They are gaining attention as a sustainable alternative to disposable pads or tampons.
Menstruation fast facts
The average menstruation span is roughly 40 years per person (11-51)
On average a woman may use up to 20 tampons a cycle (240 tampons a year)... that's a total of 9,600 tampons in a menstrual lifecycle
20 billion tampons and pads are being dumped into landfill each year
Conventional pads can contain the equivalent of about four plastic bags. And the polyethylene plastic in pads can take about 500 years to decompose. Our periods are literally outliving us!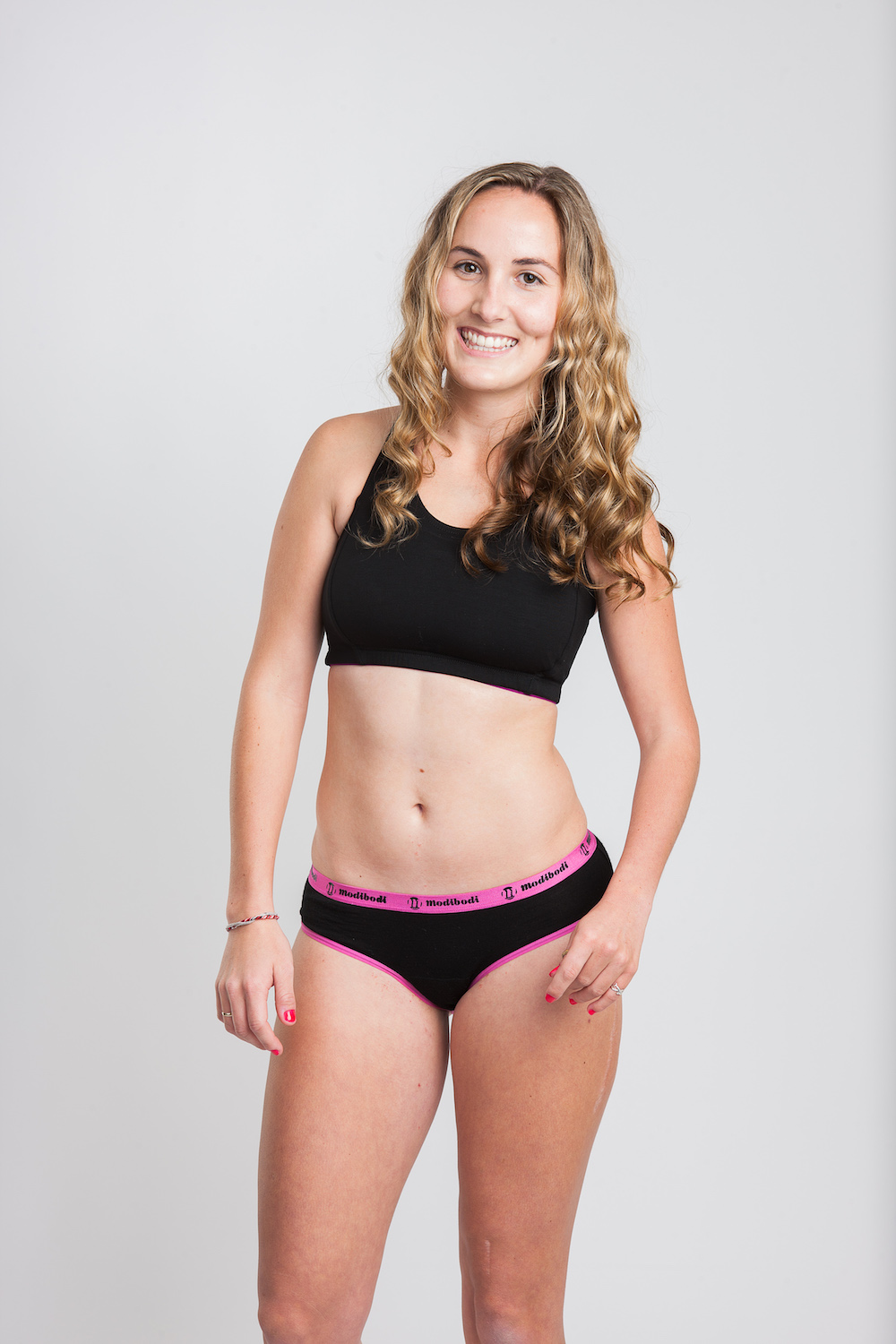 Image: Paralympian Rae Anderson, 19, is a fan of period underwear and a Modibodi ambassador.

Disposable pads and tampons create tonnes of waste in landfill year after year. Apart from the financial costs, garbage buried in landfill breaks down at a very slow rate and remains a problem for future generations when it leaches toxins into the ground and releases greenhouse gases contributing to climate change.
Mums and dads, these overwhelming statistics can be used as a force for good to educate your daughters and empower them with the different options available for menstrual care.
Menstruation underwear like Modibodi™, and reusable items such as menstrual cups, allow women to ditch disposable hygiene products and to introduce a sustainable alternative to young girls right at the start of their menstrual cycle.
How do period undies work?
Modibodi underwear are high tech period underwear made from natural fibres including bamboo and merino wool. What makes them really stand out is their patented Modifier Technology which ensures they are moisture wicking, naturally antimicrobial, stain, and odour resistant. The technology features a layered gusset which works to keep you fresh, dry, and protected from leakages from morning to night (oh, and wearing white is no longer an issue). The gussets are super slim (3mm). They will feel only slightly different to your regular underwear, and caring for them is simple just like normal undies.
Will they protect my daughter throughout a full school day?
Unlike pads and tampons which create a lot of stress as they need to be changed less than every 4 hours, Modibodi period undies can be worn throughout the school day just like normal underwear. As long as your daughter has the right size period underwear and absorbency level then they will keep her fresh, dry, and protected against leaks.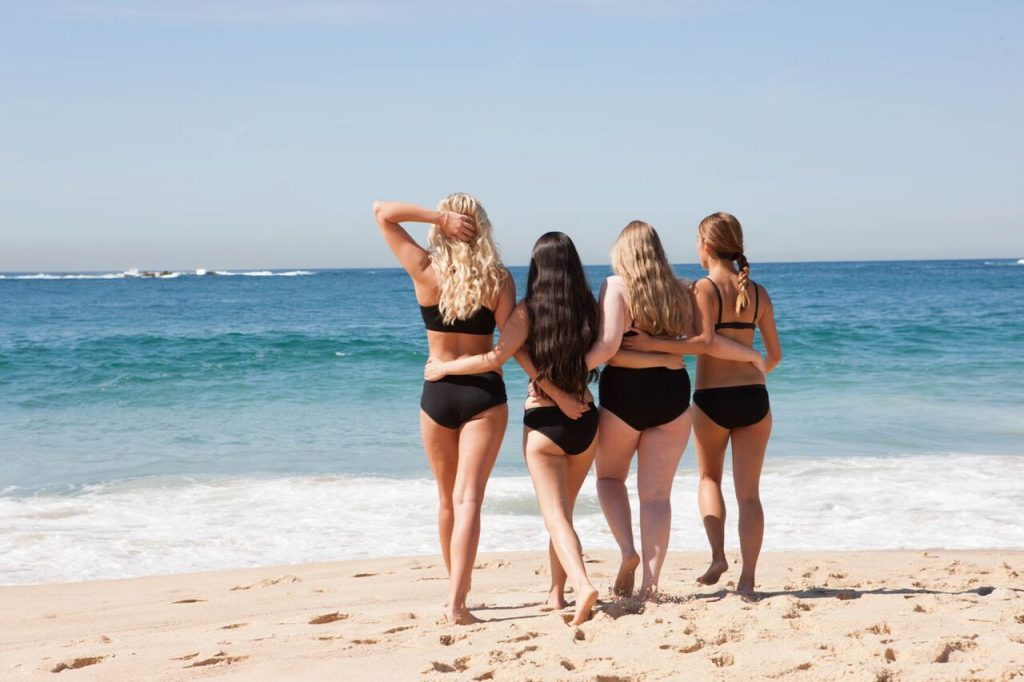 Modibodi Founder, Kristy Chong, is passionate about helping young girls feel knowledgeable when they start this new journey. Chong is also committed to changing the way people use menstrual hygiene to make it better and more sustainable.

THE FACT THAT A FEW PAIRS OF MODIBODI UNDERWEAR CAN REPLACE HUNDREDS OF DISPOSABLE FEMININE HYGIENE PRODUCTS PER YEAR AND WASHES LIKE REGULAR UNDERWEAR MEANS THAT EVERY FEMALE USING A REUSABLE SOLUTION SUCH AS MODIBODI WOULD BE SAVING UP TO 9600 ITEMS OF DISPOSABLE HYGIENE FROM LANDFILL.
- Kristy Chong
So whether your daughter has just started her journey, or is expecting the arrival of her period soon, menstruation underwear are a great way to make her feel the most comfortable she can be. Aside from the sustainability aspects, wearing period underwear makes getting your period less of a big deal because there's no major change to your day. You just put on a pair of underwear like you would every other day.
We've also heard that Modibodi is set to release a brand new seamfree range mid-July. That will mean your daughter will have protection and confidence whilst she gets active - dance, cheerleading, sports, yoga - you name it!
Modibodi have ranges for all women from girls through to size 26. It might be time to make mother/daughter matching underwear a thing, especially if you've been looking for a more sustainable option yourself.
Click here to find the right Modibodi for you or your daughter.


1 Million Women is more than our name, it's our goal! We're building a movement of strong, inspirational women acting on climate change by leading low-carbon lives. To make sure that our message has an impact, we need more women adding their voice. We need to be louder. Joining us online means your voice and actions can be counted. We need you.
---