In 1 Million Women's homeland Australia, water is a big issue, especially during the summer where water restrictions are a part of everyday life. From bans on sprinklers to reminders on the radio to wash your car on the lawn, water scarcity is on our minds.
In the lead-up to the Paris 2015 Climate Change Conference, we're taking a look at some of the big issues that will be discussed, as well as how decisions made will impact you and your community.
A key concern surrounding climate change is the increased stress placed on the world's water supplies. It makes sense if you think about it: with rising temperatures and a changing weather pattern, droughts are set to increase. Not only that, but our water-hungry lifestyle and a growing world population means that H20 is quickly becoming the planet's most valuable resource, creating "water stress".

The world's demand for water is likely to surge in the next few decades. Rapidly growing populations will drive increased consumption by people, farms and companies.
- World Resources Institute
According to the World Resources Institute , "water stress measures total annual water withdrawals (municipal, industrial, and agricultural) expressed as a percentage of the total annual available blue water. Higher values indicate more competition among users."
The WRI uses a score between 0-5 to show the differences between nations. A score of 0-1 indicates that the percentage of water demand every year is less than 10% of what's available. A score of 4-5, on the other hand, means that over 80% of available resources are being used and demanded.
So which nations and regions in particular are vulnerable to increased "water stress"?
The WRI released a list in August 2015 ranking the World's Most Water-Stressed Countries in 2040: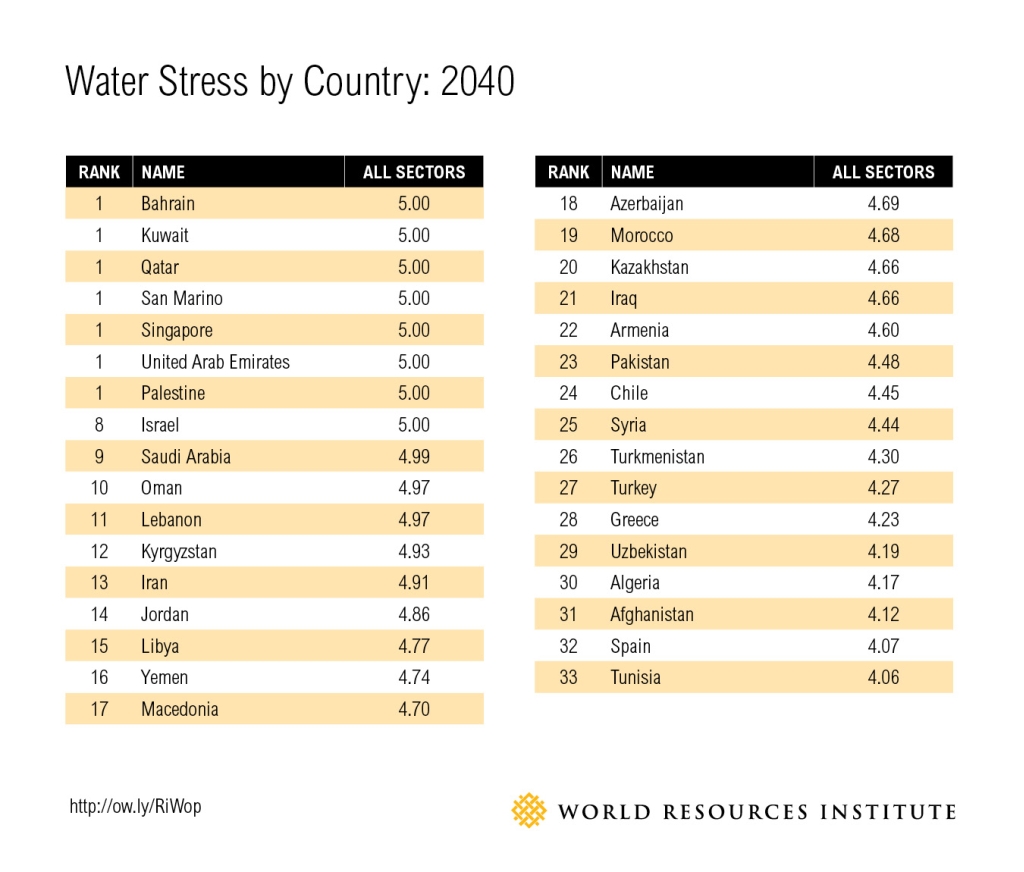 To put this into perspective, the map below shows in red which nations are particularly vulnerable to increased water stress: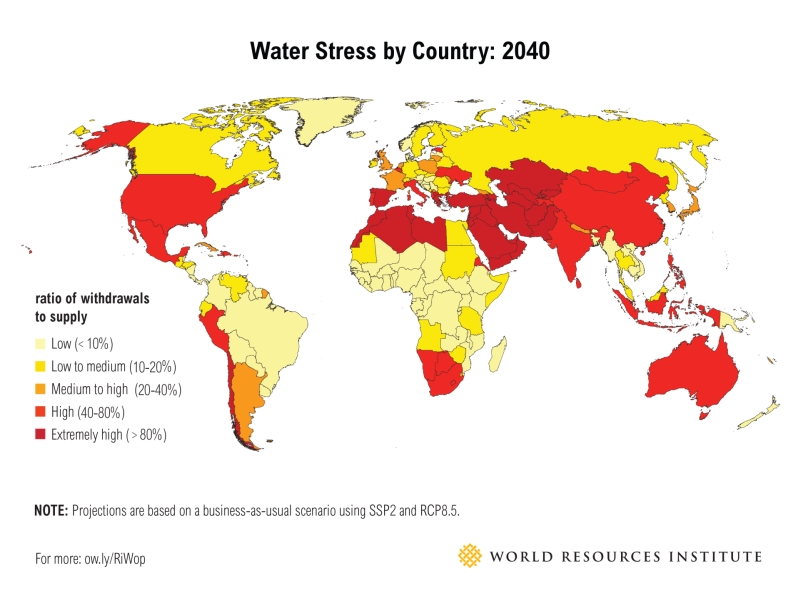 While changing water supply and demand is inevitable, exactly what that change will look like around the world is far from certain.
- World Resources Institute
Water stress is not just an environmental issue
What we know about the world is that no issue exists in isolation: changes in our planet impact our cities, populations, economies and politics.
The WRI recognises this in its report: "Water is a significant dimension of the decades-old conflict between Palestine and Israel. Saudi Arabia's government said its people will depend entirely on grain imports by 2016, a change from decades of growing all they need, due to fear of water-resource depletion. The U.S. National Intelligence Council wrote that water problems will put key North African and Middle Eastern countries at greater risk of instability and state failure and distract them from foreign policy engagements with the U.S."
Even if you're not that fussed about climate change, the increased likelihood of civil and global conflict is worrying, to say the least. Nations all around the world will have to adapt to new climates, new weather patterns and new ways of thinking about a resource that has been taken for granted for far too long.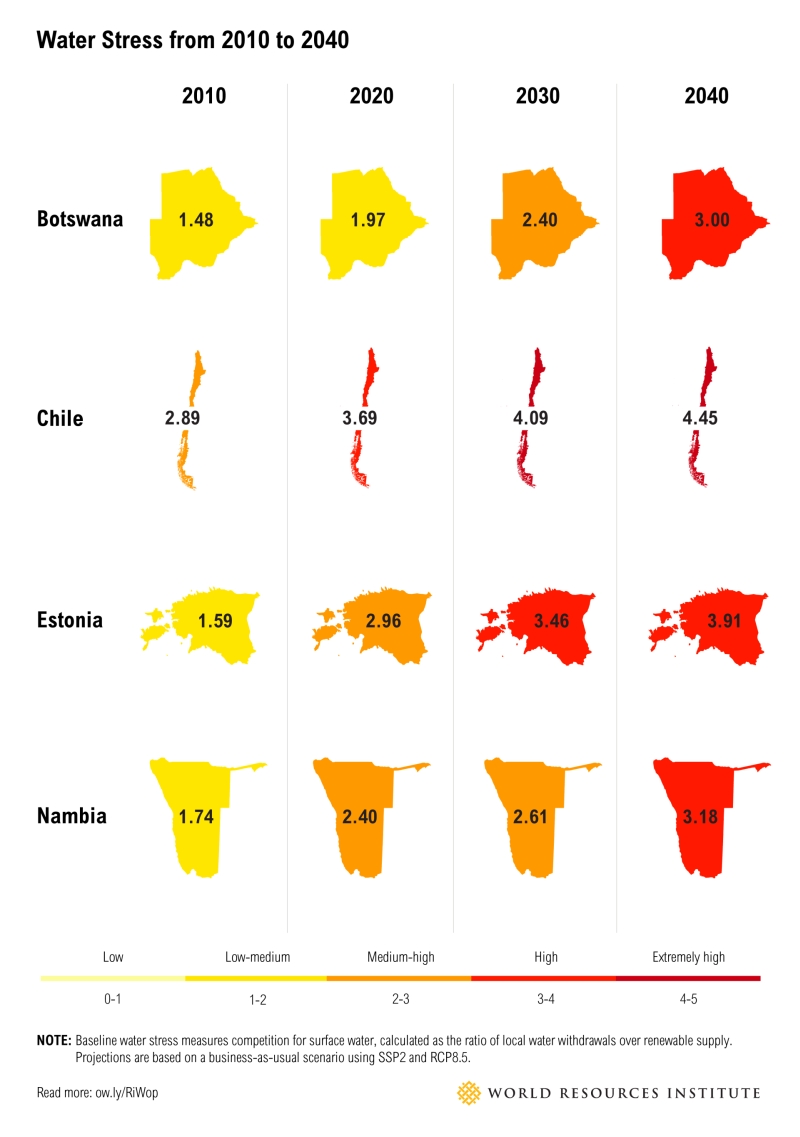 What can you do?
In the lead-up to Paris 2015, it's important that citizens all over the world spread the awareness of climate change issues and make sure that their national representatives take their hopes and voices along to the conference later this year. Find our why local leaders matter in the fight against climate change and how you can support them.
You can also enact change in your own community by starting on a journey towards your low-carbon lifestyle. Be sure to share your experiences with the 1 Million Women community on Facebook and Twitter to inspire others to act now to fight global warming.
READ THIS NEXT: Stand Up With Women Around The World Calling For Climate Justice
1 Million Women's campaign for Paris is 'You're The Voice'
With a vibe of hope building that the nations of the world will agree on a breakthrough climate change treaty in Paris this December at the UN Climate Conference (COP21), we have an opportunity to influence world leaders in making decisions that will safeguard the world for future generations.
To do this, we've recorded a cover and music video of a much-loved Australian song, turning 'You're the Voice' into a powerful anthem from women for climate action and hope.
Using the power of music, we want to inspire every woman, man or child to ADD THEIR VOICE - #IMTHEVOICE - to our anthem and form a united call to world leaders for strong action on climate change. No matter who you are, you can add your voice!
Will you support our anthem launch? It's as easy as clicking a button.
With your help, it will capture the attention of governments and stand as a clear call for climate action and hope.
---