Christiana Figueres, wants you to give up your coal for clean energy.
The New Yorker's 'The Weight of the World' looks at how climate change is very much in the hands of women. In fact, there's one woman in particular who even at 5 feet tall stands head and shoulders over the rest.
Costa Rican Christiana Figueres, Secretariat of the United Nations Framework Convention on Climate Change (U.N.F.C.C.C) is on a mission to profoundly reform the global energy sector.

The UNFCCC entered into force on 21 March 1994. Today, it has near-universal membership. According to the UN, "The ultimate objective of the Convention is to stabilise greenhouse gas concentrations "at a level that would prevent dangerous anthropogenic (human induced) interference with the climate system," and that "such a level should be achieved within a time-frame sufficient to allow ecosystems to adapt naturally to climate change, to ensure that food production is not threatened, and to enable economic development to proceed in a sustainable manner."
At the centre of it all is a woman with a seemingly impossible task:
Of all the jobs in the world, Figueres's may possess the very highest ratio of responsibility (preventing global collapse) to authority (practically none).
- ELIZABETH KOLBERT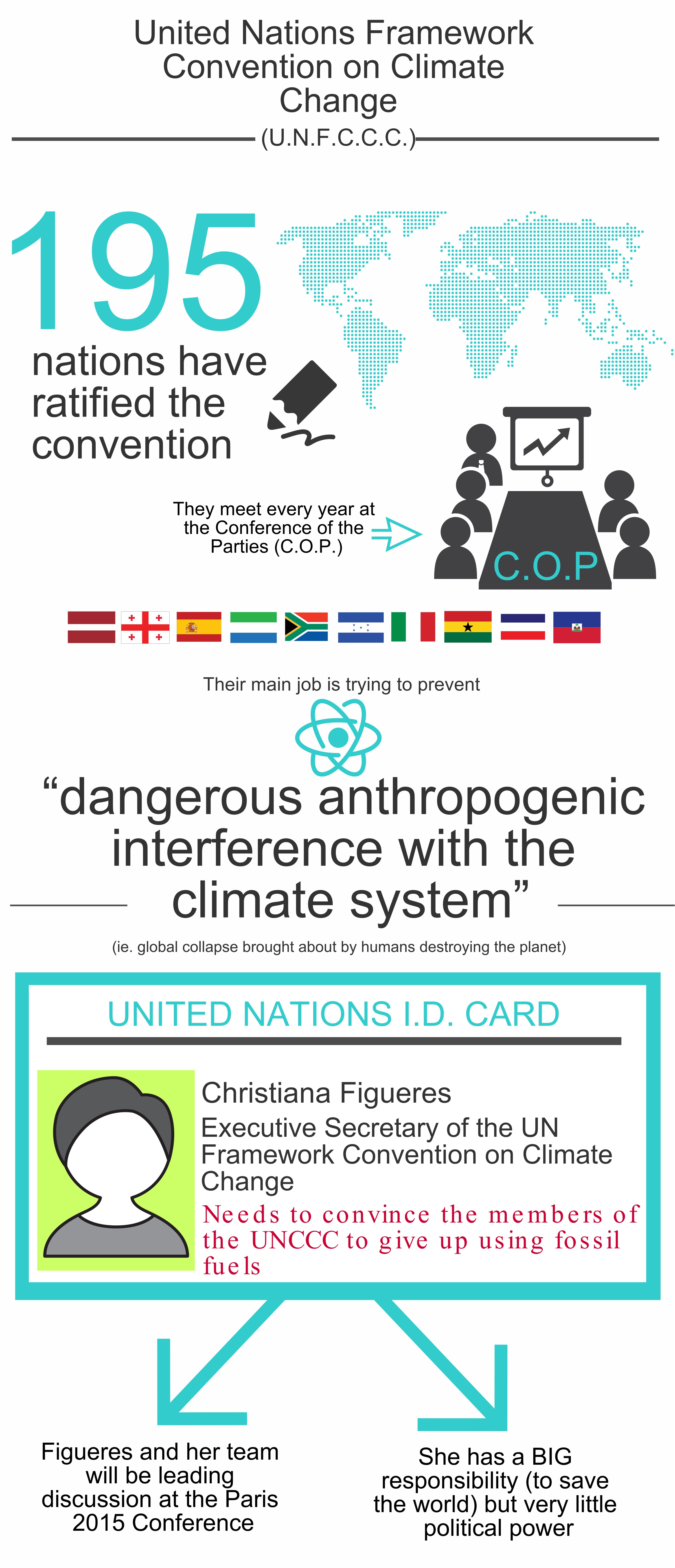 Ahead of the Paris 2015 Conference, Figueres has to try to convince the world's nations, from the Saudis to the USA, to rethink using coal and oil as energy sources. Part of this is convincing people to see that environmental stability doesn't have to threaten economic growth. At the same time, she knows that the economic factor is a deciding one. "Where capital goes over the next fifteen years is going to decide whether we're actually able to address climate change and what kind of a century we are going to have," said Figueres in interview with The New Yorker.
Folks, we are moving toward a low-carbon economy. It is irreversible; it is unstoppable. So get on the bandwagon.
- Christiana Figueres
Indeed, we're big fans of Figueres here at 1 Million Women and have been privileged enough to work with her.
On 5th May, 2015 Figueres joined the 1MW team at St Catherines Girl School and talked to 1000 young women where she talked about the power of their generation being the influencers of change through cutting carbon pollution
Her advice to the young women: What is important is how do you alter behaviour, how do you make change, and cutting carbon pollution out of daily life.
Through tears she told her audience of schoolgirls, "This generation that I represent, has done something amazing, we have diminished the quality of your planet."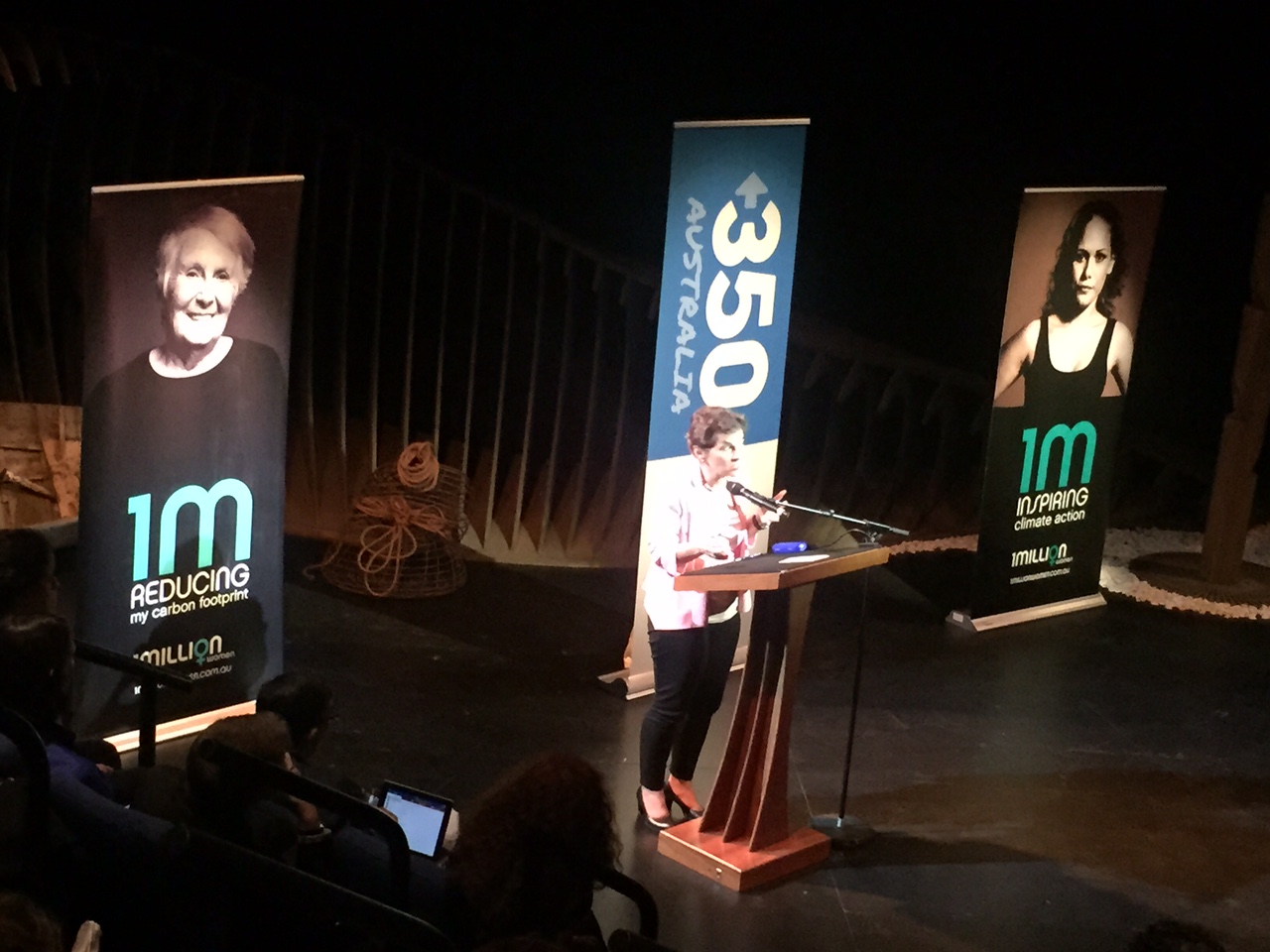 Where we are now is that we see that nations are interlinked, inextricably, and that what one does has an impact on the others. And I think this agreement in Paris is going to be the first time that nations come together in that realisation.
- Christiana Figueres
Be sure to keep following the 1 Million Women blog and Facebook page to stay up to date with environmental news in the lead up to Paris 2015.


1 Million Women's campaign for Paris is 'You're The Voice'
With a vibe of hope building that the nations of the world will agree on a breakthrough climate change treaty in Paris this December at the UN Climate Conference (COP21), we have an opportunity to influence world leaders in making decisions that will safeguard the world for future generations.
To do this, we've recorded a cover and music video of a much-loved Australian song, turning 'You're the Voice' into a powerful anthem from women for climate action and hope.
Using the power of music, we want to inspire every woman, man or child to ADD THEIR VOICE - #IMTHEVOICE - to our anthem and form a united call to world leaders for strong action on climate change. No matter who you are, you can add your voice!
Will you support our anthem launch? It's as easy as clicking a button.
With your help, it will capture the attention of governments and stand as a clear call for climate action and hope.
---