This is a guest post written by Hannah Parris, Co-Founder of Mighty Good Undies
We all understand the importance of buying and consuming organic food -- but did you know that buying organic textiles (such as organic cotton) are equally as important for your health and the health of the planet? (yes, we can buy vintage fashion -- but do you really want to buy second-hand undies?)
Cotton is a case in point. We love cotton clothing (particularly for our underwear). It can be made into either warm or cool clothing, it allows our skin to breathe and is enormously versatile. Cotton is everywhere in our lives - we wear it, we sleep in it and we sit on it - and is used by almost every community around the world.
But conventional cotton comes at a staggering social and environmental price.
Life cycle analysis data demonstrates that cotton -- from the growing to the disposal phase -- has a large ecological impact across numerous indicators -- climate change, water use, energy use, local air pollution, water pollution etc…
In fact, the environmental pollution of conventional cotton is so high that consulting firm McKinsey has estimated that if all the pollution from cotton was factored into its price, the price would rise by about 500%! [1]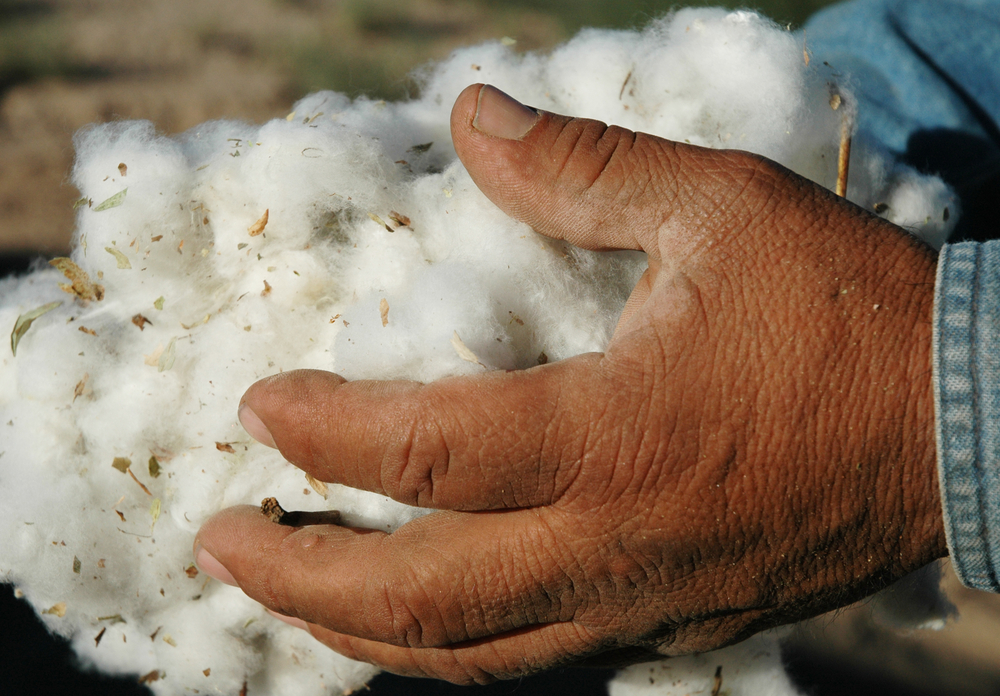 The not so cool cotton
The growing use of cotton is a modest, but none the less, a significant contributor to climate change - and growing it can contribute, according to one study, up to 220MtCO2e (around 0.8% of global CO2 emissions) per year [2].
A 2012 study by Cotton Incorporated [3] conducted the first comprehensive life cycle analysis of cotton. It notes that while the global warming impact of cotton growing and production will vary between countries -- because of the different sources of energy and electricity used and different farming methods -- on average, 1000kg of fabric (and the clothes it creates) creates about 42,000kg of CO2e over its lifetime.
The graph below breaks down this estimate into the key phases of cotton's life cycle -- growing, manufacturing (knit fabric), manufacturing fabric (woven), garment manufacturing, consumer use, and disposal.
Greenhouse Gas Emissions at Different Stages of our Cotton Clothes Lifecycle
Garment manufacturing is a complicated process broken down into many phases (often carried out in different parts of the world) it is sobering to reflect that these figures do not include the emissions associated with transporting cotton, in its various stages, from factory to factory to consumer.
Using the data from this report, we calculated, roughly, that this equates to about 14kg of CO2e emissions for your average pair of jeans and 5kg of CO2e for your typical t-shirt.
The interesting thing about this 2012 data is that a huge amount of the impact -- roughly half -- comes from the energy we use at home to wash and dry our clothes. Although this primarily based on US data and on hot water and dryer use, it is a potent reminder of why we all need to keep washing in cold water and hauling out those washing lines (ahhh, the sun dried cotton sheets!).
We should only interpret these figures as ballpark: LCA data is actively debated by experts, and things change all the time.
But for me, one thing is clear. Cotton is a really precious item that uses a lot of resources, to produce even a small garment. Instead of treating this amazing fabric as a throwaway item from a fast fashion store we are convinced that cotton should be celebrated as a valuable item that deserves to be turned into quality products that serve us well and last the distance of many years of use. From this perspective, the trend toward fast fashion seems doubly insulting to the planet. (Read more: How fast fashion is destroying developing countries and our planet).
Cool cotton
Okay, before you commit to only literally wearing your granny's (second hand) knickers, you may want to know that a really big improvement in CO2 emissions can come from choosing organic cotton.
In a recent report, the UK Soil Association found that organically grown cotton has about half the climate change impact compared to conventionally produced cotton -- primarily due to the avoidance of chemical fertilisers and practices related to tractor use and irrigation. Organic farming methods -- and the social benefits of it -- also help make famers and their communities, more resilient to the challenges of climate change [4].
Organically grown cotton also only uses about ⅔ of the energy (e.g. oil, electricity) than its conventionally produced counterpart, uses just 9% of the amount of surface and ground water (i.e. lake or river water) compared to conventional cotton, and bans the use of hazardous chemicals and GMO cotton [5].
So what's the catch?
Unfortunately, organic cotton makes up only 0.5% of the total global cotton production -- and so it is hard to get and, when it is available, its small scale means that it is relatively expensive.
We started Mighty Good Undies because we want to do something about this!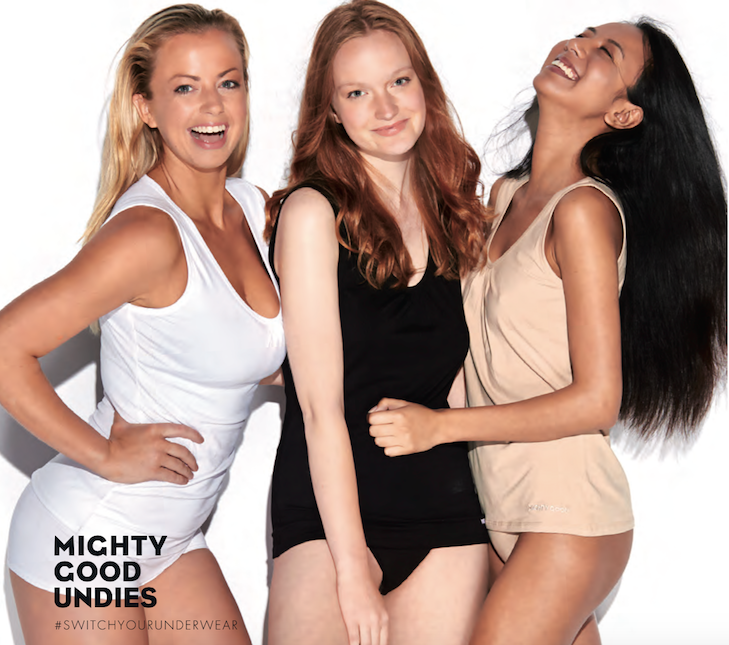 Our range of GOTS certified organic and Fairtrade cotton undies are setting out to prove that organic and Fairtrade cotton is commercially viable and scalable and, by doing so, spread the benefits of this amazing fabric and disrupt the way people see, understand and buy conventional cotton and labour.
1 Million Women is more than our name, it's our goal! We're building a movement of strong, inspirational women acting on climate change by leading low-carbon lives. To make sure that our message has an impact, we need more women adding their voice. We need to be louder. Joining us online means your voice and actions can be counted. We need you.
---