When you're starting off switching from a meat-packed diet to a plant-based diet often Indian style curries are the easiest way to start. Beef is very rarely consumed in India as cows are considered sacred, a lot of people in India are vegetarian for religious reasons and dairy consumption is very low.
So therefore, the kinds of foods that are created are very easily adapted to plant-based diets. This eggplant and chickpea curry is no exception, with a mix of spices and flavours everyone will be coming back for seconds.
Ingredients:
-Olive oil
- 2 onions roughly chopped
- 3 cloves of garlic (or 6…)
- Salt and pepper
- 2 cans of cherry tomatoes
- 1 large eggplant cut into squares, around 1.5cm each side
- 1.5 teaspoon of your favourite curry powder (try find a local spice shop!)
- 3 can of chickpeas, drained. (don't throw away the brine use it for this!)
- Half a cup of fresh basil
- Half a cup of coconut milk
- Basmati Rice (Optional)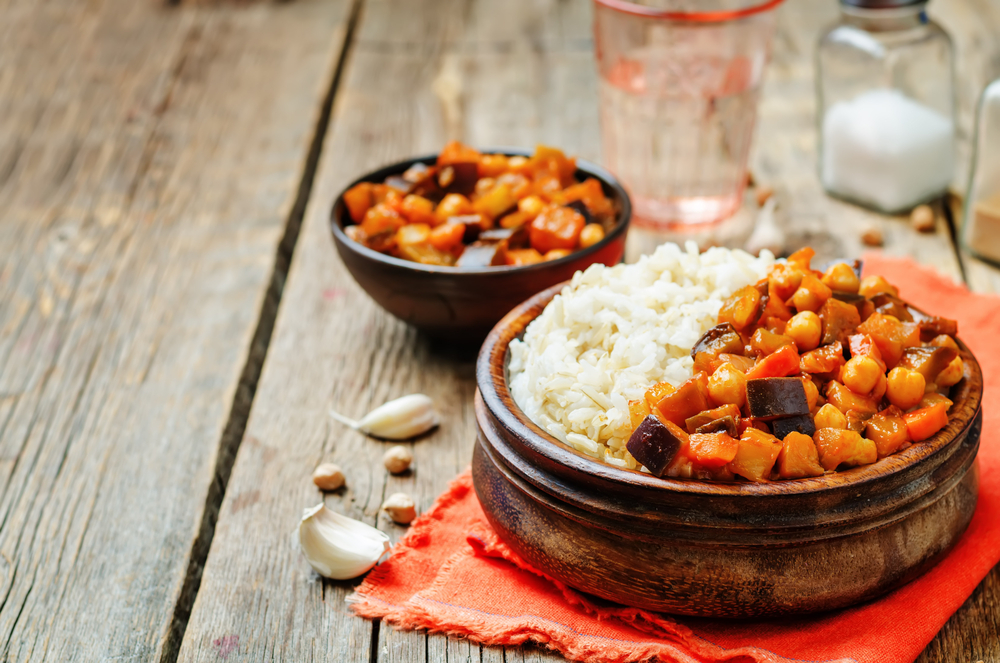 1 Million Women is empowering women and girls around the world to lower their impact on the planet. If you love what we do, please support our work by donating a couple of dollars. For the price of a cuppa, you can help us inspire millions more! (click to donate)

Method:
1. If you're having rice, put that on first as it will take a little while
2 .In a big pot, heat 1.5 tablespoons of oil over medium heat, add the onion, stirring occasionally, and cook till they start to turn translucent.
3 .Add the garlic, cooking until fragrant. Then, add the cans of tomatoes, eggplant, curry powder, a good healthy dose of salt and pepper and let cook for 10 minutes.
4. Add half cup of coconut milk and 1 cup of water and bring to the boil, reduce heat once boiling and simmer, partially covered until eggplant is soft (around 12 minutes)
5. Stir in chickpeas and let them heat through 2-3 minutes.
6. Remove curry from the heat and stir in the basil.
Did you know: cutting out one of the 150g red meat meals we eat a week can save approximately 195kg of CO2 in a year? Click to tweet!
---