Written by Marley Tinnock.
Jadav Payeng lives in a small hut on the Indian river-Island of Majuli in north eastern India, with his wife and three children.
A former labourer and forestry worker, Jadav began planting trees as a part of a government initiative in 1979. Then 16, he chose to remain behind after the project was over, in order to care for the plants and trees.
In what was once nothing more than a baron land mass; what appears to be a mirage from the river's edge is now, Jadav's forest. Having lost over half it's landmass since 1917, and with erosion quickly compounding on the island of Majuli, Jadav sought to protect his land and it's inhabitants, committing himself to plant a sapling once every couple of days.
Some 37 years later, Jadav is still tending to his trees, now boasting an area larger than New York City's Central Park. The 550-hectare forest is home to many tigers, rhinos, deer, rabbits and apes, and is regularly visited by a large herd of elephant.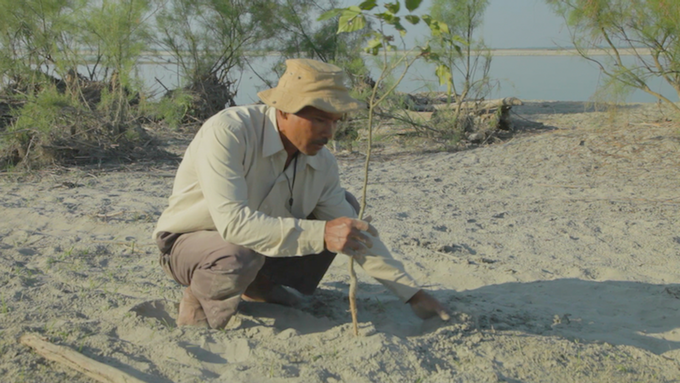 Image: Kickstarter
Sadly, it's no longer the planting of trees and vegetation that Jadav concerns himself with, having had to report poachers on multiple occasions, Jadav worries that local men will use the forest for economic gain.
'All species on this planet are animals, including humans', says Jadav, 'The only difference is that humans wear clothes'.
But with great insight into the issues at hand, comes a man with passion and more than a few solutions. Now an active environmentalist, Jadav's time in the forest has afforded him invaluable knowledge about the ways in which nature can help us to restore much of its own destruction.
Proposing the planting of coconut trees – a plan that is both economic and environmental in nature – when grown densely enough, they can help to slow erosion, as well as provide income for locals through fruit production. His proposal is ongoing.
Jadav Payeng has been both formally honoured and the subject of multiple films – receiving Padma Shri, the fourth highest civilian award in the nation of India, in 2015. But it isn't these nods of gratitude that Jadav strives for, 'I will continue to plant until my last breath' – simply a man who wants man, beast and plant to co-exist in harmony.
Banner Image: Unsplash
Marley is a freelance writer and PR executive in Sydney, she is passionate about sustainable lifestyles, animal rights and women's empowerment. Follow her work here
Read this next: Woman transforms wasteland into forest in 20 year labour of love
Read this next: Hug a tree, science says it'll make you feel better
1 Million Women is more than our name, it's our goal! We're building a movement of strong, inspirational women acting on climate change by leading low-carbon lives. To make sure that our message has an impact, we need more women adding their voice. We need to be louder. Joining us online means your voice and actions can be counted. We need you.
---