After almost a decade, Nutrition Australia has released a new food pyramid, and we're pretty happy with it.
At 1 Million Women we do our best to eliminate dairy products wherever possible, and we absolutely love vegan and vegetarian recipes! Having said that, we know that the food pyramid must cover everyone's dietary requirements, so meat and dairy are always going to be in the mix when it comes to the food pyramid.
Nutrition Australia haven't released an updated food pyramid since 2007, but yesterday the new one came out, and it's looking pretty good!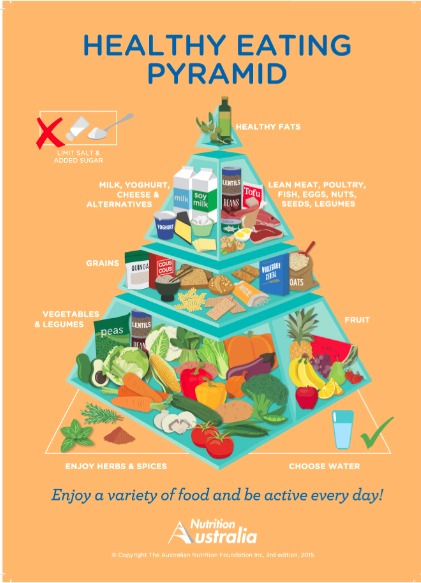 So, what's changed?
The pyramid now has five sections, instead of three, giving us a better idea of what our diet should look like
Veggies get precedence over breads and cereals. Yay!
Greens, greens, greens! It's colourful and filled with veggies like green beans, broccoli, basil, rosemary, lettuce, bok choy, pak choy and zucchini.
There are more nutrient-dense whole grains: quinoa, soba noodles, oats and cous cous.
There is absolutely no allowance for added sugars. And no junk food!
The good fats are in there. They've taken margarine off the menu and made room for olive oil and almonds. Also, avocados are in the "eat most" section.
Herbs and spices are acknowledged as being some of the most nutrient-dense foods.
If you're still not too sure about the changes, here's a history of the Nutrition Australia food pyramid. It's a good reference to see how they are changing with the times.
2007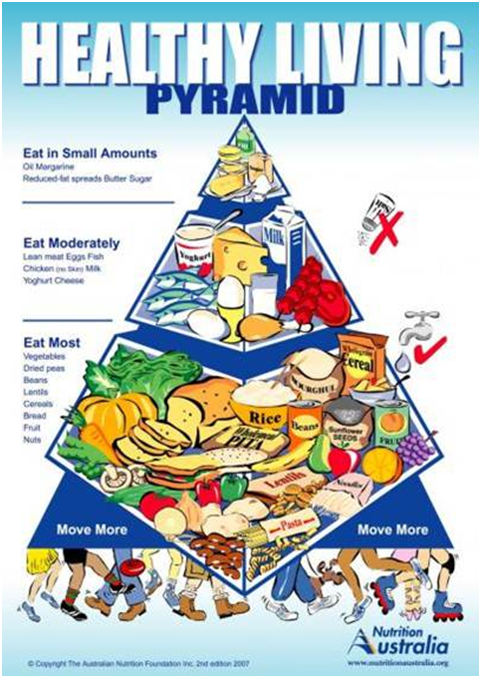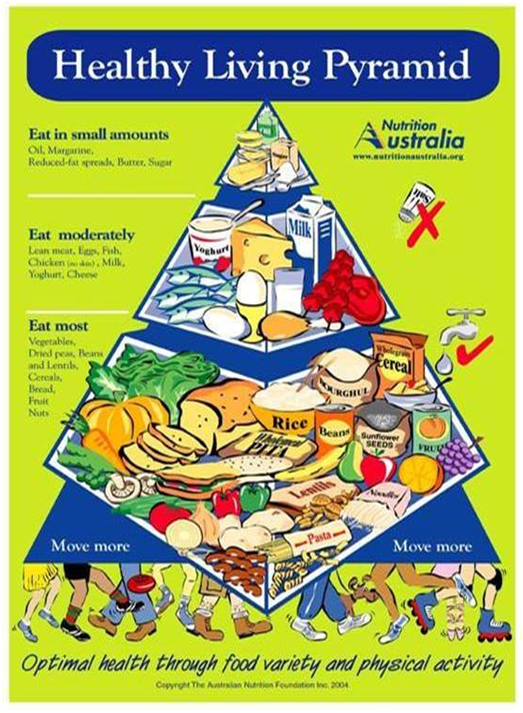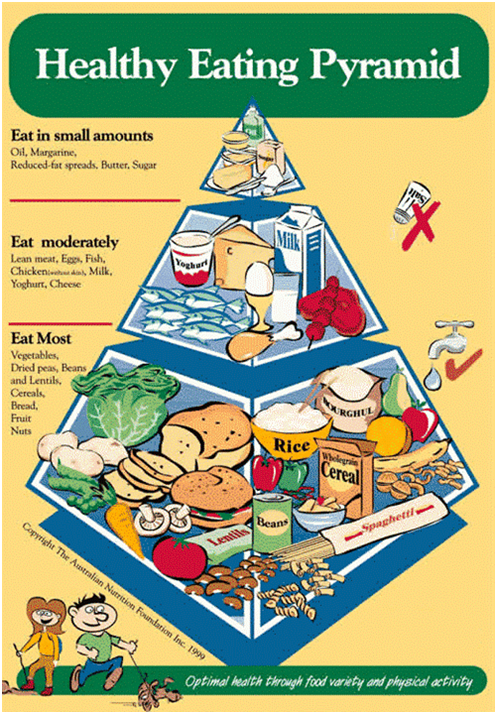 Apparently the new pyramid has come about due to a rise in the popularity in "fad diets", and they've changed the name to 'Healthy Eating Pyramid'.
"The new Healthy Eating Pyramid portrays a very positive message about the types and proportions of food we should eat each day, as the foundation of a healthy and balanced diet."
- Nutrition Australia official website
The new pyramid has a theme we can get behind!
Choose mostly plant-based foods
Limit added saturated fats, sugar and salt
Choose water as your main drink
It's always a good idea to stick to organic produce, that way you know you're getting the healthiest option! You can shop organic in supermarkets, but sometimes their range isn't the best, and greenwashing can trick people into thinking it's organic when it's not. Your local farmers market is your best bet for organic produce. If you're not sure how to identify organic produce, read our guide to organics to get a better idea. Either way, I'm happy to see an updated version of the pyramid, and I'll definitely refer to it when I'm writing my shopping lists!
[You can read more about the Healthy Eating Pyramid on the Nutrition Australia official website]
What you can do
Buy local, fresh and in-season when you shop for fruit and veg
When you buy fruit and veg do the following: choose locally produced, in-season and fresh rather than frozen, don't use plastic bags and avoid any overpackaged items. Do this for a month then try to keep going.
1,203
Tonnes of CO2
savings pledged
Did you like this post?
Then

join us in taking

practical climate action to live better for us and for the planet.
---