[Banner image: Shutterstock]
The Climate Institute has released a report looking at how Australia would compare with other developed countries in 2030 under the government's and the ALP's carbon pollution reduction targets.
The analysis of Australia's targets against other countries found Australia would be in the following positions in 2030:
Under government targetsAustralia would have the highest emissions intensity of any developed economy and significantly high per capita pollution - of the G20 nations, only Saudi Arabia would be comparable.
Under ALP targetsAustralia would not have the highest emissions intensity and per capita pollution would be close to others, such as the US.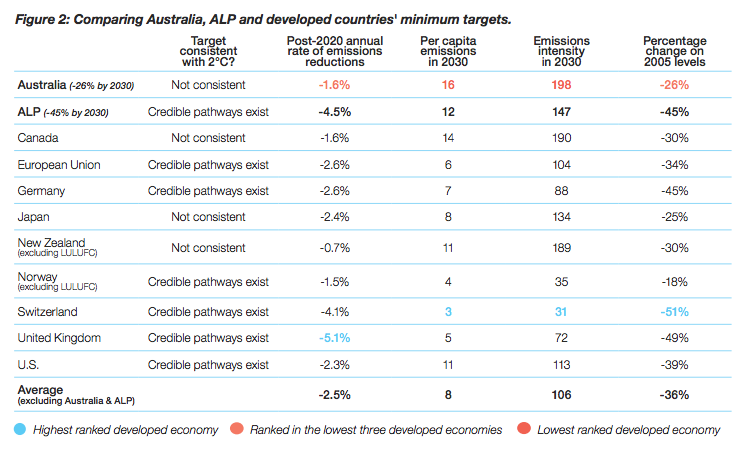 [Image: The Climate Institute]
The bottom line is that Australia is still lagging way, way behind when it comes to sustainability. We didn't even make it into the top energy efficient nations in the world!
What's so frustrating is that renewable energy is ready to supply all of Australia's electricity. We already have the technology, but our leaders are resisting much-needed change.
READ THIS NEXT: Why we need a 'space race' approach to saving the planet

What you can do
With a vibe of hope building that the nations of the world will agree on a breakthrough climate change treaty in Paris this December at the UN Climate Conference (COP21), we have an opportunity to influence world leaders in making decisions that will safeguard the world for future generations.
To do this, we've recorded a cover and music video of a much-loved Australian song, turning 'You're the Voice' into a powerful anthem from women for climate action and hope.
Using the power of music, we want to inspire every woman, man or child to ADD THEIR VOICE - #IMTHEVOICE - to our anthem and form a united call to world leaders for strong action on climate change. No matter who you are, you can add your voice!
Will you support our anthem launch? It's as easy as clicking a button.
With your help, it will capture the attention of governments and stand as a clear call for climate action and hope.
---