"Knitting Nannas against Gas is not affiliated with any political parties – we annoy all politicians equally."
From the irresponsible mining and fracking that has punctured Australia's sunburnt land comes activists of all ages. NSW's crafty ladies of Knitting Nannas against Gas (KNAG) form one such group that protests unconventional gas mining and other forms of unsustainable energy practices for the sake of the "kiddies".
By peacefully gathering at the offices of politicians, work sites, rallies, or wherever they are needed, the Knitting Nannas are spreading their "Nannafesto": knit the dream
"We peacefully and productively protest against the destruction of our land… We sit, knit, plot, have a yarn and a cuppa, and bear witness to the war against those who try to rape our land and divide our communities. …We want to leave this land better than when we found it, for our children, grandchildren and future generations. They deserve to have a future with a clean and healthy environment, natural beauty and biodiversity."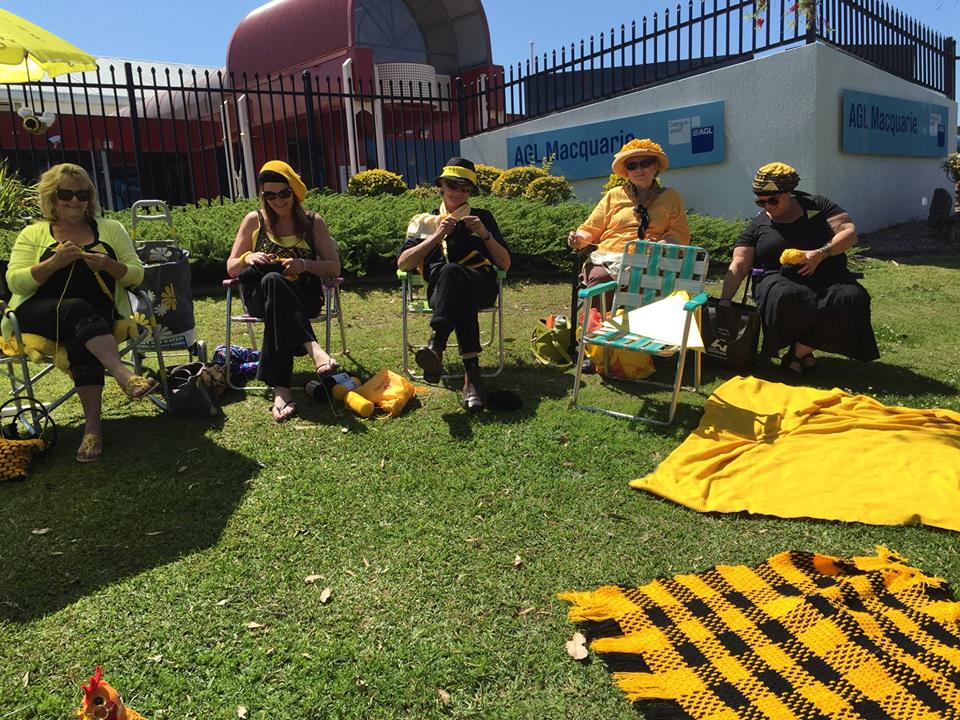 At each protest, the Nannas know that they're in for the long haul, often bringing icy poles to share with the workers on hot days as they sit knitting with a smile on their camping chairs.
KNAG is drawing from a long history of knitting as a form of protest with origins from the French Revolution. Women would sit by the guillotine at public executions and knit. You can read more about the history on KNAG's website.
Lately the knitting nannas have been gaining widespread attention as three members were arrested for obstructing traffic and failure to comply with police direction after chaining themselves by the neck to the gates of a wastewater plant in northern NSW.
Like to knit and love the environment? People of all ages are able to join the group!
KNAG have also paved the way for the Northern Territory's Growling Grannies against Gas, who launched recently in November 2015 to protest fracking. Comprised of indigenous elders from remote communities in Arnhem Land, they are a growing movement of grandmothers who want to protect the land for future generations, and they're recruiting!
1 Million Women is more than our name, it's our goal! We're building a movement of strong, inspirational women acting on climate change by leading low-carbon lives. To make sure that our message has an impact, we need more women adding their voice. We need to be louder. Joining us online means your voice and actions can be counted. We need you.
---