These hearty and satisfying cabbage rolls swap in chopped mushrooms and lentils instead of meat.
I have always loved the idea of cabbage rolls. They're a much more interesting way to eat your cabbage, and are made in various cultures all around the world, often using meat as the main ingredient. But not this one! I have made a delicious vegan version combining lentils, mushrooms and Asian inspired flavours.
The inspiration for this recipe came from a Chinese version of cabbage rolls I've had in the past, which were cooked through steaming. Its a quick and simple way to gently infuse all the flavours together (and just plain yum!).
If you have been trying to get more plant-based protein into your diet then this recipe is for you! Lentils are 36% protein, and they're also full of iron and fibre so they'll keep you feeling full and satisfied for longer. Mushrooms are another great ingredient that add texture to vegan and vegetarian dishes, giving them a hearty taste and appearance. PLUS they are loaded with vitamins and minerals.
Serve it with the dipping sauces listed below, or any of your own favourites, and add this seasonal veggie recipe onto your to-cook list.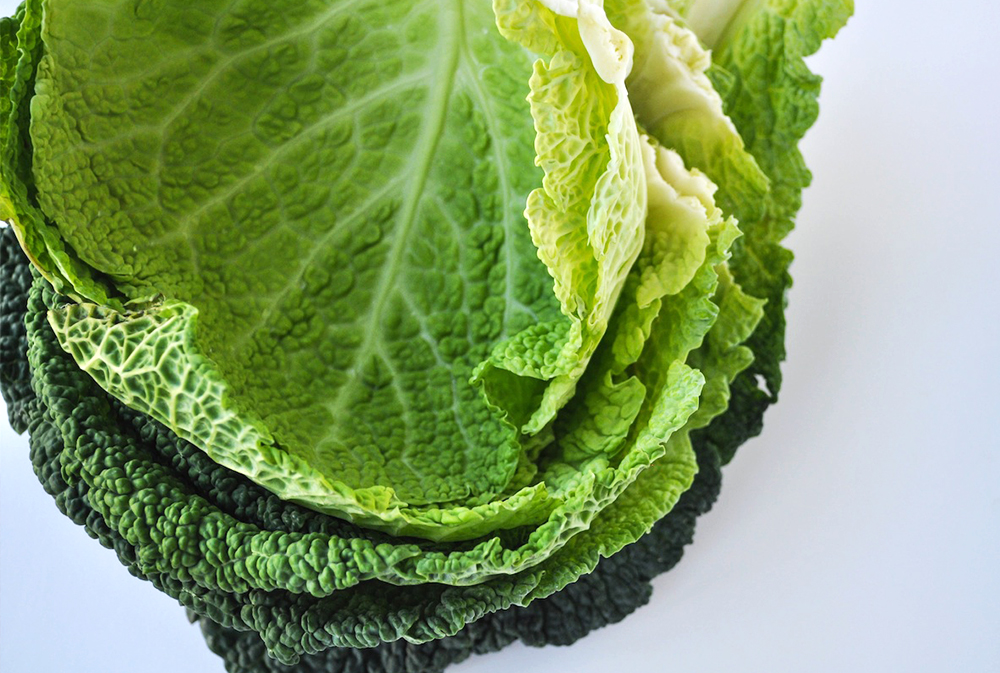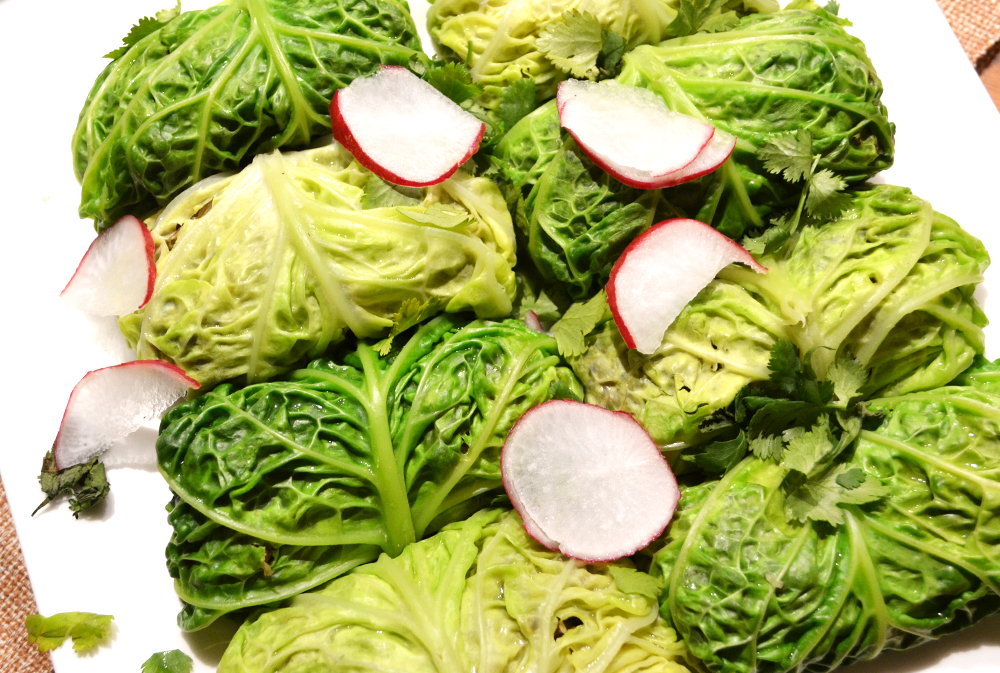 For the Filling:
5 medium mushrooms, cleaned and coarsely chopped
1 medium brown onion, chopped
1 chilli, deseeded and finely chopped
1 clove of garlic, minced
2cm knob of ginger, grated
1 cup cooked brown lentils
1 cup cooked quinoa (= 1/3 cup uncooked)
2 tbsp sesame oil
2 tbsp soy sauce
Salt and pepper to taste
For the Sauces:
Easy peanut sauce = Whisk together 1/2 cup natural creamy peanut butter, 1/2 cup warm water, 1/4 cup fresh lime juice, 1 Tbsp soy sauce, 1 Tbsp agave syrup
Simple soy dipping sauce = Whisk together 3 Tbsp soy sauce, 1 Tbsp rice vinegar, 1/2 tsp sesame oil, 1 spring onion finely sliced
For the Assembly:
1 head savoy cabbage, large outermost leaves removed
Directions
Fill a large pot -- one in which you can submerse a whole head of cabbage -- with water and bring to a boil. (It is helpful to use a pot with a strainer insert, such as a pasta pot, so you can pick up the insert to remove the cooked cabbage, rather than struggle with spoons or tongs.) Add the head of cabbage and boil for 3 to 5 minutes so that the leaves are soft, but not falling apart. Drain, and set aside.
From the head of cabbage, gently pull off 8 to 10 of the large outer leaves. Make sure to keep the leaves fully intact (It helps to cut off some of the coarse stem at the bottom of each leaf while peeling them off). Your goal is to have 8-10 perfect medium to large leaves in which to roll the stuffing. Pat each leaf dry and set aside.
Now its time to make the filling: In a saucepan over medium heat, warm the sesame oil. Once hot, add the onion, garlic, chilli and ginger. Sautée until onion begins to soften and become transparent.
Add the chopped mushrooms. Cover and cook over medium heat for about 5 minutes.
Throw in the lentils and quinoa. Mix everything together well and add salt and pepper to taste.
Now add the soy sauce and cook for a minute or two more, then let the mixture cool.
Now it's time to fill the rolls: Lay the cabbage leaves out on a flat surface. Take a handful of the mushroom mixture and place about 1-2 inches from one edge of each leaf. Fold in the sides, and roll up the leaves with the filling (as you would a burrito), forming a compact stuffed cabbage leaf. Continue with the remainder of the leaves until the mushroom mixture runs out. You can use toothpicks to help hold the rolls together if they keep unrolling.
There are a couple of ways to cook cabbage rolls but we will be steaming these ones. Add 1 inch of water to the pan and insert the steamer basket: Bring the water to a boil over high heat. When you hear the water bubbling and see steam starting to emerge from the pot, it's ready.
Add the cabbage rolls in the steamer basket, cover the pot and reduce the heat to medium.
The rolls are done when they are completely tender. Serve with the dipping sauces.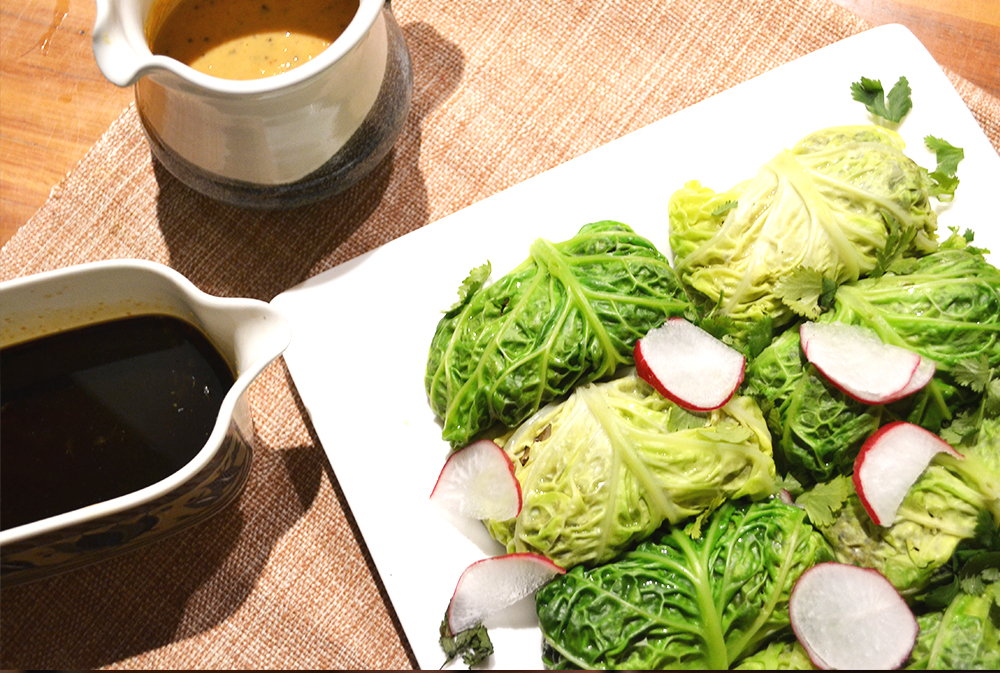 What you can do
Buy local, fresh and in-season when you shop for fruit and veg
When you buy fruit and veg do the following: choose locally produced, in-season and fresh rather than frozen, don't use plastic bags and avoid any overpackaged items. Do this for a month then try to keep going.
1,200
Tonnes of CO2
savings pledged

---