This hearty classic American style sandwich is great for BBQ's or an easy to eat weekend meal over a few beers. We've taken that classic, and made a plant based version. Maybe you're trying to do a meat-free month? maybe you only eat a plant based diet? maybe its meat free Monday or perhaps you've just realised you've had a bit too much meat this week, and want to cut down your carbon footprint.
Regardless of the reason, you'll be completely satisfied with this hearty moorish plant-style twist on an old classic.
Ingredients:
- Vegan bread rolls
- 1 large red capsicum sliced
- 1 large green capsicum sliced
- 1 brown onion
- Black pepper to taste
- Chipotle or cayenne powder to taste
- Salt to taste
- Rice bran oil
- Sliced jalapeños
- 2 tablespoons
- Crushed chilli to taste
- Vegan cheese, either a store bought cheese sauce, or you can make your own with this recipe
- 1 cup of seitan strips OR 5 large brown mushrooms sliced
- Fresh tomato, coriander and jalapenos diced for garnish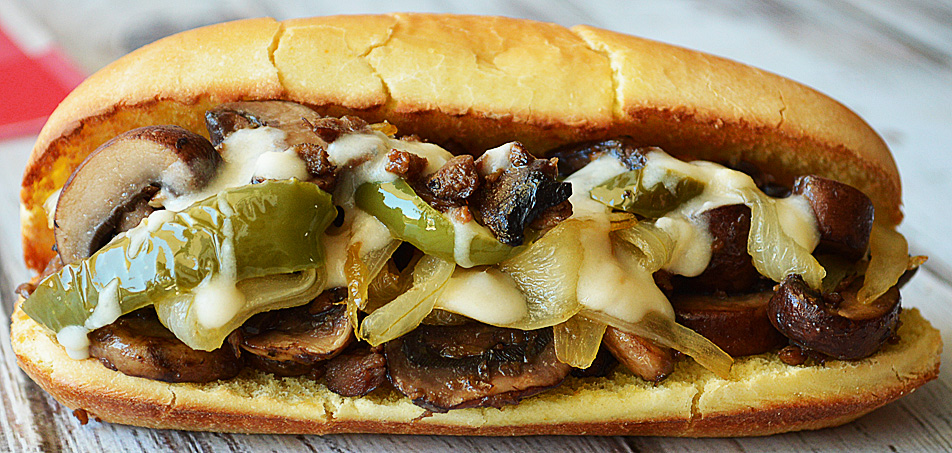 Method:
1. Put about 1.5 tablespoons of olive oil in a large non-stick pan on high heat
2. Add capsicum, onion, crushed chilli, sliced jalapenos and cook until the edges of the capsicum start to blacken, or the onion is caramelised
3. Add spices and pepper and stir through
4. Toast bread rolls in the oven
5. Transfer to a bowl
6. While the pan is still hot, add another tablespoon of oil, then throw in either your seitan strips or mushrooms sprinkle with a little bit more of your chipotle/cayenne powder and pepper and cook until the edges blacken
7. Add veggies back into pan and mix everything together
8. Turn the heat off, rub a little olive oil on your warm bread rolls and stuff them with the mixture, topping off with some creamy vegan cheese.
Read Next: How To Enjoy Friday Night Drinks Without Harming The Planet
---