​This week had the Global Women's Climate Justice Day of Action--a day for women and our allies to mobilize around the world, to show resistance to false solutions to the climate crisis, and to demonstrate the many viable options that are just and equitable and that honor frontline communities.
This is a crucial opportunity to spotlight that striving for gender equality is not only the right thing to do, but it is the smart thing to do in relation to climate change.
However, there is no justice when it comes to climate change.
The damaging effects of a changing climate do not discriminate. When floods wash away homes, when droughts ravage crops, when disease spreads like wildfire through rural villages and communities, nature doesn't pick and chose its victims. We do.
Men and women are not equally impacted by climate change. This is not because women are weak or often less physically strong than men--their vulnerability is the product of interrelated socio-cultural processes that creates inequalities.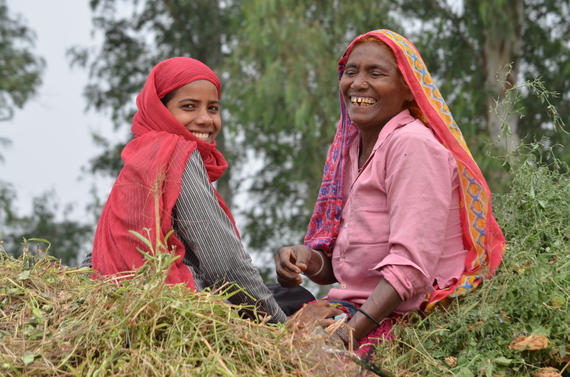 For example, around the world women suffer from pervasive structures that limit their ability to own land, borrow and invest money, or start a business. According to a recent study performed by the World Bank, 155 out of 173 economies have at least one legal difference between men and women that may significantly reduce the economic opportunities of women.

As the need for climate change mitigation and adaptation actions grows, the distribution of related financing will increase--as will the potential gap in access to and control over resources between men and women under the prevailing systems and mechanisms. Due to existing economic structures, financial resources to aid in the mitigation and adaptation of climate change are not as likely to be available to women as to men, and unequal disbursement of funding will intensify inequity.
Because of their responsibility to get water, food, and energy for cooking and heating, women in developing countries depend on natural resources for both livelihoods and security. The impacts of climate change, including drought, variable rainfall, and deforestation, make it more and more challenging to obtain these resources. Additionally, in comparison with men, women face historical disadvantages, including limited access to decision-making and economic assets that can exacerbate the challenges of climate change. In a recent Environment and Gender Index (EGI) study, for six out of nine environmental decision-making processes, women represent less than one-third of decision makers.
But women are not weak, disabled, or in need of "saving". They are 50% of the...
To learn more about GGO's work, or to explore further issues related to gender and the environment, please visit the GGO website and follow them on Twitter.
[Images: IUCN GGO]
1 Million Women is more than our name, it's our goal! We're building a movement of strong, inspirational women acting on climate change by leading low-carbon lives. To make sure that our message has an impact, we need more women adding their voice. We need to be louder. Joining us online means your voice and actions can be counted. We need you.
---