There's an endless amount of actions we can take to curb the impact we have on the planet. How do I know? Well I've been working on the content team at 1 Million Women for almost two years now and we haven't run out of ideas yet. Every week we sit down and brainstorm what we'll write, create and share and every week we find new ways we can take climate action in our everyday lives. And the beauty of having such a grand array of ways we can live lightly on the planet is that there's something that can suit everyone. Going completely vegetarian or vegan not possible for you? No worries, try taking the bus instead of a car, buy a compost or invest in a few reusable staples.
The list of things we can all do goes on and on. Fortunately for you (and us), we've made a shiny new tool that brings this library of climate actions closer to you than ever before - our app! And it's going to make finding and completing those planet-friendly actions so much easier. They'll literally all be in the palm of your hand. If you just can't wait until the end of the blog, download it now! To show you all the different ways we can lead planet-friendly lives and use our app as a helping hand, we've rounded up 3 members of the 1 Million Women team to show you what they do day to day.
Shea
For me, cutting carbon day-to-day revolves around not allowing single-use plastics into my life. When I go through an entire day without buying anything in plastic I feel so much lighter and happier for having lessened my impact on the planet. I compare this feeling to the same one I get when I eat healthy greens and fruit all day (which is tricky for me with my hot chip addiction and extreme aversion to fruit). So I turn to living plastic-free for this good feeling!
This is where the 1 Million Women app has become my pocket go-to guide. If I'm ever unsure of how to obtain something plastic-free, then I open the app to see what actions can assist me. From bathroom to kitchen to wardrobe, the app has endless actions for how we can refuse plastic in our lives and it offers great tips for plastic-free alternatives!
The app is also a great way to challenge yourself. Sure I haven't gotten a takeaway coffee cup since 2012 and I'm never spotted outside of my house without my reusable water bottle, but the 1 Million Women app helps expand my knowledge and offers more ways to stop letting plastic into my life. I like to use it to set these little challenges for myself throughout the day that help me cut even more carbon in my life!
Whilst I've got my day-to-day plastic consumption down to almost nothing, the 1 Million Women App has also encouraged me to start looking at other aspects of my life that could use an eco audit. I now really love all the recipe actions and the insightful actions about how I can tackle my food waste. Being someone who rarely cooks, the app is inspiring me to try out some of the zero-waste recipes on there and really analyse how I can get my food waste down, and I may even get some cooking skills along the way!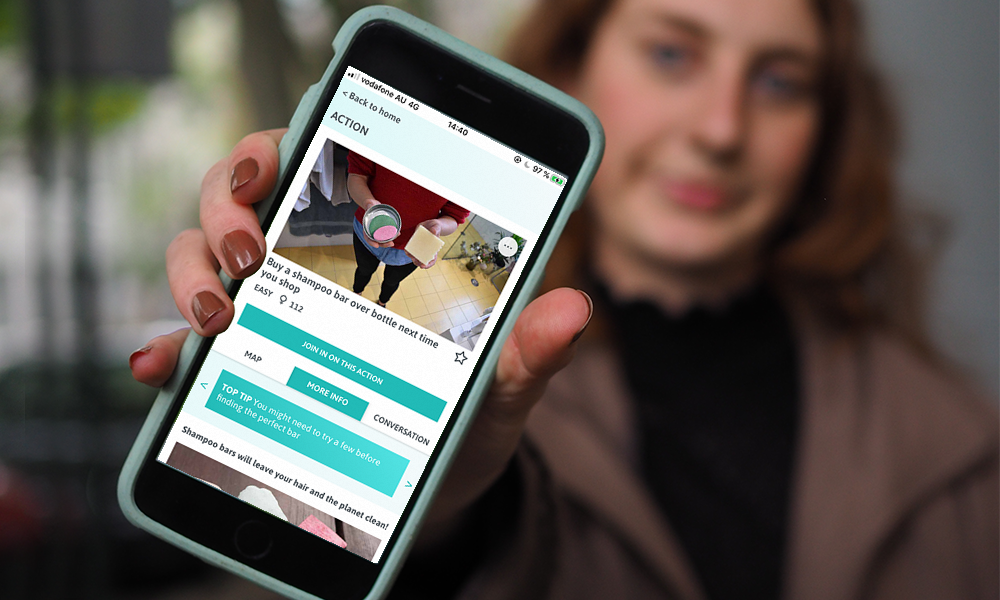 Allison
Living with less is at the centre of what I do to lighten my impact on the planet. Whether it's voting with my wallet, choosing to reduce over recycle or striving for a low waste life.
Let's start with my wallet. The tag line "we need to reduce before we recycle" is a good motto to adopt for cutting down carbon emissions. It makes me think to myself before I buy anything new - Do I really need this? I make sure that buying new is my last resort, repairing and buying second-hand are my first port of call. And when I do need to buy something new, I research online to pick planet-friendly brands. Sometimes the 1 Million Women app comes to my rescue before I go shopping with a reminder like "Go shopping in your own wardrobe". I did just that recently and found a perfectly good pair of jeans my daughter had discarded. This saved me $200 on new jeans and saved the greenhouse gas equivalent of driving a car more than 129 kilometres!
Voting with my wallet goes beyond clothes too. I consider everything I pick up in the supermarket - is there a plastic free alternative? I reject over-packaged fruit and veg and leave them on the shelf. And also avoid single-use plastic items like bottled water, instead carrying my trusty refillable water bottle everywhere. My 4 foldable shopping bags and mesh produce bags are also mainstays in my handbag.
Something I'm particularly proud of is how I've changed my family's habits. I've more than halved the family's red meat consumption! For every red meat meal we don't eat we save 2.2 kilograms of carbon, and when I multiply that by my family members it really adds up! The app has helped me entice my family with plant-based meals too. There are yummy vegetarian and vegan recipes that I keep in my favorites. When I go shopping I can quickly go into my favorites tab and pick a recipe I want to make. Showing my family how my carbon savings graph grows when we don't eat meat is also satisfying! The best part is I can help time poor friends and family by sharing my carbon saving tips and recipes easily via the app. Remember I am certainly not foolproof when it comes to carbon savings, we all have slip ups. The climate emergency is a collective problem which needs collective action, and that is why the 1 Million Women app is such a great tool because we can make a difference, when we are all saving carbon together.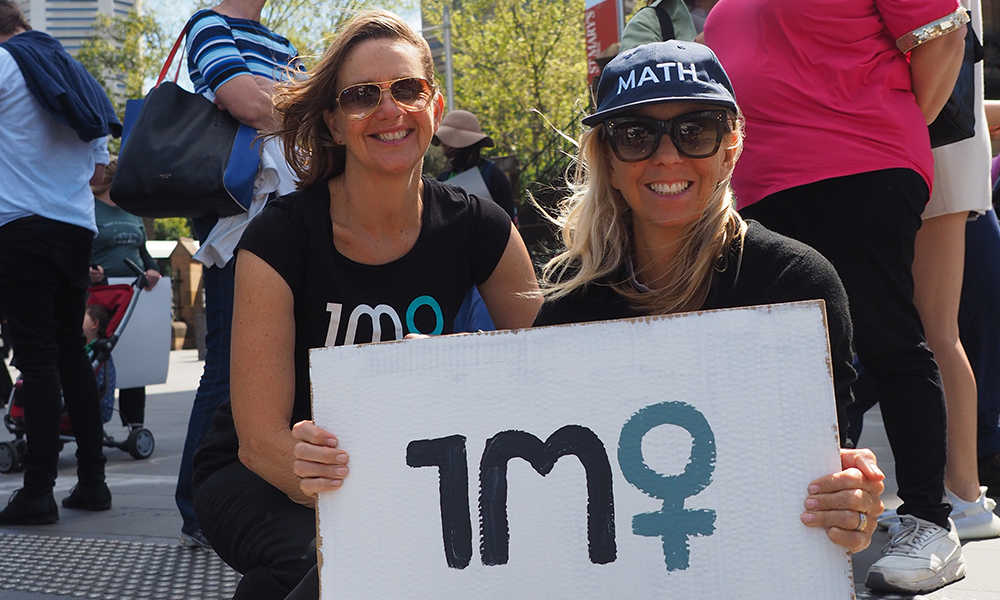 Allison (left) with her friend at the global climate strike in Sydney

Emily
A couple of years ago I started consciously working through my life to try and lighten my impact on the planet. It's still a work in progress but I'm comfortable saying that I try to live climate action wherever I can - and I'm lucky enough to be able to do this! Pair that with time spent in the 1 Million Women Team and it's no surprise that my favourite way to lead a planet-friendly life is to engage with others and bring them along for the journey. Yes, this action is less tangible when it comes to carbon pollution, but there's no doubt in my mind that it makes a difference.
Picture that cliched ripple fanning out across a pond or cast your mind to Greta Thunberg if you're in doubt of the power of one. We can't all spark global movements but we can all talk to those around us and strive to live in a way that aligns with our values. And here's where the app comes in, it's such a great way to get others on board!
It's not easy to go it alone when you are changing the way you live but the 1 Million Women app is a tool that is always with you and full of ideas. If I'm talking to someone who is eager to reduce their meat intake but doesn't know how to go about it, needs some inspiration or a little push, I whip out the app. And if you ever come up against that notorious retort: but I'm just one person, if I use a KeepCup and stop eating meat it's not going to make a difference, then the 1 Million Women app holds the perfect answer. We can see how much carbon pollution each action saves as well as country and global savings. The difference we make individually and when we act together is right in front of our eyes.
Seeing fresh ideas and challenges in the 1 Million Women app also helps keep me focused and remind me of new ways I can make my life more planet-friendly. The DIYs are a particular favourite of mine, especially since I still struggle to cut certain plastics out of my life ( all the DIYs are plastic-free!). One of my biggest eco-vices is makeup and body care products. As someone with temperamental and far from perfect skin, I've struggled to find the right path when it comes to cosmetics. Experimenting with making my own and being prompted by an action in the app to investigate plastic-free cosmetics or try out making my own really helps me clean up my act in this area!

Now it's your turn. Whether it's actions, inspiration or community connections you're looking for, download the 1 Million Women app now!

Written by Allison Licence, Shea Hogarth and Emily Contador-Kelsall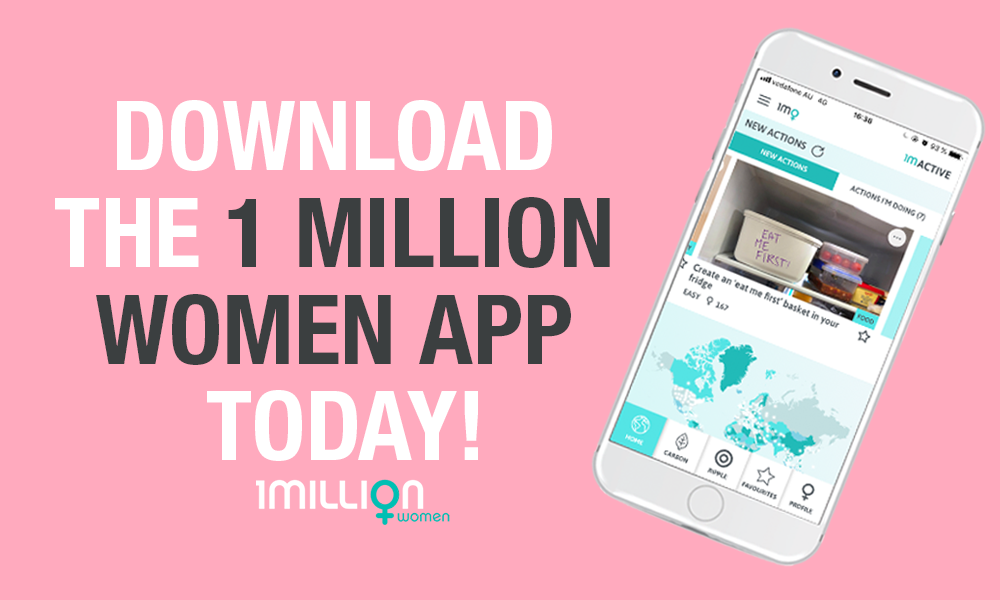 ---