In an effort to be a responsible omnivore I have been slowly but surely reducing my meat intake. There are powerful environmental reasons behind this change, but not only that, I'm finding it cheaper and I don't feel instantly sleepy after every meal.
I don't often try to make fake meat because I feel that it usually falls short of the real deal. Instead I love fresh seasonal produce that's been cooked well. Like this quinoa taco bowl, ricotta gnocchi, or banana bread mug cake. That last one isn't exactly everyday food, but it's so good!
These Korma Stuffed Sweet Potatoes with a Garlic Tahini Dressing are a new favourite addition to my week-night repertoire.
We used only two sweet potatoes for this recipe, but you'll have enough korma mixture left over to make at least 4 or more. The mixture would also be great on nachos, enchiladas or simply with rice.

Ingredients:
What you will need:
1 Tbsp of Tomato Paste
125g can of 4 Bean Mix
2 Sweet potatoes
Tahini Garlic Sauce:
1 Tbsp Tahini
Juice of Half a Lemon
1 Clove of Garlic
Pinch of Salt
2 Tbsp Water to Blend
Coriander and Avocado to serve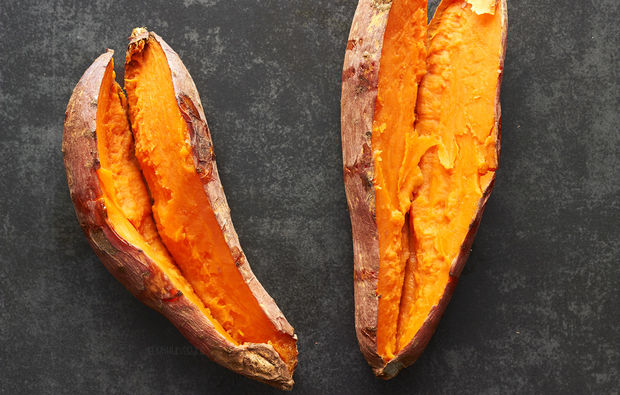 Method:
Pierce the sweet potatoes with a fork a few times on each side. Bake in the oven for an hour and a half at 180C or until they are soft.

While the sweet potatoes are cooking add the onion, zucchini, mushrooms, corn, broccoli, peas and red capsicum to a fry pan. I used a little water instead of oil to fry them in. (about a tablespoon). Fry for 5 minutes or until onion is slightly soft.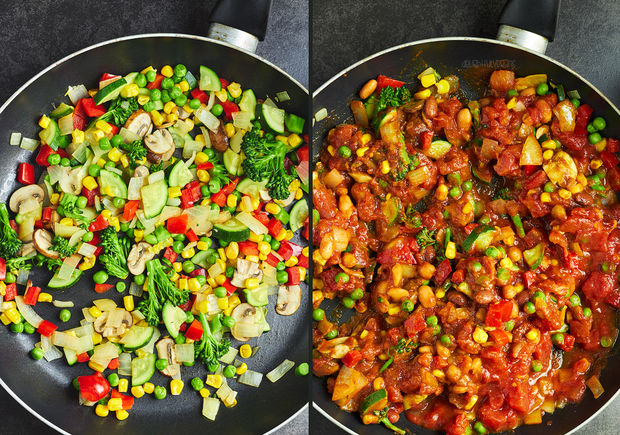 Then add in the korma paste and mix it around. Add in the tomato paste, 4 bean mix and tinned tomatoes. Cook on medium heat for another 5 minutes.
Make the tahini garlic sauce by blending all ingredients in a blender or magic bullet until smooth. If you like it more runny, add a little bit more water.
Once the sweet potatoes are cooked cut them lengthways down the middle and scoop the korma mixture into the middle.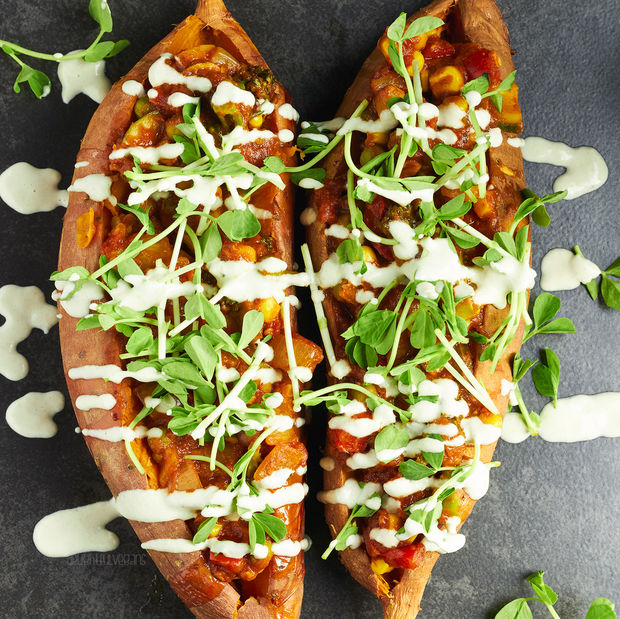 Top with beansprouts, avocado, coriander, or whatever you desire and drizzle the sauce over the top. Enjoy!
This recipe originally appeared on Instructables and was written by Delightfulvegans.
Check out more of our favourite recipes here.
We're in a climate emergency and it's going to take all of us to get out of it. That's why 1 Million Women is building a global community of women committed to fighting climate change with our daily actions. To join the (free) movement just click the button below!
---