A 6.8 magnitude Earthquake has just struck the southern island chain of Okinawa in Japan and Taiwan. Japan briefly issued an alert for a 1m tsunami headed their way.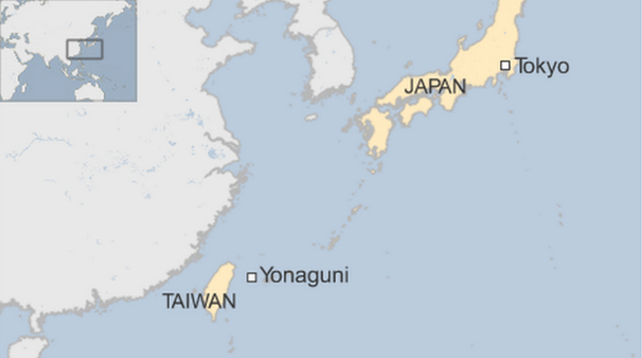 The earthquake reportedly happened near Yonaguni Island, near Taiwan. Locals nearby have been advised to "get out of the water and leave the coast immediately", but reassured them that no damage was to be expected. At this time there are no initial reports of damage in Japan or Taiwan where the residents felt tremors. Japan's Meteorological Agency said the earthquakes' depth was "very shallow".
The US-based Pacific Tsunami Warning Centre has said that a "destructive Pacific-wide tsunami" was not expected. Japan registers more than 20% of the planet's most powerful Earthquakes every year.
One man has reportedly died, and another injured in a fire sparked by the quake, and a four-story apartment has been set ablaze after an electrical box exploded. Japanese authorities are currently issuing warnings via radio, and many boats are now being seen sailing out to sea to avoid the tsunami's potential damage.
In 2011, more than 18,000 people were killed by a tsunami that hit the northeast coast after a 9.0 magnitude earthquake. Kuo Kai-wen, chief of Taiwan's Seismology Centre, warned there could be more earthquakes.
"This was the third quake measuring more than 6.0 magnitude in Taiwan so far this year – we would not rule out the likelihood that there might be more strong quakes of this scale."
- Kuo Kai-wen
The Philippines was also recently hit with some wild weather. On April 3rd the locals bunked down in wait of Typhoon Maysak, which dealt 150km/h strong winds, and gusts of up to 185km/h.
The Vanuatu locals experience the worst cyclone in their living history on March 6th this year. While the death toll was surprisingly low, many villages' hospitals and schools were destroyed by the category 5 storm system. Climate specialists predicted that storms like Cyclone Pam, and typhoons like Maysak would be more frequent with climate change and global warming on the rise. Let's hope that Taiwan's earthquake death toll doesn't rise, and that it has no links with our carbon footprint.
Hopefully Taiwan doesn't sustain too much damage, but like the island country of Vanuatu, they will no doubt receive whatever aid they need in order to rebuild what has been destroyed. We'll be keeping an eye on this story as it develops.
Sign up to our newsletter and become a 1MW member to receive the latest environmental news, and ideas on how you can reduce your carbon footprint.
---