Alex Elliot-Howery is a full time pickler! Not an industry she would have pictured herself in 10 years ago, but as the saying goes 'when life hands you lemons, put them in a jar with brine, pepper seeds, and a bay leaf'. Kind of.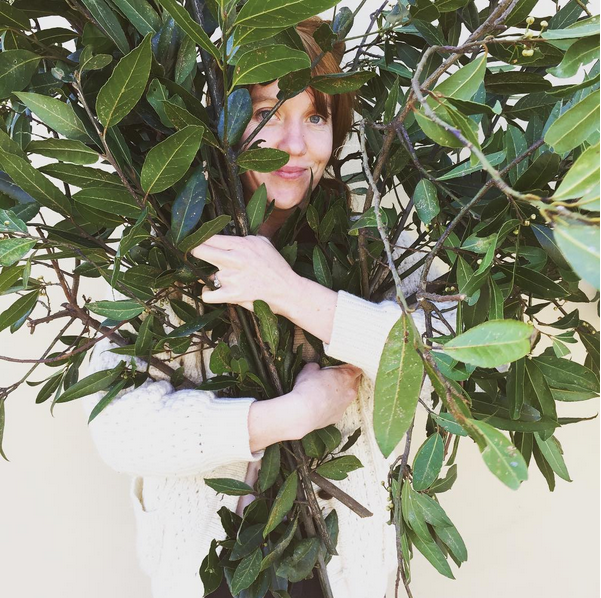 [Alex with Marrickville bay leaves traded at Cornersmith café]
The journey into food started when Alex was at home cooking with her two children. She needed something "more than play-doh" to sink her teeth into and cooking became that creative outlet.
"I focused on the seasons, wholefoods, where food was sourced from, who the middle man was and the ethics of the companies who, grew, made, and packaged the food. I avoided supermarkets and refused anything imported. There really wasn't much left to eat."
- .
So Alex and her best friends Jamiee Edwards, of Fermenting Projects would gather up the kids and get together in the kitchen. They tried to make everything they could no longer buy; butter, flour, pickles, preserves, and many failed attempts at vegemite, "Vegemite can't be done," she says.
"And it was then that I fell in love with the craft of preserving. It ticked all the boxes for me. I worked with the seasons, reduced waste, new exactly what was in each jar and got be creative at the same time."
On walks around the neighbourhood (with tired, screaming kids in tow), Alex noticed that locally grown, backyard produce was abundant. "During winter there would be piles of citrus dropping into peoples backs yards and out onto the footpath. In summer, the streets would be stained with decaying mulberries and half eaten figs. She stated knocking on the doors of her neighbours to ask if she could pick some of their excess fruit, "I got a few buckets of cumquats from a guy down the road, oranges from another neighbour, and lemons, rosemary and a bag of chokos from an elderly Greek lady who was very excited to pass on her tips," she says. Alex and Jamiee would then ferment or pickle all the foraged produce, drop back a jar to the grower, and fill their cupboards with the rest.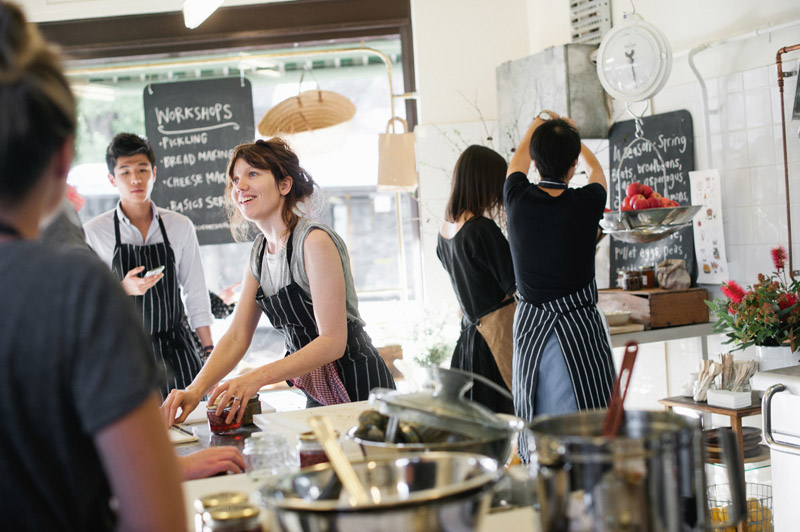 Alex at Picklery – Image supplied
A few years and hundreds of jars later, Alex and her husband opened their café, Cornersmith, based in Sydney's Marrickville. We've written previously about Cornersmith and their produce bartering system, and have spent the last few weeks learning how to pickle and ferment anything we can get our hands on!
Alex says the same philosophy they had at home was carried across to the business.
"I wondered how the community would respond to a trading system – so in the first few months of opening I put a sign up in the shop saying that we were looking for home-grown backyard produce to trade."
- .
The response was incredible – within days people had brought in baskets of herbs, tubs of mulberries and a neighbour bought in a bag of beautiful rocket every morning in exchange for his morning coffee.
All this produce was then used on the menu - greens in the salads, mulberries in the milkshakes, marmalade, preserved lemons, choko pickles, passionfruit curd, fermented chilli paste!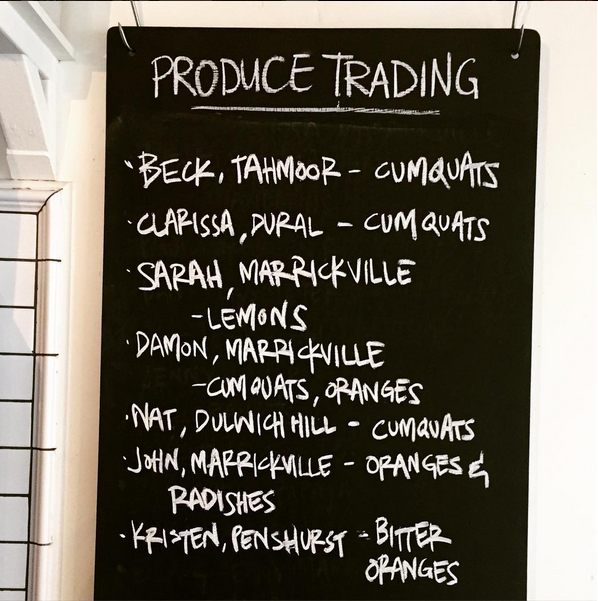 Image: Cornersmith Instagram People who exchanged produce for a coffee or jar of jam got their name on a board at the café!

"It showed me how hungry our local customers were for community connection - and that as a community we need places where we can meet, share ideas, swap knowledge and talk about food"
Out of this idea a second venue was born. Picklery – which is just up the road from the café – is an open kitchen, "we do all our bottling there, People can come in see what we're making that day, ask questions, and trade their garden produce." Corner smith also run classes out of the venue teaching Sydneysiders how to preserve, ferment, make cheese, bread, pastry, and stocks.
The classes are geared towards the domestic setting, "I feel like I can make change for people in their own kitchens. I can arm people with the knowledge and confidence and inspiration to stat making stuff at home, to start talking to their neighbours and to doing their own trading."
At Alex's classes she talks passionately about seasonal, local produce, "You know how to tell if something is in season because it's at the front of the store, in large amounts, and its really cheap!" Her advice is no-nonsense and straightforward and her passion towards reducing food waste and educating the community embodies the spirit of the 1 Million Women movement – small choices made in your everyday life that have a huge collective effect.
Alex has a book featuring all her favourite recipes from the café and picklery coming out on September 23rd, it's available for pre-order here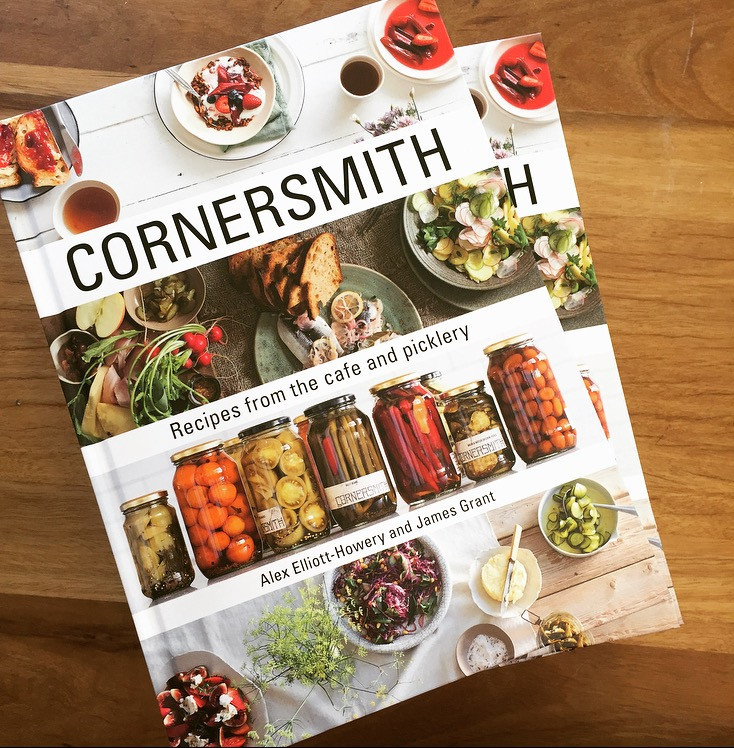 In the mean time, she shares her recipe for lemon, rosemary, and pear chutney here
Have you got a soft spot for pickling? Let us know about your favourite recipes in the comments section below.
READ THIS NEXT: Your guide to fresh, seasonal, spring produce!
1 Million Women is more than our name, it's our goal! We're building a movement of strong, inspirational women acting on climate change by leading low-carbon lives. To make sure that our message has an impact, we need more women adding their voice. We need to be louder. Joining us online means your voice and actions can be counted. We need you.
---