This is a 1 Million Women community guest post from Katie Liew. The research undertaken and opinions expressed by the guest writer/blogger and those providing comments are theirs alone.


There are roughly eight million tonnes of plastic dumped into the world's oceans each year, with eight out of the top ten polluters originating from Asia.
The greatest contributors: China, Indonesia, the Philippines, Thailand and Vietnam. These countries are responsible for sixty per cent of the marine plastic entering our oceans. But what is the reason these parts of Asia contribute so much plastic waste to our environment?

These countries have been impoverished over the years, however, they are also emerging from poverty and experiencing rapid economic growth and improved quality of life. Unfortunately, as these economies grow so too does the use of plastic-intensive consumer goods - the significant increases in economic power generates accelerated demand for consumer products not yet met with an equivalent waste management system.
Indonesia is a mere fraction of the size of China, yet it is the second greatest plastic polluter, at 187.2 million tonnes(China at 262.9 million tonnes). As domestic and global growth accelerates, the plastic manufacturing industry anticipates a coming boom in correlation with this. Plastic demand is expected to increase by six percent, to 4.65 million tonnes in 2016, accompanied with a rise in prices of up to ten percent (the primary drivers being food and beverage industry).
Additionally, households in Indonesia do not separate their waste nor do they recycle; everything is deposited into one giant landfill.

One such landfill is Bantar Gebang in Jakarta, the largest in Indonesia. Commencing operations in 1989, the site now operates 900 trucks and delivers over 5,000 tonnes of solid waste every day - the resulting emissions exceed 25,000 tonnes of methane per year.
While a portion of the methane is harvested and used to generate power at the landfill, a vast amount of waste, and its repercussions, continues to mount up.
The city's inefficiency employs approximately five thousand workers, who 'scavenge' through rubbish in search for recyclables in twelve hour shifts, seven days a week. Their 'treasure' is sold to plastic and scrap merchants with their wages amounting only to 15,000Rp (~$1.20 AUD per week).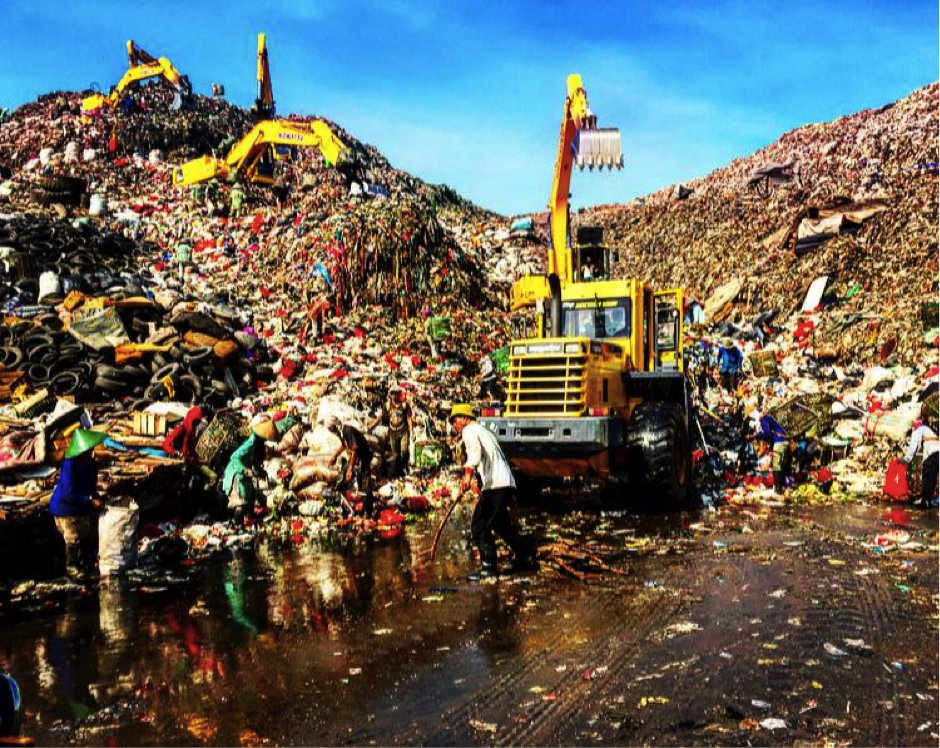 Image: Katie Liew
Bantar Gebang in Jakarta is the largest landfill in Indonesia.
The dump, which spans 111 hectares, houses not only rubbish but the five thousand pemulung (scavengers) who work there, including their children and animals, and also a pre-school and primary school.
While school is attended to in the mornings, for many, scavenging will be the only life they will know. From the age of five, children will be raised to follow in their parents' footsteps, and education will end at age 10 to work full time in the landfill. They will spend their time sorting and shredding plastic, cutting cans, packing and picking rubbish. An Non-Governmental Organisation (NGO) working with children at Bantar Gebang estimated as many as 550 children aged 7-15 assisting their parents at the dump.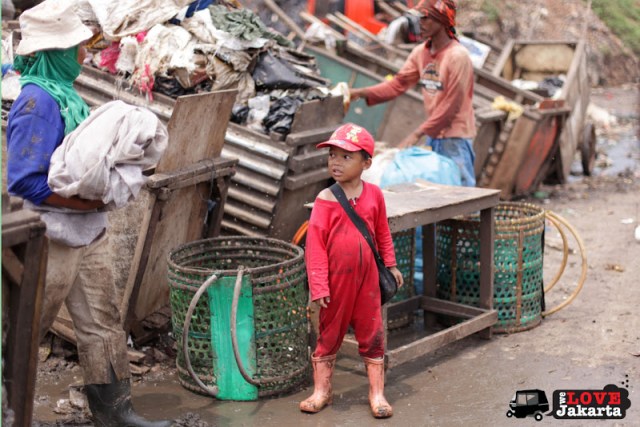 These public dumping areas, coupled with an increasing population within the landfill, also brings about poor sanitisation, disease and lack of access to clean water for drinking, showers and toilets. This costs the Indonesian economy $6.3 billion per year.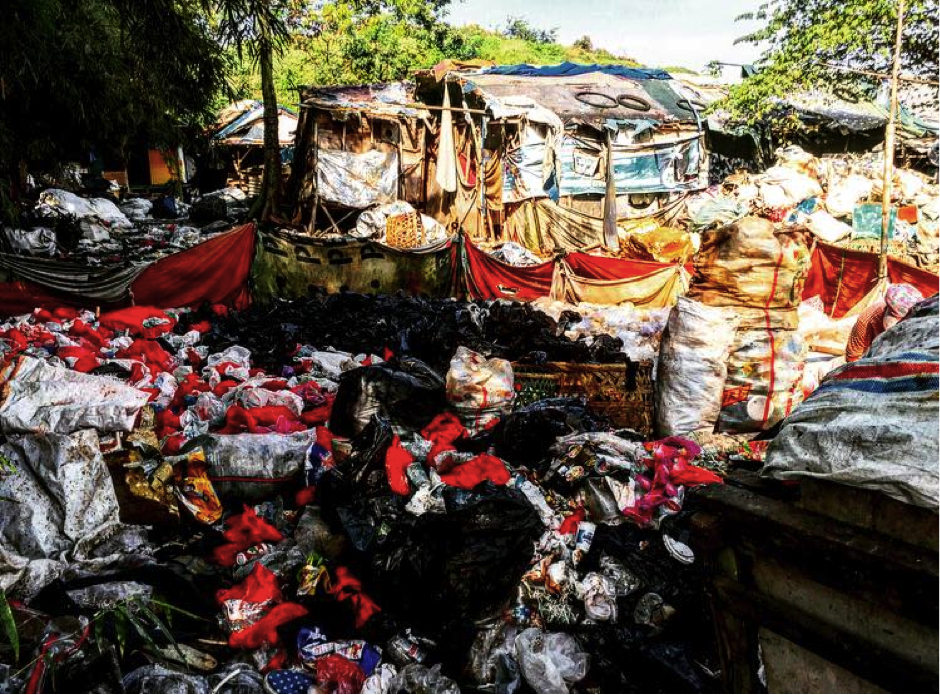 How to combat this issue?
As part of National Waste Awareness Day on February 21, Jakarta and twenty-three other Indonesian cities and regions implemented levies on plastic bags in the hopes consumers will change their shopping habits. However, this initiative saw little return with education and awareness absent, and convenience too prevalent for immediate effect, and was subsequently withdrawn. Imposing a levy to the locals only to indirectly reinject it back to the landfill was also an inefficient solution to a number of issues the country faces.
Nonetheless, Indonesia has declared The Indonesian Movement of Waste Care 2020 was recently initiated and signed by more than thirty local governments and numerous stakeholders. Its aim is to create a greener society through education and the 3Rs – Reduce, Reuse, Recycle. Specifically, to reduce glass house emission from waste to six percent by 2020, and to reach a minimum target of twenty percent of waste being produced through 3R.
The Carbon Neutral Company has also introduced a project to upgrade Bantar Gebang and create a more a sanitary landfill site, which includes capturing methane gas to generate 80,000MWh of electricity for the Indonesian grid, and the treatment of leachate, which is responsible for further environmental degradation and the unpleasant odour.
On a recent trip to Jakarta, I was deeply saddened to witness the living conditions in Bantar Gebang. I was also incredibly grateful to have had the opportunity to spend time with the communities within the landfill. Their positive attitude and resilience had deeply strengthened my appreciation and understanding of the global and environmental crisis we are somewhat sheltered from.
It was clear from interaction with the locals that this was their way of life and would likely feel lost should their employment as pemulung be taken away. As these countries emerge from poverty, however, so do their innovations.


Inspiring stories from around the world
For example, Wecycle, in Nigeria who offer household recycling services using a fleet of low-cost cargo bikes, are also powering social change whereby 103 jobs were created (not to mention, diverting 2,300 tonnes of waste!). Bakeys edible cutlery in India is one other clever invention which is providing an environmental solution to the usage of plastic waste, but also providing employment throughout.
If a coordinated focus was taken on the five greatest contributors to the world's plastic pollution, a significant impact could be made on the global leakage into the ocean by 2025 by approximately forty-five percent. Extending these interventions to other countries will only have a greater impact on this global issue.
Katie is your not so typical tweed jacket-wearing accountant. One of her greatest beliefs is to never underestimate the power of one and is passionate about leaving positive footprints in people's lives and making a difference in the world, even if it's as tiny as she is! You can keep up with her on Instagram and Facebook.


Banner image: Shutterstock

1 Million Women is more than our name, it's our goal! We're building a movement of strong, inspirational women acting on climate change by leading low-carbon lives. To make sure that our message has an impact, we need more women adding their voice. We need to be louder. Joining us online means your voice and actions can be counted. We need you.
---