This is a guest post from our partner Australian Ethical
Written by Caitlin Howlett, Australian Ethical Super
You might not realise it, but the underwear you're wearing right now was most likely made in a sweatshop – unsafe factories, where workers (mainly women) work long hours for barely enough pay to survive.
That's not to mention that pretty much all underwear is manufactured with dangerous chemicals, including formaldehyde and bleach – not exactly something you'd like to have near your privates.
On top of all this, most underwear is made from cotton, a crop mostly grown in India where farmers struggle to make ends meet – it's thought that 44 cotton farmers commit suicide every single day in India alone. The cotton-growing industry is highly competitive, with big businesses out-bidding smaller, local farmers. It's also a pesticide-laden crop, harming not only the workers and their families, but the ecosystem as well.
All these and many more reasons are why Australian Ethical was so excited that the winner of the Ethical Enterprise Award we sponsored last year was Mighty Good Undies. Not only did winning the Award bring the brand new ethical company worthy recognition just before launching onto the Australian market. Australian Ethical was able to lend an even keener helping hand.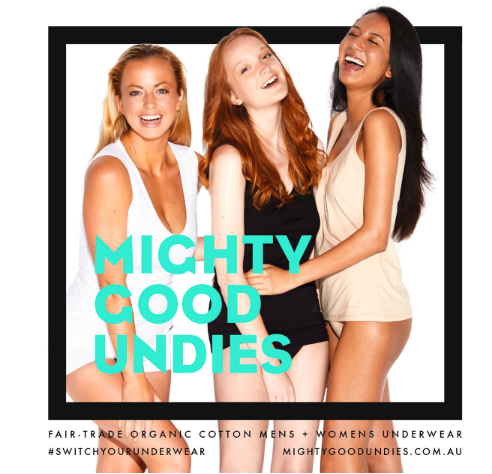 As part of the award, the Director of Australian Ethical, Phil Vernon is adding his brainpower into helping to build the business with a solid foundation.
Making a conscious decision to purchase ethical means you'll get a great green halo from supporting cotton farmers, garment factory workers, and their families. You'll also expose your body and the environment to fewer harmful chemicals.
What makes the Mighty Good Undies particular undies so good is that:
1) It gives you a choice
There are currently only a few certified organic, fair trade underwear brands available in the Land Down Under. So far, you need to support their online campaign on Start Some Good – which starts this week here – to get your Mighty Good Undies delivered. If you want to purchase fair trade organic cotton undies in a store in Australia, you have to go to a specialised store, such as the wonderful Bhumi organic cotton – which is only available in their Melbourne store or online. Mighty Good Undies aim to prove to big retailers that ethical supply chains can work, ultimately asking the big retailers to stock their products on their shelves – or maybe it'll prompt them to make their own certified labelled products.
2) They're very trendy
In fact, the founders, Hannah Paris and Elena Antoniou, believe these undies are so trendy that they're focussing a major part of the start of their brand on showcasing the underwear at the Berlin Ethical Fashion Show in July. The aim to find retailers for the range, so they can really start to up-scale this brilliant, ethical idea and get it out to the mainstream market.
3) The business is run by forward-thinking business people
Founders, Hannah and Elena, are using their extensive knowledge of the fashion and ethical consumer industries to go about their business in the right way. By being so strategic in their launch of this product, it's a truly 'sustainable' business model in every sense of the word. By using Start Some Good to kick-start their campaign, you can know that they'll only make as many undies as they need, so there won't be any silly business decisions along the way. This, ultimately means, that they can pass on the cost savings to you, the ethical consumer, so you can get a fairly priced pair of neat nickers!
The more people who make the decision to purchase ethical products, the more likely that consumers will get an even broader selection available to them in future. Businesses like Mighty Good Undies are an example to the less ethical business ilk that they need to start rethinking their ways and acting responsibly
An update on the Mighty Good Undies crowd-funding campaign!
On the 22nd May 2016, Mighty Good Undies successfully reached their goal of $30,000 (and beyond, they raised $32,000) with pre-orders of approximately 2000 pairs of undies, which is a huge milestone and one that gives weight to the Mighty Good Undies business. They are now focusing on exhibiting at the Berlin Ethical Fair at the end of June where they will be showcasing their brand to International and National Sales Agents.
If you would like to pre-order a pair please jump on their website: www.mightygoodundies.com.au
To help you make ethical choices when you're kitting yourself out in new threads Australian Ethical Super have put together a free ethical fashion guide to see how the top 10 fashion brands rate.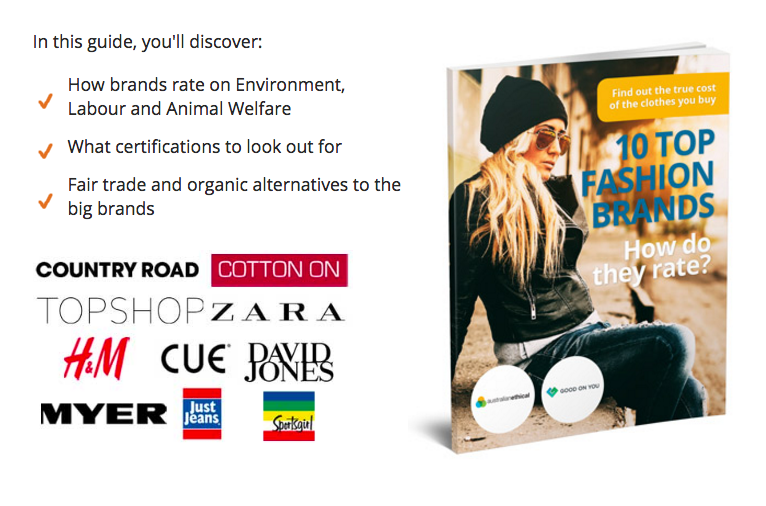 ---