The increasing accessibility and desire to visit some of the most exotic places on the earth is a wonderful thing, to get that photo on a mountain peak, lounge about on an isolated island, trek to Machu Picchu or take the family to Bali. The more exotic the better, but often the more exotic the location the more less likely it will be that there are effective waste management programs to maintain high volumes of visitors. What happens when the visitors depart? Where do all the water bottles, plastic bags, and coffee cups go?
The amount of solid waste produced by tourists is often an issue, particularly in countries that do not efficient waste management. For example Indonesia has been struggling to deal with the high volumes of waste produced by visitors and it has been found that hotels have paid staff to dig and bury large volumes of plastic in beaches.
1. BYO drink bottle on the go
This doesn't even have to be country dependent. There are now some excellent technologies for sterilising water sources. If visiting countries where it is not advisable to wash your teeth with tap water, or drink it there are some great resources that allow you to clean your water:
2. Use a reusable cutlery and straw on the plane
This one can be tricky, and if using metal cutlery, the airport will take the butter knife from you. However, there are some excellent bamboo style cutlery sets that airlines often don't question. I have to say giving that cutlery set back to the airline hostess is a great feeling. These can also be useful if you're getting take away, instead of using a single use plastic cutlery set just whip out your cutlery.
3. Bring a thermos or Keep Cup to the coffee shop
There are so many great designs available now, making this easy!And I have to say that it is a great feeling to be the odd one out in a café in Bali where everyone is getting a single-use take away coffee cup and you are smug with your reusable coffee cup. Or even better taking a moment to sit in and drink your coffee relaxing…. you're on holidays after all, what's the rush?
4. Have a personal plastic bag ban – even the ones that claim to be biodegradable.
This is a no brainer, and really so simple to replace single-use bags with reusable bags. There are bags small enough to fold up and carry in your backpack, handbag or even your pocket.
5. Use non-disposable sanitary items
There are many options to reducing period waste that can suit everyone - menstrual cups, to period and pee proof underpants. This also reduces the amount you need to pack in your toiletries bag.
6. Use shampoo bars, these are a natural, light and easy to use shampoo bars.
Often toiletries are the bulkiest items in our luggage, and shampoo bars are an excellent option. You can find natural option and reusable carry tins for ease when traveling too.
Using shampoo bars is a great option for the environment for two reasons. Firstly, you are reducing your plastic consumption by using package free products. But also, most shampoos and conditioners contain harmful chemicals so when you use a product with natural ingredients you stop harmful chemicals going into the natural ecosystem.
These are just a few simple ways to make traveling plastic free easier, one of the most important things is to try to be prepared when going on an adventure. One of the biggest things that I can recommend is to do your research before arriving somewhere, so you better understand the key environmental issues in the place your visiting, it may be waste management, water security, poverty. There is a wealth of knowledge on most places that we travel to these days, and it is important to be aware and build your knowledge of global issues. There are so many ways traveling can be made eco-friendly, when you consider how you pack, the transport options you use and where you decide to eat.
Written by Jacinta Wehbe
Jacinta is a Master's student studying environmental science she is a nature and travel enthusiast. She is always keen to venture to new place, with the aim to leave nothing but footprints behind. She is passionate about sharing her experiences with eco-friendly traveling and aims to spread this passion globally. Currently Jacinta is based in Vanuatu where she is finishing her studies by working in community environmental projects.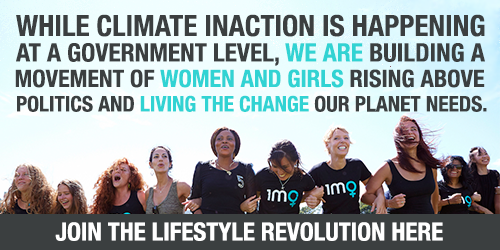 ---