The debilitating conditions of urban slums seem a world away from Australia...
An Australian-born organisation, Pollinate Energy, have taken action to relieve some of these conditions by using solar energy, and are reducing carbon emissions while they're at it.
Pollinate Energy began in 2012 lighting up the urban slums of Bangalore in India, and have since pollinated other slum communities in Hajiabad and Kolkata with renewable energy.

400 million people in India live without electricity and running water
Their only sources of light are kerosene lamps, lit with oil bought weekly from the local market. Kerosene lamps are dangerous and fill the home with smoke and soot. Since homes are the size of the average dining table, the fumes are more concentrated. The inhalation is equivalent to smoking two packets of cigarettes a day. It's the second largest killer of women and children in India, and has a considerable impact to the environment as they're so widespread across the communities.

National manager of Pollinate Energy, Alexie Seller, explains how women are particularly vulnerable to the toxicity of kerosene lamps:
"The women, the mothers, suffer the most. They work for income with their husbands on constructions sites, they run the household budget, they cook and they clean, and they look after the children. To do all of that, they need light."
- Alexie Seller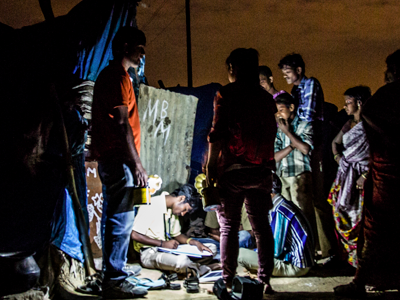 Women in these communities tend to finish work earlier than men to make the most of the daylight for cooking. Considering cooking takes on average four to five hours each day, managing the household takes its toll as they inhale the fumes. By installing these solar lights, women have the ability to work for longer in the day and provide more income for their families. "By giving them a light, we've opened up much more opportunities for the women than anyone else in the household".

The Pollinators have already installed more than 8963 solar lights
And saved 13,684 tonnes of carbon annually! They employ local sales representatives and volunteers to sell from tent-to-tent, providing more work opportunities and awareness of how important renewable energy sources are in the warming world.
But with families living on such little income, how can they afford the lights? "We give them the solar light on day one, and they don't have to buy any more kerosene ever again. They start to divert the kerosene spending towards the solar light".
One solar light is roughly the cost of five months' worth of kerosene oil, and lasts for much longer, making use of India's hot sun. "The families are saving 5% of their income each year just by owning a solar light". And each solar light also doubles as a phone charger.
At the moment Pollinate Energy are trying raise $50,000 to bring light to Kolkata.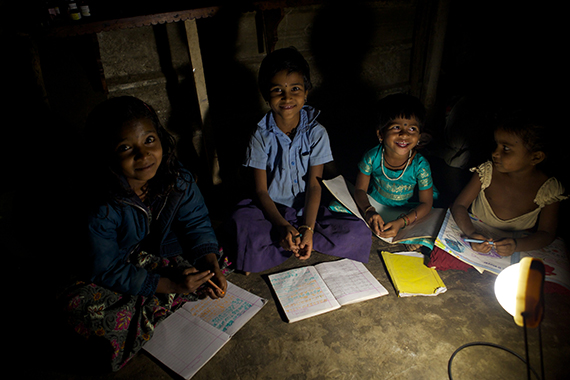 ---