In a new report prepared for NextGen Climate America, a sustainable future looks bright not only for the planet but also for the economy.
The report set out to look at how fighting climate change would impact the economic future of the United States... with some encouraging results!
In fact, researchers found that climate change mitigation strategies such as transitioning to renewable energies "could add more than a million jobs by 2030 and up to 2 million jobs by 2050."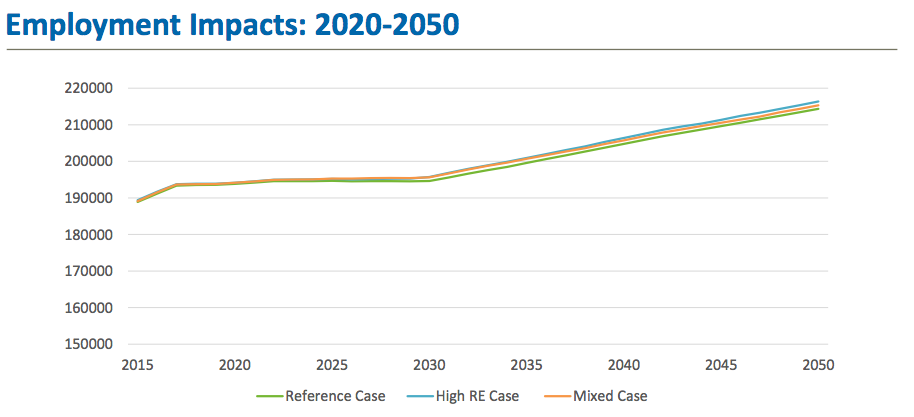 Image: NextGen Climate America
The study found that while most of the new jobs would likely be created in the construction and manufacturing sectors, there would also be job gains in areas such as services and management.

Despite inevitable losses in the fossil-fuel industries such as coal, the predicted number of jobs created would result in "a net-gain of employment across the nation."
"Results indicate that climate change mitigation could be economically beneficial"
- NextGen Climate America
A cleaner, greener future is also likely to have benefits for the consumer's hip pocket, with household disposable income seeing increases across all regions. Renewables will also see a significant reduction in you energy bills in the long term (which will surpass the up-front cost of the transition from fossil fuels).
In contrast to all of this good news, failure to act on global warming would be very expensive indeed. The "costs of inaction" could be up to 5% of global GDP.
This study mirrors the predictions by some of the world's top scientists and climate experts.
Professor John Schellnhuber, Director of the Potsdam Institute for Climate Impact Research, believes that divestment in non-renewable energies such as coal is fundamental for a cleaner economy: "Ultimately nothing can compete with renewables…If you invest at [large] scale, inevitably we will end up with much cheaper, much more reliable, much safer technologies in the energy system: wind, solar, biomass, tidal, hydropower. It is really a no-brainer, if you take away all the ideological debris and lobbying."
[Watch] How did climate science become a matter of opinion?
[Banner image: Shutterstock]
What would you like to see for the future of our planet? Let us know in the comments below!
1 Million Women's campaign for Paris is 'You're The Voice'
With a vibe of hope building that the nations of the world will agree on a breakthrough climate change treaty in Paris this December at the UN Climate Conference (COP21), we have an opportunity to influence world leaders in making decisions that will safeguard the world for future generations.
To do this, we've recorded a cover and music video of a much-loved Australian song, turning 'You're the Voice' into a powerful anthem from women for climate action and hope.
Using the power of music, we want to inspire every woman, man or child to ADD THEIR VOICE - #IMTHEVOICE - to our anthem and form a united call to world leaders for strong action on climate change. No matter who you are, you can add your voice!
Will you support our anthem launch? It's as easy as clicking a button.
With your help, it will capture the attention of governments and stand as a clear call for climate action and hope.
---