It's evident that Australians love a lifestyle by the sea, with more than 85% of us living within 50 kilometers of the coast. However this affinity with ocean living may pose more problems in the future than it does rewards, and Australia's weekend of wild weather is a testament to this. The aftermath of these severe storms has left homeowners with millions of dollars worth of claims that are unlikely to be met, and the lingering thought that this might become a more regular occurrence.
The enormous low-pressure system over New South Wales last weekend left behind a trail of destruction, including several severely damaged properties on Sydney's Northern Beaches. We can't chalk these recent storms entirely up to climate change and such storms are even expected at this time of the year. However, they are an example of the kind of extreme weather we can expect to increase as the planet continues to heat up. Climate scientists warn that while we may have fewer storms in future, the ones that do hit are going to pack much more of a punch. Intense rainfall is expected to rise, with an increased risk of erosion along the coast resulting in devastation similar to the kind we have seen this week.
"Many insurers don't cover actions of the sea. It's a very common exclusion."
- Campbell Fuller, Insurance Council of Australia
Changing weather patterns due to climate change leaves homeowners with new potential hazards to their property, even making them uninsurable prior to being uninhabitable. According to Campbell Fuller of the Insurance Council of Australia it's very common that most insurers don't cover actions of the sea. This makes it even more pertinent for homeowners to be aware of the hazards that can accompany purchasing a waterfront property.
"With extreme weather like the storms we've just witnessed expected to become more frequent, what does a changing climate mean for homeowners living by the beach?"
- -
In 2015 the total cost of property that was exposed to coastal erosion was estimated to be around $88 billion, The Climate Institute stated in their recent report which reviewed the financial risks associated with climate change and property. The report says that most homeowners are in the dark about the implications of an ever-changing climate. When making big financial decisions residents are often unaware of the emerging liabilities to property that will accompany more violent weather patterns.
Read more: Rising sea levels will cost Australia $200 billion in infrastructure damage
"Even when public authorities, financial institutions and other stakeholders possess information about current and future risk levels, they are sometimes unwilling, and sometimes unable, to share it with all affected parties"
- The Climate Institute
Because of this, these risks can continue to grow and only be completely recognised once damage or disaster actually strikes, or insurance premiums skyrocket. This can not only result in devastating individual loss, but also a blame game of who bears responsibility for dealing with the aftermath and associated costs. Those effected in Collaroy are a perfect example of this messy chain of responsibility. These waterfront properties may not be covered by their insurance policy, and with no protective works in place by council or state government there was little shelter from the more than 8 metre waves. Claims for disaster relief will be filed, but with thousands of people effected by the storms it's unlikely these claims will be met in their entirety.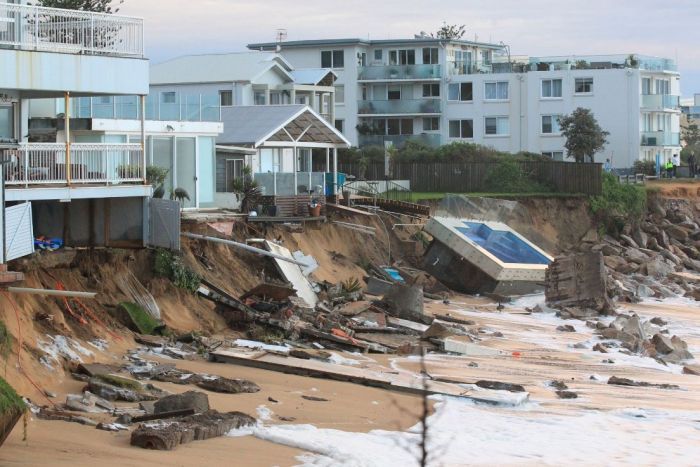 Image: Fairfax Media: Peter Rae
Households provide more than just a roof over heads, but more often than not are an individuals' biggest financial asset. With situations like last weekends touted to become more commonplace it's important homeowners and potential homeowners are aware of the impacts of climate change on property. The intense flooding, rain and erosion witnessed along Australia's east coast over the weekend highlights that we need insurers, homeowners, banks and government to cooperativley work together to mitigate the risks of climate change on property.
Header image: Unsplash
1 Million Women is more than our name, it's our goal! We're building a movement of strong, inspirational women acting on climate change by leading low-carbon lives. To make sure that our message has an impact, we need more women adding their voice. We need to be louder. Joining us online means your voice and actions can be counted. We need you.
---