I have a love-hate relationship with face paint. I LOVE volunteering at local fetes and children's parties to help paint faces (Spiderman is my favourite request), but as I have super sensitive skin, I've always resented the harsh, store-bought paints that would leave me red and blotchy as a kid getting a dinosaur painted on my cheek.
It's good news, therefore, to hear that the clever people over at PopSugar have come up with an easy recipe for homemade face paint that's inexpensive and devoid of any itch-inducing ingredients.
We've adapted this recipe to include a planet-strong twist: homemade natural dyes. You can find these instructions for extracting natural dyes here and here.
Alternatively, you could use natural washable paints, or natural food colouring. Just be warned that using food colouring may stain skin and clothing!
You can find packs of colourful washable paints at your local craft store for only a few dollars. The benefits of using washable paints instead of food colouring is that they create solid colours that won't stain clothes or skin. Most are nontoxic and, when diluted, are safe to use on your body, but avoid using around the eye and mouth areas (as with normal face paints). Read more about different combinations here.
1 Million Women is empowering women and girls around the world to lower their impact on the planet. If you love what we do, please support our work by donating a couple of dollars. For the price of a cuppa, you can help us inspire millions more! (click to donate)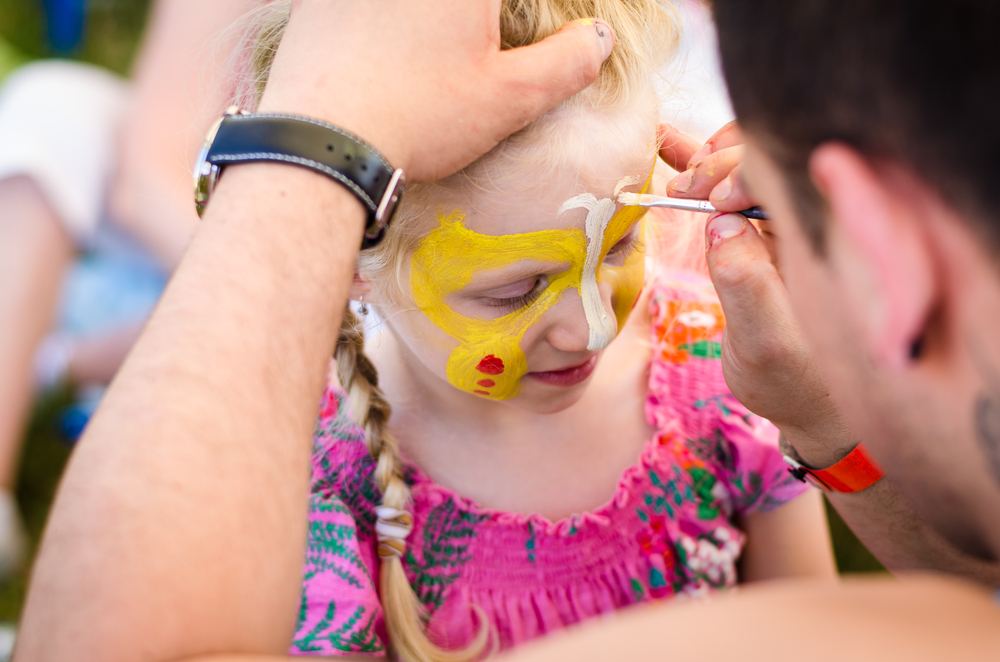 Let us know in the comments below which combination you try, and the results that you get!
Ingredients:

Corn starch
Face lotion
1/4 teaspoon vegetable oil
Washable paints, natural food colouring, or homemade dyes
Small containers
Small bowl
What to do:
Create the base by mixing together equal parts cornstarch and face lotion until it forms a thick mixture. Add the vegetable oil, which helps the paint from caking. The mixture should be smooth without being too watery.

Next, add a spoonful of the mixture to a small container and add a pea-sized amount of colouring.

Make as many batches as you need to create a pallet of colours.

Apply using face sponges or lip brushes for creating details. For a smoother application, add a few drops of water to the paints.
As with any new makeup, rub a bit of the face paint on skin (the soft part of your arm is a good tester spot) to check for reaction before applying.
READ THIS NEXT: How to make you own natural play-dough
Images: Shutterstock
1 Million Women is more than our name, it's our goal! We're building a movement of strong, inspirational women acting on climate change by leading low-carbon lives. To make sure that our message has an impact, we need more women adding their voice. We need to be louder. Joining us online means your voice and actions can be counted. We need you.
---