​Potato peel chips. That is all.
This is one of those no-brainer recipes that will make you NEVER waste your potato skins by throwing them out again.
Did you know that up to 30% of food we buy is wasted at an estimated national cost of $5 billion-plus a year.* Imagine paying for 10 shopping bags filled with food at the store, then walking outside and immediately throwing three of them in a rubbish bin. Sounds crazy right?
But a lot of us throw bits of our food away without a second thought because we're not accustomed to eating those parts. I'm talking things like skins, stalks and even seeds. Well...stop! Stop it right now!
Asides from the fact you're probably throwing away perfectly edible food, it's often the parts where loads of nutrients reside too.
Letting food go to waste means all of the CO2 pollution embedded in producing it has been in vain. Potato skin chips are a wonderful way to make sure this doesn't happen. PLUS they taste bloody good!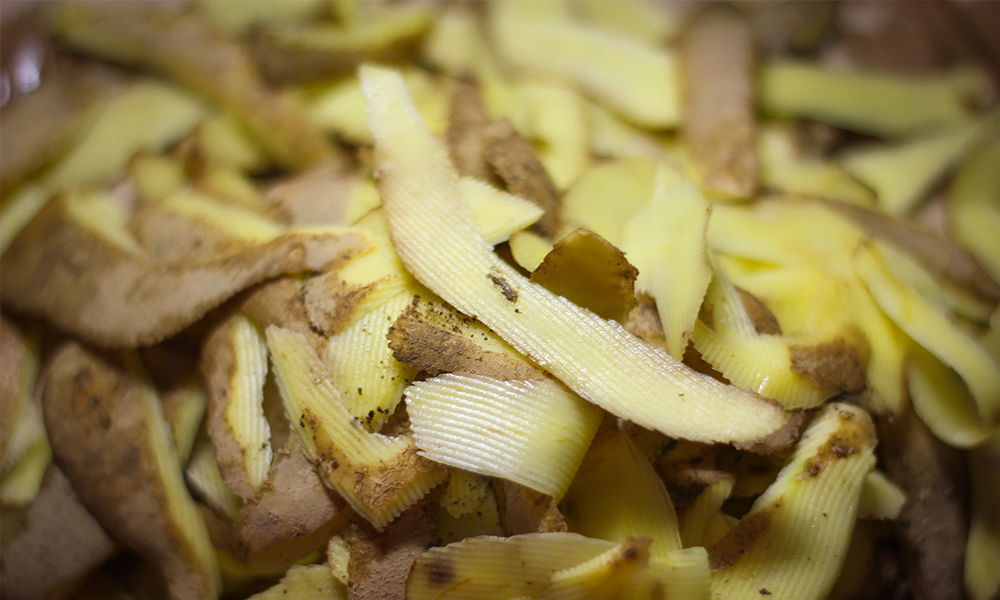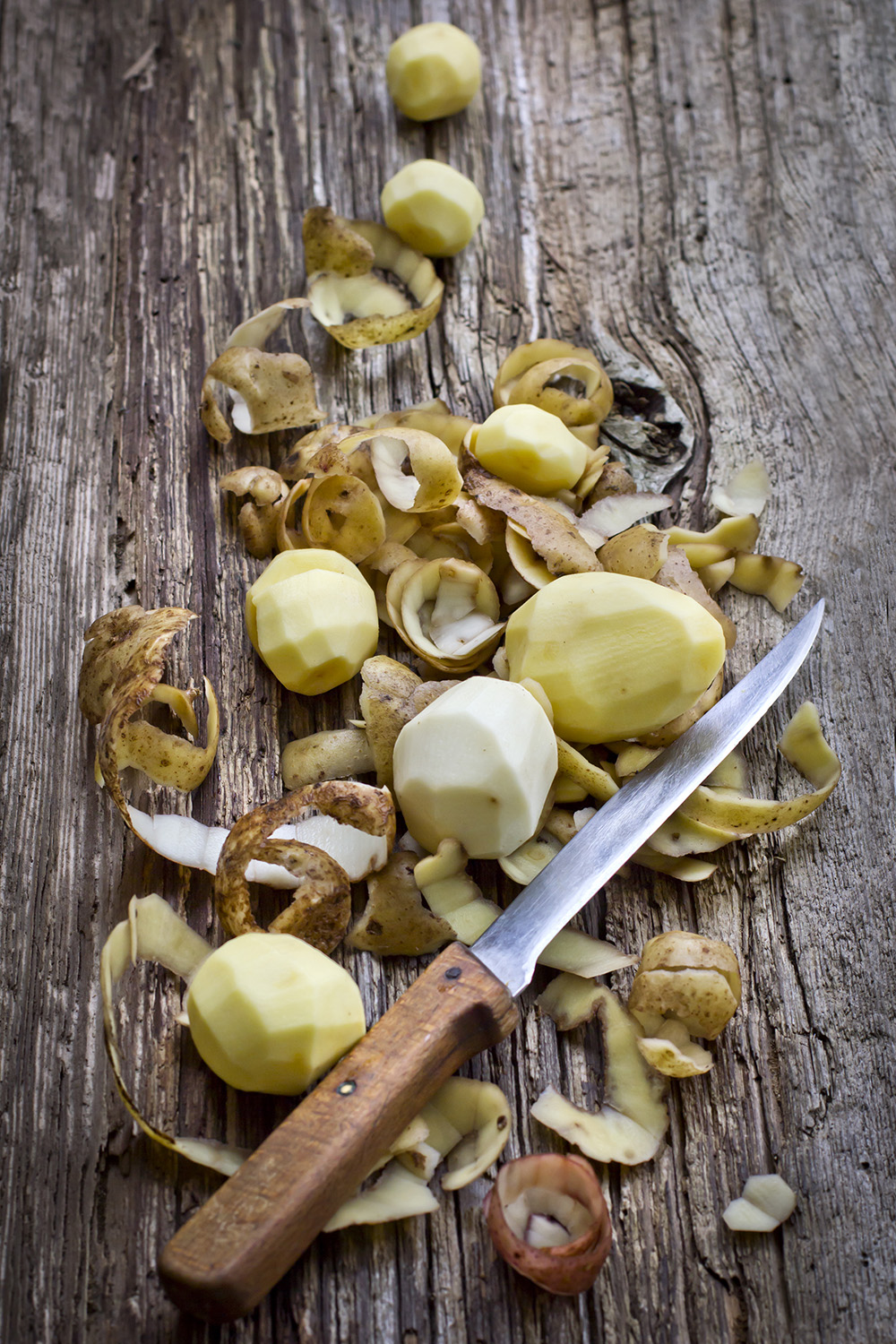 Baked Potato Peel Chips
They are straightforward to make, and taste pretty much like regular ol' baked potato chips.
I've used organic Russet potato peelings, but I'm sure it would work with any other kinds of potatoes.
I have also added in some herbs for flavour and nutritional yeast for added protein value. Nutritional yeast contains 8 grams of protein in just 2 tablespoons, so it's a wonderful ingredient to help add more plant-based protein into your diet**.
I would recommend using organic potatoes if your going to be trying this, to reduce the chance of pesticides and other chemicals entering your food (and body).
You'll need
Cleaned and dried potato peels
Olive Oil
Salt and peppers
Optional additions: dried herbs (e.g. rosemary, thyme, oregano), 1-2 tablespoons of Nutritional Yeast
Directions
Heat the oven to 180℃: Line a large baking sheet if desired.
Clean peelings: Scrub potato skins, and pat dry.
Toss the peels with oil and seasonings: I used a light drizzle of olive oil, some salt and pepper, 1 tbsp of Nutritional Yeast plus 1 tsp of mixed Italian herbs. Toss so that the peels are thoroughly coated.
Roast for 15 to 20 minutes, stirring once: Stir halfway through roasting, and remove them once they're crisp and golden or done to your liking.
You can eat them straight off the baking sheet, or save them in a jar for later.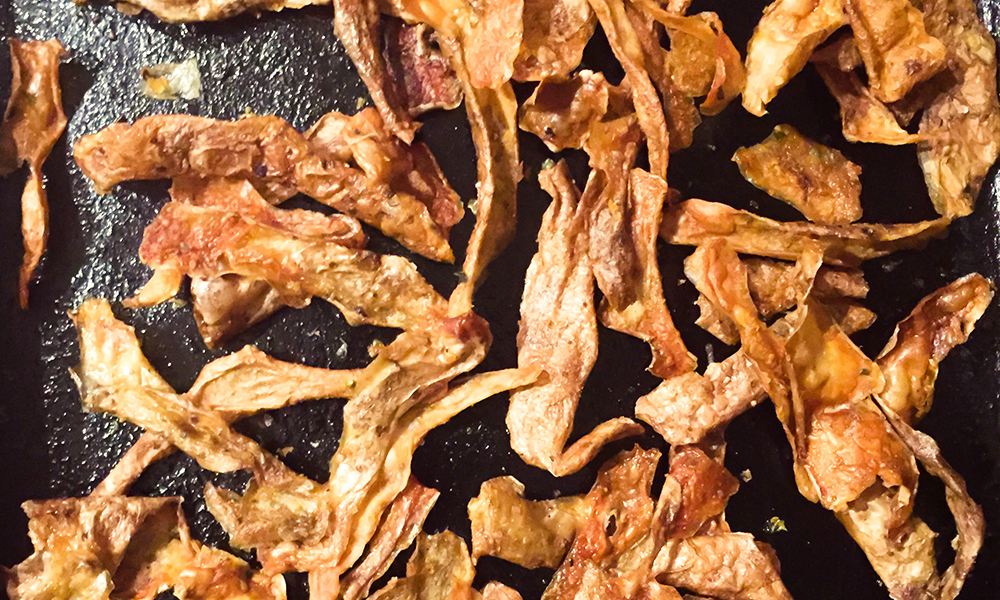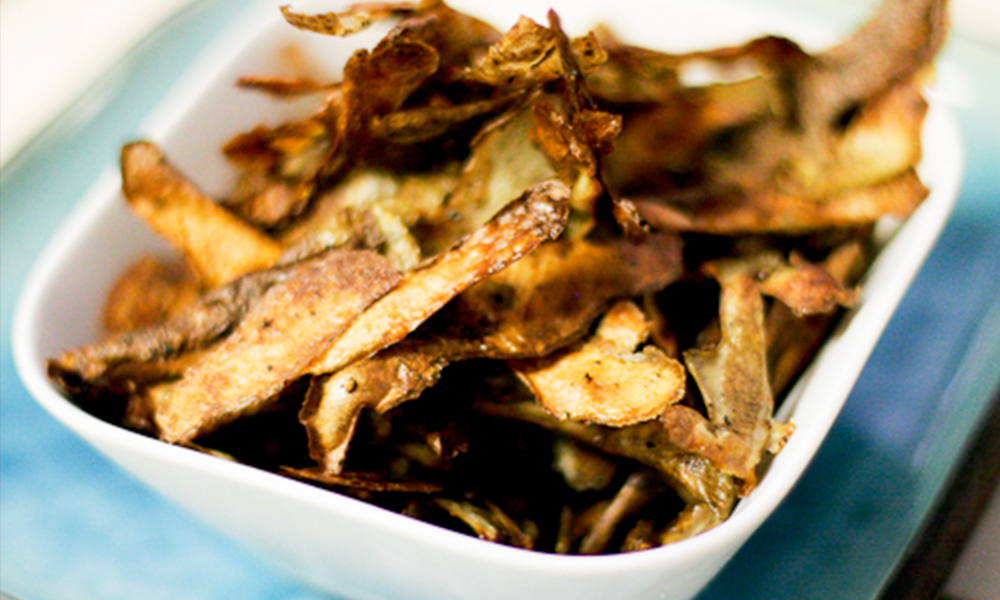 It's delightful to take a food scrap that would have been thrown out or composted and find, instead, that it's not only worth saving, but really delicious.
Finally, to make buying Organic more affordable, seek out local farmers markets. Produce will be in season, fresher and you have the bonus of knowing and communicating with the local farmer him/herself.

If you use your potato peelings like this, tell us in the comments your favorite way to season them!

READ THIS NEXT: 10 perfectly good food scraps you're probably throwing away
* Ref: According to the Canberra-based Australia Institute.
**Ref: One Green Planet
We're building a movement of women fighting climate change through the way we live.
Join us and be counted.
---