The other day we ran an article called How To Be A Vegetarian If You Love Meat. It's a great read and I'd highly recommend that you take a look if you haven't already.
Looking at what's on your plate is important because animal agriculture is a huge contributor to climate change. Depending on where your information comes from it's responsible for 18 to 51% of all greenhouse gas emissions.
This isn't new news, but I'll be honest and say that it's taken me over a year to get on board with the idea of changing my diet. These days I'd consider myself a flexitarian or a responsible omnivore. I eat very little meat and when I do I make sure that it's pasture-fed, and where possible locally raised.
Read more: a guide to sustainable seafood
1 Million Women is empowering women and girls around the world to lower their impact on the planet. If you love what we do, please support our work by donating a couple of dollars. For the price of a cuppa, you can help us inspire millions more! (click to donate)
All of this to say that after simply cutting meat out of my diet, then upping my veggie intake I realised pretty quickly that I'd need to do my research and get more grains, pulses and legumes into my diet. Which is how I came across the polenta chip!
This recipe is great because you can adapt the supporting ingredients to make it vegan if you like. It's also really filling and cheap to make. Tick, tick, tick.
Ingredients:
1 Cup dried polenta
3 Cups water, milk, or milk replacement (you could do a mix of these if you liked)
Oil for shallow frying
Optional:
½ cup cheese (I like parmesan)
1-2 Tbsp nutritional yeast (use this in place of cheese if you're making this a vegan recipe)
1-2 Tbsp butter
Fresh or dried herbs to taste (oregano, thyme, whatever you have on hand)
Flour to dust
Method:
Note: The polenta needs time to set so you'll need to start prepping this a few hours before you'd like to eat.
Heat your water or milk in a medium saucepan until it's boiling (you might also like to season with a little salt).
Slowly pour in your polenta while constantly whisking.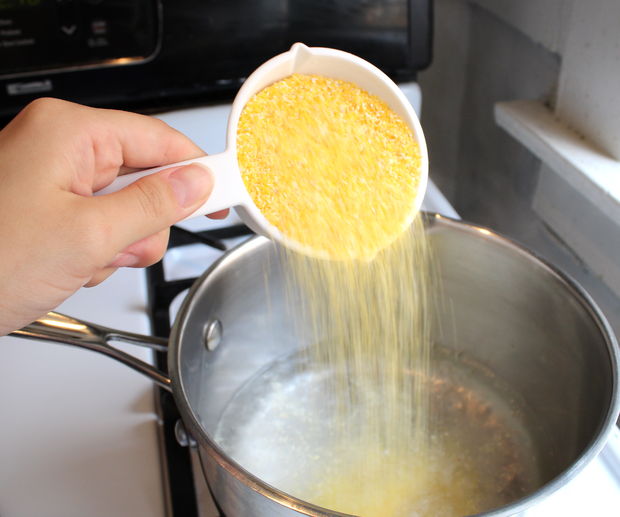 Image: Jessyratfink
Turn your heat down to low and continue whisking the polenta until it thickens (you'll need to keep a constant eye on it otherwise it'll stick to the bottom and sides). To tell if it's thick enough for the next step scrape your whisk in the middle of the pan so that you can see the bottom. If the polenta quickly covers the bottom you'll need a little longer. If it's slow to cover the visible spot then you can move on.
Cover polenta and let it gently cook for 30-40 minutes. Stir and scrape down the sides every five to ten minutes.
Optional: If you're adding butter, cheese or herbs you can do that once the polenta has cooked for half an hour. Stir well so that the mixture is combined and the cheese has meltled.
Pour into a flat square or rectangular baking dish, cover and leave to set for at least three hours (you can leave it overnight if you wish).
Remove polenta from the fridge and cut into rectangular 'chips'. I like mine at least 1cm thick, but you can play with the dimensions to suit your preferences.
Heat some oil (at least half the height of your chips) in a frying pan or pot.
Optional: you can dust the chips in flour if you'd like them to be extra crunchy on the outside.
Batch cook your chips so that you don't overcrowd the pan. Turn them so that each side becomes golden and crispy.
Drain on a clean tea towel and serve immediately!
Note: You can also bake, grill or BBQ your polenta chips!
Read this next: How to recycle cooking oil
---