This is a guest post from Simone Hijazi of What Are You Wasting For?.
When I tell other mothers my baby is in cloth nappies a look of horror crosses their faces. And when I tell them it's all part of an even bigger plan to reduce my household's landfill waste to only one wheelie bin for the entire year-I get a look of utter bewilderment.
Believe it or not I actually decided to embark on this journey after I had my baby; I was fully aware of the amount of household waste looking after a baby can generate and the effort it would take to stick to my limit of 10L (approximately one waste paper basket) per month.
Undeterred I went about trying to find alternatives to the everyday items that would usually end up in landfill. For a baby, the two biggest contributors to landfill are nappies and wipes, which I'll discuss here; you can read about my other adventures on my page:
I've always had an "environmental conscience", so at the start of the What Are You Wasting For? project my son (five months old at that stage) was already in cloth nappies. When I was pregnant I heard that disposable nappies take a whopping 500 years to break down in landfill, and I couldn't get my head around it: knowing that babies go through 6-12 nappies per day and are in nappies for around two years - all of a sudden THOUSANDS of nappies are in landfill for the next five centuries. Per. Baby.
Modern cloth nappies are so much easier to use than the old terri-towelling ones. Yes they are an investment, some costing up to $40 each, but you don't have to be a mathematician to work out you're better off in the long run. The ones I chose, from Australian company Hippybottomos, are $13.95 each, they're adjustable, so you can use the same ones from new born to 2 years, and they come with a superabsorbent insert.
People will always try to challenge your choice, and ask about the impact washing cloth nappies will have on the environment. The simple answer is: unless they're doing 500 years' worth of damage to the environment, then they're better. And these days, you don't need to wash with harsh chemicals or hot water; in fact the ones I use are washed in a mild detergent, such as ecostore or Earth's Choice brands, and in cold water. Hot water and harsh detergents would compromise the absorbency.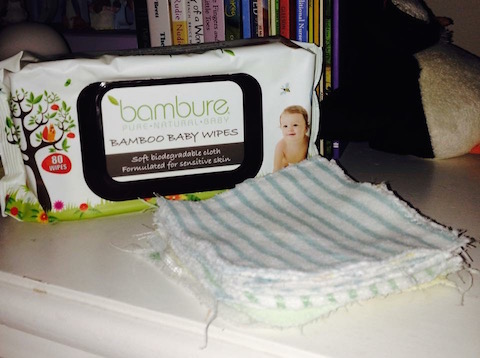 If you're still not convinced there's always Ecoroginal nappies – an Australian-made, biodegradable disposable nappy, which I use when we're out and about and at night time.
Next on the list: wipes! It's so easy to make your own. I cut up 12 facecloths into quarters, zigzagged the edges and have been using the same ones for over a year. I made up a solution of water, a few drops of pure castile liquid soap and lavender oil and keep it in a spray bottle on the change table.
Again, if this sounds a little too Martha Stewart for you then there are biodegradable alternatives: Bambure and Gaia brands are both 100% biodegradable.
Making the choice to use cloth nappies and reuseable wipes was a no-brainer for me, and it lightened my landfill load significantly, but there's even more you can do to reduce your baby's carbon footprint. My two biggest tips:
Buy second hand
All of my baby's furniture, aside from his car seat (for obvious safety reasons) are second hand, and once we're finished with them I'll give them to someone else or donate them to charity. You can buy beautiful second-hand furniture locally or even get it for free on Tu Share.
Make your own food or buy it in sustainable packaging
If I haven't convinced you to use cloth nappies then the thought of making your own baby food may not appeal to you! I know how fussy babies can be: mine went through a stage when he would eat nothing but pumpkin (at least it was something healthy and nutritious!). These days baby food comes in the most unsustainable packaging: plastic tubes or squeezy pouches with a plastic screw top lid. And where do they end up? In landfill.
Fortunately there is still a huge range of baby food available in jars or tins, which can go in your domestic recycling bin. While some types of soft plastic can be recycled, it can't be infinitely recycled like paper and aluminium, so it will eventually end up in landfill.
If you do however have the inkling then making a big batch of pureed food and freezing portions in silicone trays or glass jars is a real time-saver in the long run, plus you know exactly what's going into it. I give my son a combination of homemade and store bought food so always have baby food jars on hand for freezing portions of food. You can re-use them over and over, and if they break they can go in your domestic recycling bin.
There are many other ways you can reduce your household landfill waste as well – as mentioned you can read about it on my page and I'd love to hear from you if you have tips or stories you'd like to share.
You can follow Simone's journey at What are you wasting for?
WATCH THIS NEXT: How to fit two years worth of trash into a mason jar
READ THIS NEXT: How to create a zero-waste home
1 Million Women is more than our name, it's our goal! We're building a movement of strong, inspirational women acting on climate change by leading low-carbon lives. To make sure that our message has an impact, we need more women adding their voice. We need to be louder. Joining us online means your voice and actions can be counted. We need you.
---