Both of the following recipes work really well, which is why I decided to make and use both, alternating between the two.
Option 1: Baking Soda Recipe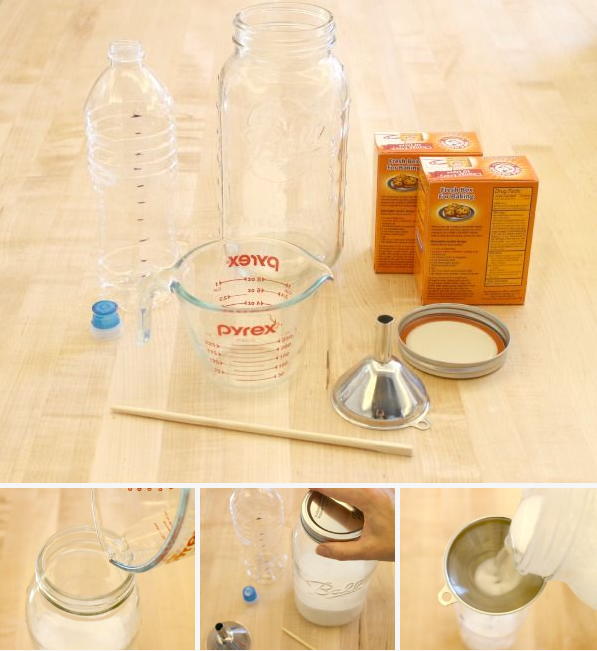 YOU WILL NEED:
3 cups baking soda
2 cups warm water
10 drops 100% lavender oil
Add the 3 cups of baking soda to a large mason jar. Measure out the 2 cups of warm water and mix in the 10 drops of lavender oil to the water. Add the water/oil to the jar. Use a wooden spoon or chopstick to do a quick initial stir of the mixture. It will be clumpy and hard to stir all the way to the bottom, so screw the jar lid on tight and shake the mixture until the soda is dissolved.
Using a small funnel, fill one of your dispenser bottles and screw cap on tightly. Set aside next to it's label so you remember which one is which once both bottles are filled.

Option 2: Vinegar Mix Recipe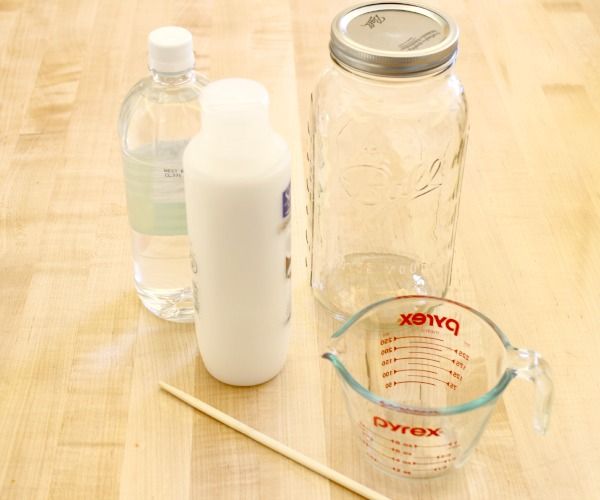 YOU WILL NEED
1 cup sodium laureth sulfate free hair condition (I prefer to use one with no or little scent so I can add an essential oil of my choice and not have it compete)
3 cups distilled white vinegar
2 cups water
10 drops 100% lemon verbena essential oil

Mix all ingredients in a large mason jar and stir to mix it. Do not shake it as it will foam too much.

Using a small funnel, pour the mix into the remaining dispenser bottle. You should have enough left over for another full bottle. Screw the jar lid on tightly and store in a cool dry place until needed.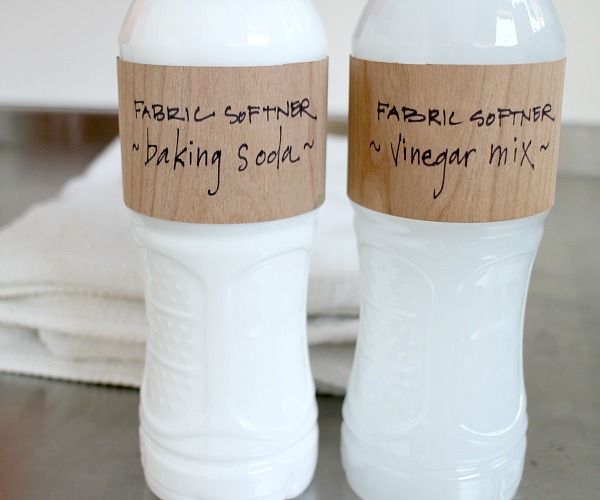 How much to use
If you have a standard top loading washing machine, using your marks as the amount guide, add 1/2 cup of either softener to the water before adding in clothes.
If you have a standard side loading machine, add 1/2 cup of either mix to the softener compartment of the pull out drawer.
If you have an HE (High Efficiency) machine, add 1/4 cup of either mix to the softener compartment of the pull out drawer.

Note: The baking soda mix will settle quite a bit in between uses. Just give it a good shake until it appears mixed before adding it to your machine.

DO NOT MIX THE TWO SOFTENERS. Nothing bad will happen, they will just neutralize each other and you will have wasted all that time you spent making them.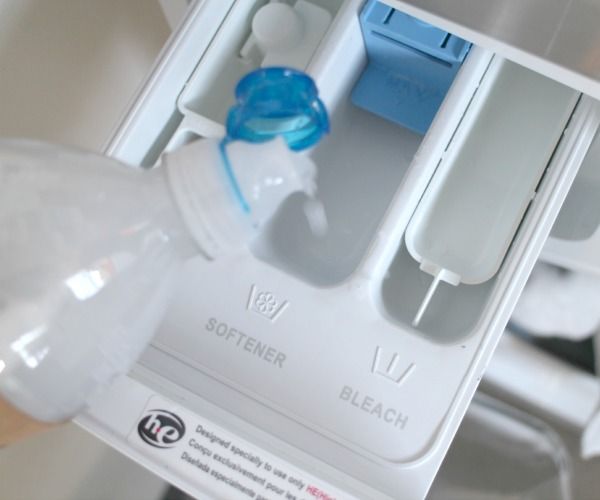 Which one did you try? How did it work for you? Let us know in the comments below!
Based on this Instructable by Paige Russell
Try this next: Use sugar as an alternative to wax for hair removal!
Banner image: Unsplash
1 Million Women is more than our name, it's our goal! We're building a movement of strong, inspirational women acting on climate change by leading low-carbon lives. To make sure that our message has an impact, we need more women adding their voice. We need to be louder. Joining us online means your voice and actions can be counted. We need you. We're building a movement of women fighting climate change through the way we live.
---