If you could choose to be alive at any time in human history would it be now? Even with the current pandemic scare, my answer is "yes" and I can only hope that my grandchildren will also want to choose their time. That decision of course is up to us and what we do now, specifically within this next decade. Should we see it is a privilege to be alive in the decade that really counts? Absolutely!
In July last year, feeling frustrated and alone in a community where there appeared little enthusiasm or time for dealing with the climate crisis, I received an email from Greenpeace. Greenpeace is one of many organisations rising to the current challenge of tackling climate change, up-skilling and mobilising everyday people to make a difference. For the first time ever, they were launching a brilliant new grassroots plan of action to coordinate a movement from the ground up. And it's not just Greenpeace doing this, there are so many organisations (from Stop Adani to beach clean ups) which support individuals to start their own community action groups.
How I Got Involved And Started My Own Climate Action Group
Spurred on from that email, I joined an online training webinar and had a few phone calls with the Greenpeace team on how to kickstart a group in my area. What started as a group of one (me) collecting petition signatures at our local kindy fete, has quickly grown to almost 20 committed people, all with different skills, contacts, experience and energy to share. I've realised that my community is full of people like me, we just had to find each other!
A highlight of my year was to visit the Sydney warehouse Headquarters of Greenpeace Australia Pacific. It was a surreal experience for someone who had grown up with the legend of the Rainbow Warrior. Surrounded by boats, an old harpoon, historic posters and famous props, it was activism central and I felt the strength of all those good people who had been here before me. There is extreme power in joining a community of passionate people with diverse expertise and years of strategic experience. This is all we have at the moment to combat the dark force of money and influence stalling the change our world needs.
My local action group meets monthly, communicates on social platforms and organises local workshops and events, building community awareness and involvement. We have had access to invaluable resources and 'toolkits' to help with group cohesion and momentum and are supported at least monthly by online conference meetings with Greenpeace leaders (which is great because it means anyone can start up their own group, no need to be a pro).
Two areas we are concentrating on are pushing our local council to 'break free' from fossil fuels (by declaring a climate emergency) & a campaign called Re-energise. Working on both campaigns has taught me so much about grassroots action. To pressure our council to declare a climate emergency, we started a petition, wrote letters and met with our councillors in order to persuade them that this is important to their community (and thus their electoral future). We organised a free screening of the optimistic documentary 2040 to build community engagement and are planning more film screenings and Q&A panel events into the future.
The Re-energise campaign is a national campaign asking Australia's largest 100 corporations to go from being a 'big part of the problem to a big part of the solution' simply by changing their electricity supply and power purchase agreements to renewable energy sources by 2030. This change would have huge benefits, not only lowering emissions but also providing massive job growth in the renewable sector and giving the community reassurance that renewable energy is reliable, achievable, healthier and more economical for everyone.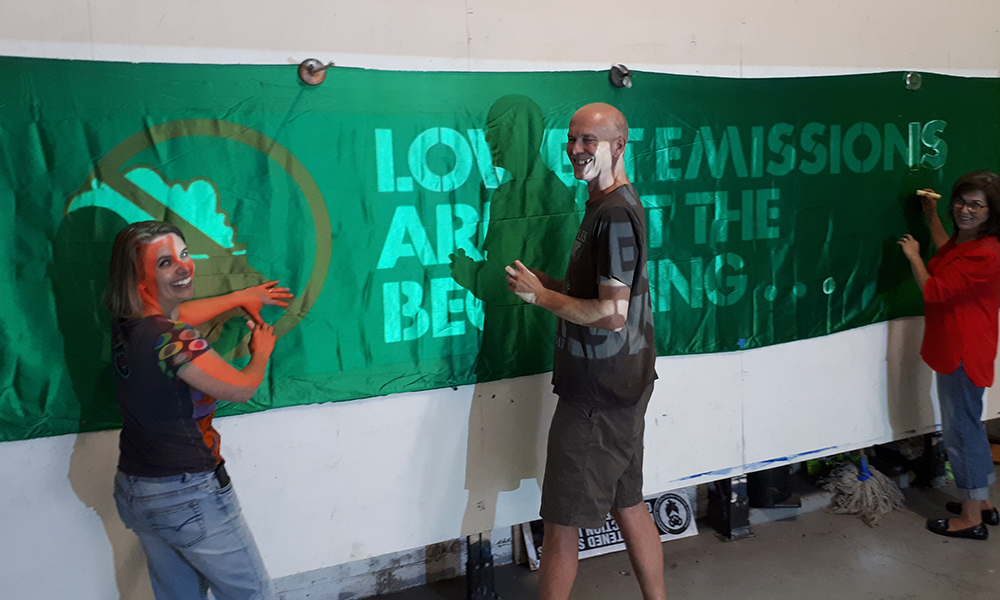 Our local group is one cog in the wheel of this bigger campaign action and this month we focused on Bunnings - a big chain hardware store and one of Australia's most trusted brands. We had the creative freedom to design and implement our own action while operating within Greenpeace guidelines. This means non- violent, peaceful activism, engaging with customers and staff in a positive and fun way, letting them know that we support them stepping up for the benefit of us all. We chose to display a hand painted "Lowest Emissions Are just the Beginning" banner and sing a renewables anthem to weekend Bunnings shoppers and staff. It was done in good spirits and Bunnings were friendly and supportive too!
Activism can take many forms and it does work. It creates the urgent need for big companies to address their emissions and encourages CEO's to come to the table and speak with organisations like Greenpeace as to how they can transition. It's a thrill to see in real time the effect we are having!
Our challenge now, in the face of Covid19 is to carry on, despite the inability to meet in person. We will find ever more creative ways to communicate and support each other through this challenging time as well as caring for the greater community. When we get through this pandemic there will still be a lot of work to do.
By Mila Kasby
Mila is a veterinarian, a mum of 2 and a relatively new climate activist. She loves travelling to remote wilderness areas and hopes these incredibly beautiful places exist for future generations to enjoy.She thrives on discovering new environmental ideas and innovations from around the world and maintains an optimism that we can meet this challenge and achieve a better, cleaner and fairer planet for all.
---