We're so excited that waste-free shops and cafes are starting to pop up around the world, and we hope that these trailblazers can inspire other businesses to follow suit and say "NO" to non-sustainability, wastefulness and non-renewables.
You might have seen our post full of love for German waste-free supermarket Original Unpackaged, a zero-waste grocery shop with no packaging, plastic or big-name brands (if you haven't, check out our community member's photos here!)
Original Unpackaged certainly is a great example of a company that is 100% committed to sustainability. The Berlin-based grocery rejects the traditional image of the supermarket, instead putting more emphasis on consumer choices.
The zero waste target is achieved by allowing customers to buy the quantity of product that they need (ie. Measuring out a jar of flour from a tub rather than having to buy a 1kg bag). This stops waste from occurring at home, as well.
Inside the shop, you'll have a tough time trying to find a plastic bag, as most shoppers either bring their own reusable bags and containers or purchase a canvas alternative in store.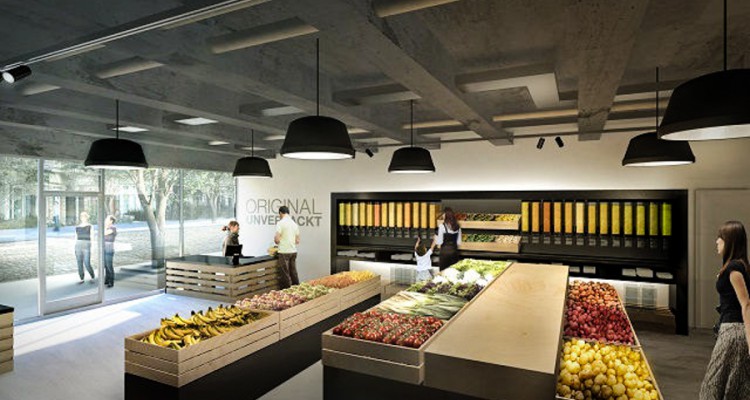 Shopping organically is made easier, too: pretty much everything on the shelves is organic.
According to Sciencion, the concept of the zero-waste grocery was the "impossible" dream of founders Sara Wolf and Milena Glimbovski: "They used crowd funding to back the store and decided to challenge the traditional shopping experience. The store's mission is to stop contributing to waste that's caused by food packaging by selling groceries in a sustainable manner (16 million tonnes per year in Germany alone)".
Germany, like most other wealthy nations, has a big problem with food wastage. It's estimated that 12 million tonnes of food is wasted every year, costing about AUD $41 billion a year. This isn't only bad for consumers and landfill, but the wastage also produces about 20 million tonnes of Germany's greenhouse gas emissions every year.
Watch and share this great clip to spread the awareness that low-waste supermarkets are really possible.
READ THIS NEXT: [Infographic] Food waste facts to make you think twice
1 Million Women is more than our name, it's our goal! We're building a movement of strong, inspirational women acting on climate change by leading low-carbon lives. To make sure that our message has an impact, we need more women adding their voice. We need to be louder. Joining us online means your voice and actions can be counted. We need you.
---