We always seem to have leftover rice, it's easy to make in large quantities and often overestimate how much you need for one dish. So, rather than letting leftover rice go to waste, learn ways you can make delicious and inventive dishes from it.
Here are just 4 ways to use leftover rice...
1. Vegetarian stuffed tomatoes with leftover rice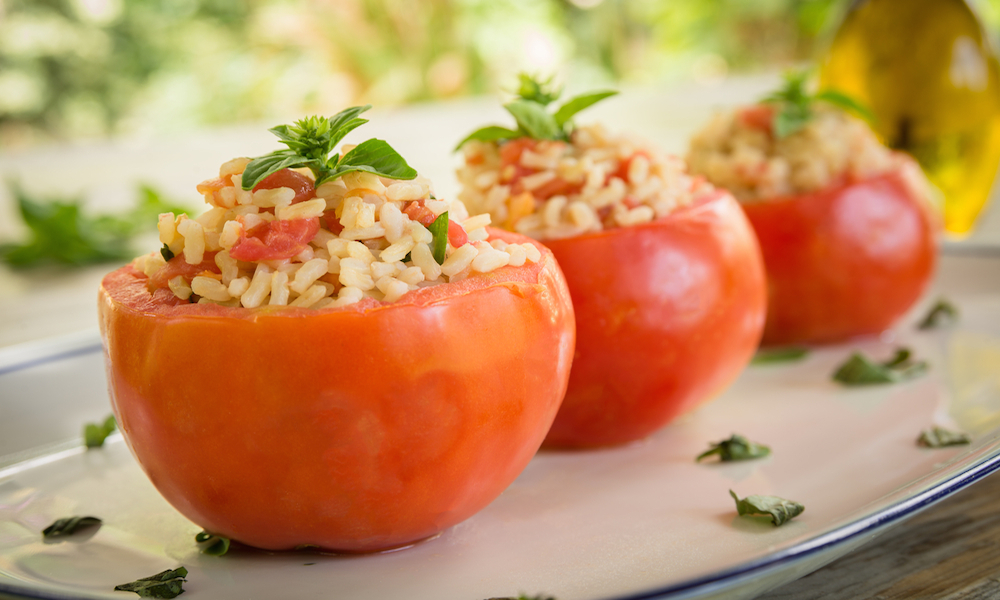 Ingredients:
4 large firm tomatoes
2 tbsp olive oil
1/2 cup onion, diced
2 cups pre-cooked rice
1/3 tsp allspice
salt and pepper to taste
Method:
1. Pre-heat oven to 350 degrees.
2. Cut 1/2 inch off tops of tomatoes. Use a small knife to gently scoop out the insides of the tomatoes, being careful not to cut through the bottoms.
3. Sauté the onions for a few minutes in olive oil, until soft.
4. In a large bowl, combine the rice with the remaining ingredients, then combine the sautéed onions as well.
5. Using a small spoon, scoop the rice mixture and stuff each tomato. Gently pack the rice, so the whole tomato is full.
6. Lightly brush the tomatoes with a bit of olive oil and place in a baking dish.
7. Bake for 25 minutes.
2. Vegetable Rice Patties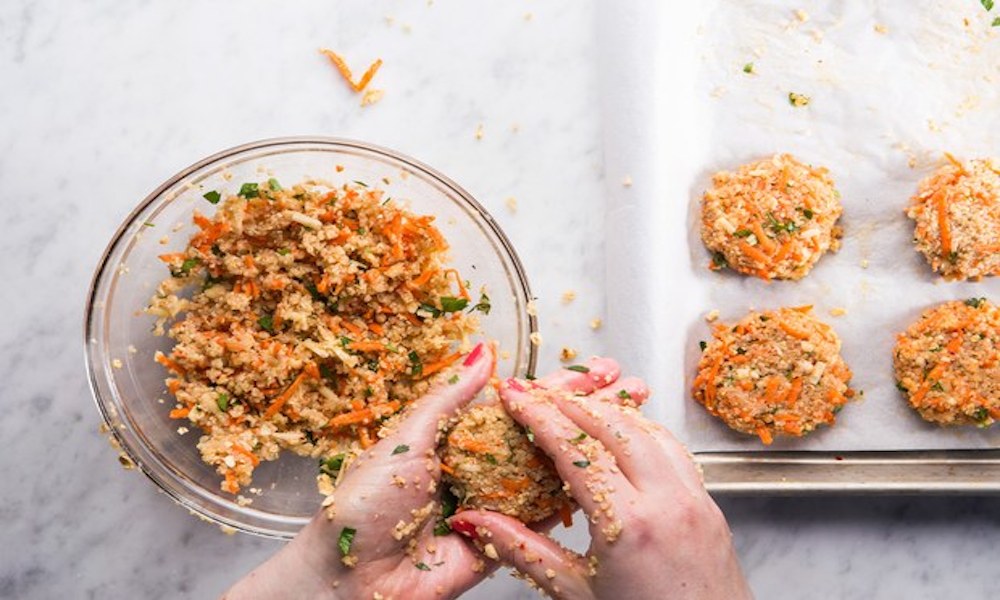 [Photo from Epicurious by Chelea Kyle, Food styling by Anna Stockwell]

Ingredients:

1 Tablespoon olive oil
1 Onion, chopped
½ Cup chopped mushrooms
1 Zucchini, grated
1 Carrot, grated
3 Cups cooked cold rice
2 Eggs
½ Cup toasted breadcrumbs
Any spices or herbs you have
Method:
1. Sauté onion in oil until soft. Add mushrooms, courgette and carrot and cook until soft.
2. The original recipe had cottage cheese in it, but if you're not into this like us, then add a handful of chopped, fresh herbs or any spices you have, from cumin to chilli powder or finely chopped peppers.
3. Mix rice and eggs in a bowl and add vegetables
4. Press 1 tablespoon of mix into patties and roll in breadcrumbs.
5. Heat a little oil in a pan and cook patties on each side until golden brown.
Note: If you don't want to use cheese (as used in most recipes) you may need to add more oil to help stick together.
3. Curry Fried Rice Recipe
Whenever I look into other people's fridges, more often than not, they have leftover rice. So rather than just heat up the rice or eating it cold… why not use whatever you have on hand to make a curry fried rice!
This recipe is easy, but completely changeable depending on what is in your fridge. So don't be afraid to tweak it.
Ingredients:
Vegetable oil
1 egg
Garlic clove
Leftover vegetables
Red curry paste
Leftover cooked rice
Method:
1. Heat 1 ½ tablespoons of vegetable oil in a large nonstick skiller over high heat.
2. Add 1 beaten egg and swirl in the pan to make a thin omelet; once the edges firm up, use a spatula to to flip it over. Cook for another 15 seconds then slide it onto your cutting board.
3. Reheat the skillet (or wok) over medium-high heat. Add a tablespoon of oil and garlic.
4. Add vegetables, greens and pepper to the pan and stir fry to heat through.
5. Add 1-2 teaspoons of red curry paste. Taste to see if the flavor is sufficient, if not, then add more curry paste as needed.
6. Add the rice, keep stir-frying for 1-2 minutes.
7. Turn off heat, stir in the ginger and season with salt.
And there you have it. Simple, easy and delicious!
4. Rice Salad
Ingredients
Cooked rice (brown is better), chilled
1/4 cup peanut oil (substitute another neutral flavored oil such as safflower oil or canola oil if you don't have peanut oil)
1 tsp salt (sea salt or kosher salt is best)
1 tsp sugar
1/2 tsp black pepper (fresh ground black pepper gives the best flavor)
1 tsp sesame oil
1 carrot, diced
1/2 cup chopped snow peas
1/2 cup corn kernels (optional)
1/4 cup rice vinegar
1 stalk celery, diced
1/2 red or yellow bell pepper, diced
3 green onions, chopped
2 tbsp chopped fresh parsley (optional but a nice extra flavor and garnish)
Method:
1. Combine the peanut oil, salt, black pepper, sugar and sesame oil in a small mixing bowl. Stir and whisk together until the sugar dissolves, then pour the mixture over the cooked and cooled rice in a large mixing bowl. Toss gently to coat the rice and combine well, then set aside.
2. Steam the carrots, snow peas and corn for a minute or two. Then stir the vegetable into the rice.
3. Add the remaining ingredients, including the rice vinegar, diced celery, bell pepper and green onions and stir to combine. Serve chilled garnished with the optional chopped fresh parsley.
We're trying to save 8 billion dollars worth of food from going to landfill this year. Will you help us by pledging to be a food lover and eat your leftovers?
---