Two out of three Australians live in a capitol city, and this number is similarly repeated throughout the UK and the US. A city locale provides us with access to great food, the arts, a major sports team to back, working opportunities, and for most people, whatever else it is that you need to consider your life one that's well lived.
However, living in a major city is also often associated with loneliness and feelings of isolation. So much so that commentators are now calling this, "the age of loneliness", and surprisingly it's an affliction felt most by those aged between 18-34.
So what can you do to create community with those around you, and make some climate conscious friends along the way?
Say hello:
I know, I know, this one is obvious! But so many of us don't know our neighbours. If you're shy then this one can often be the hardest part. But it'll set you up for the next steps.
Start a community group:
I moved into a new apartment block recently that has a community Facebook group for everyone that lives in the complex. It's such a simple idea that takes very little effort to set up and maintain. People often post if they have things that they're giving away or asking if someone has a ladder/hammer/blender to borrow. I used it the other day when I had veggies in my fridge that I didn't want to spoil. I was minimising food waste, and my neighbours got a free lunch. Win, win!
I love this idea of the sharing economy. Does every single one of us need to own a power drill or an electric mixer, or could we just be friendly with our neighbours and share the love around?
Collaborative consumption means that we're saving products that might have otherwise gathered dust, from landfill and fostering a sense of community.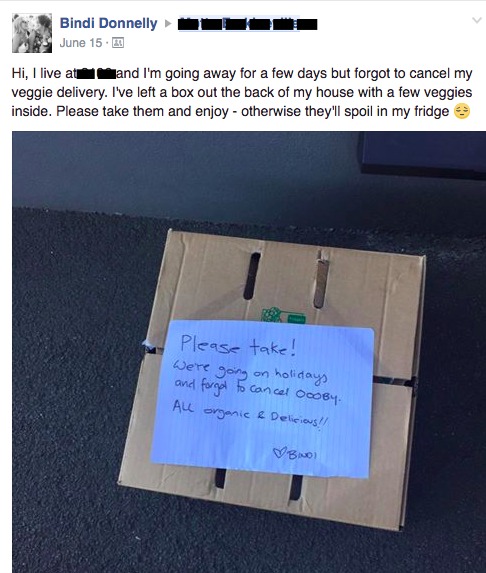 You might not live in an apartment, but this idea could very easily be transferred to a street or entire neighbourhood.
Start a free library:
I love seeing little street libraries around my neighbourhood, there are two within a five-minute distance from my place. I always find something great to read and I'm happy to drop off old books in return.
You can make your own or check out the world map for one that's close to you.
To further this idea people have also started making communal food and tool libraries, and this little climate-warrior has started a Lego library in his neighbourhood!
Plant a community garden:
With more relaxed laws about using communal space, verge gardening has taken off in a big way. If you have lawn space why not consider planting a few herbs that are free for the taking, or you could commandeer the strip outside of your dwelling to plant edibles.
The other option is to join a community garden group. There are a few plots up for grabs in the suburbs surrounding mine. Community gardeners usually spend a few days a month tending to the garden and then get to share in the spoils!
Look after the land:
Joining a land-care group is great because: you'll meet new people, you'll be active and outdoors – which is proven to make you happier – and you're giving back to this beautiful earth!
You don't need any specific gardening skills, just a bit of spare time and a love of the land! But if you do want to brush up on your gardening skills then check out a few of our favourite blogs for budding green thumbs.
On this note, why not organise or join a beach clean, or if you're the sporty type, look into something like responsible runners!
I love this story of a woman that started a community market that accepts trash in the place of cash!
When it comes to community building you're often going to get out what you put in, but it's experiences, not items that make us happy, so it makes sense to work within your community for the greater good!
Read this next: 5 ideas, instead of more stuff, that belong in the trash!
Banner image: Shutterstock.
---