Last night, under the cover of darkness, 200 volunteers for the Australian Youth Climate Coalition (AYCC) gave one bank's ATMs a bit of a makeover. Westpac customers in six major Australian cities woke up to ATM screens asking what the customer would prefer their bank do with their money. Stickers on the screen read, "Fund Adani's dangerous coal mine near the Great Barrier Reef" or "Protect our climate and rule out the Adani coal mine". When those had all been peeled off, it's likely that the hundreds of posters that were also stuck up remained.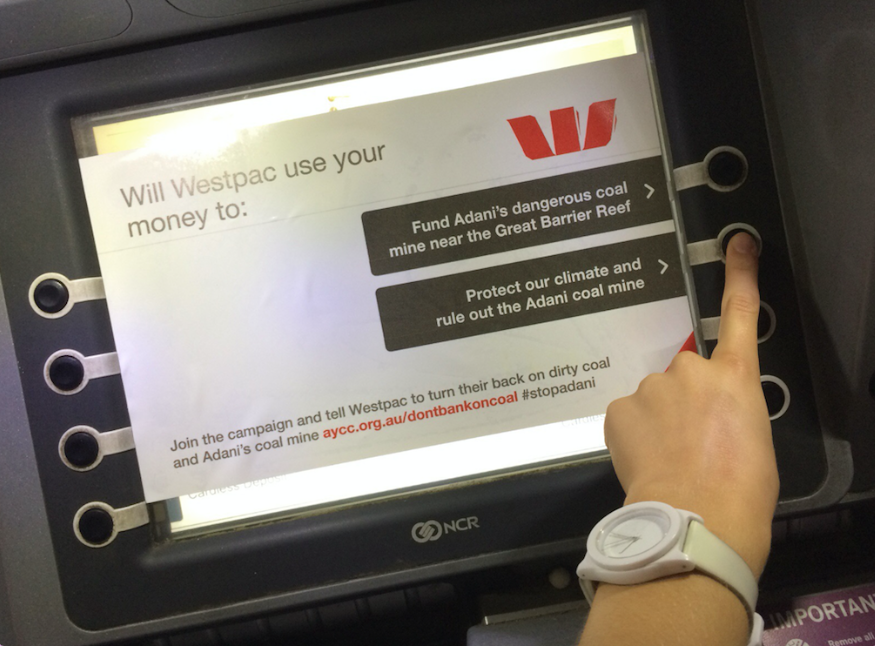 The move aimed to grab attention of both bank customers and bank staff, letting them know that Westpac could potentially be investing in a project that would decimate Australia's Great Barrier Reef. It urges them to join the fight to Stop Adani and save the Great Barrier Reef.
In Australia, the Adani coal mine is a fairly controversial project. It will mean building the largest coal mine in the southern hemisphere at a time when the rest of the world is moving away from coal, and the Great Barrier Reef is suffering from the second coral bleaching event in two years straight, due to warming waters.
Australia isn't the only place where major banks are lending irresponsibly and illogically. In the United States, seventeen banks, including Citibank and Wells Fargo, are directly investing in the Dakota Access Pipeline. They also potentially paid for the heavy militarised response to the Standing Rock Sioux who put their bodies on the line to protect their reservation and part of the Missouri River. Meanwhile, in the UK, the five big banks – Lloyds, Barclays, HSBC, RBS/NatWest and Santander – are also the biggest investors in climate change. Combined, they've invested a total of 66 billion pounds ($A109 billion) into fossil fuels.
Organised actions like this could mean we finally see the back of projects that are hurting people, the most precious parts of nature, and our climate. If you've seen it happen in your city or somewhere near you, we want to hear about it!
What else can you do?
Find out if your bank is funding climate change with your money. If they are, find an alternative bank or credit fund that isn't and move your money there. If you need more convincing, or info on how to do it, this article will tell you why it's worth it and how to do it.
Read this next: 7 ways to invest your money in the environment
[Images: AYCC]
1 Million Women is more than our name, it's our goal! We're building a movement of strong, inspirational women acting on climate change by leading low-carbon lives. To make sure that our message has an impact, we need more women adding their voice. We need to be louder. Joining us online means your voice and actions can be counted. We need you.
---